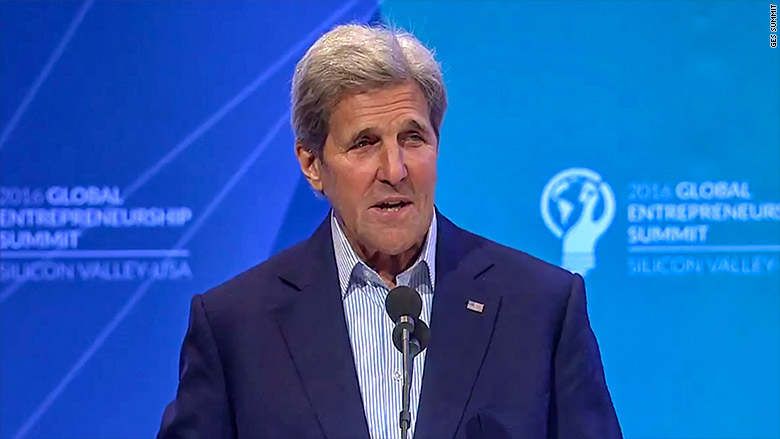 Secretary of State John Kerry doesn't just want entrepreneurs to build successful companies. He wants them to build successful companies that also help solve things like violent extremism, climate change, and government corruption.
Easy enough, right?
Kerry kicked off the seventh annual Global Entrepreneurship Summit at Stanford University with a call to action for the 15,000 attendees. President Obama launched the summit in 2010. This week's events provided an opportunity for entrepreneurs from around the world to hear from successful Silicon Valley CEOs, meet investors, and connect with government resources.
Kerry asked them to consider the three "generational challenges" when building their companies. Educational tools could help reach the young, disenfranchised youth around the world who may be at risk of being radicalized. Green startups could help the public and private sector switch to a low-carbon and low-emissions economy. And software that tracks money and accountability might cut down on corruption.
Related: Columbus wins $50 million Smart Cities Challenge
"You may not believe that all of these issues automatically fall within your responsibility, but let me you tell you ... we need your creativity in order to address each and every one of them," said Kerry.
It's not just for the greater good, according to Kerry, but it's also a smart business move.
"You have a fundamental interest in how these questions are answered," he said. "You want to be able to operate a business without the fear of a terrorist attack. You want to be able to take advantage of the great economic openings in the green energy market. You want to be able to open your enterprises without having to pay a bribe."
Kerry started his day with a nod to the "20-something CEOs who wear jeans and hoodies to the office to try and upend the established order," So it was only fitting that he later headed to Menlo Park to meet the original hoodied CEO, Mark Zuckerberg, and take a tour of Facebook's (FB) headquarters.
Before leaving Stanford, Kerry walked around the campus and took a seat in the back of a Google (GOOG) self-driving car. The car stayed parked.