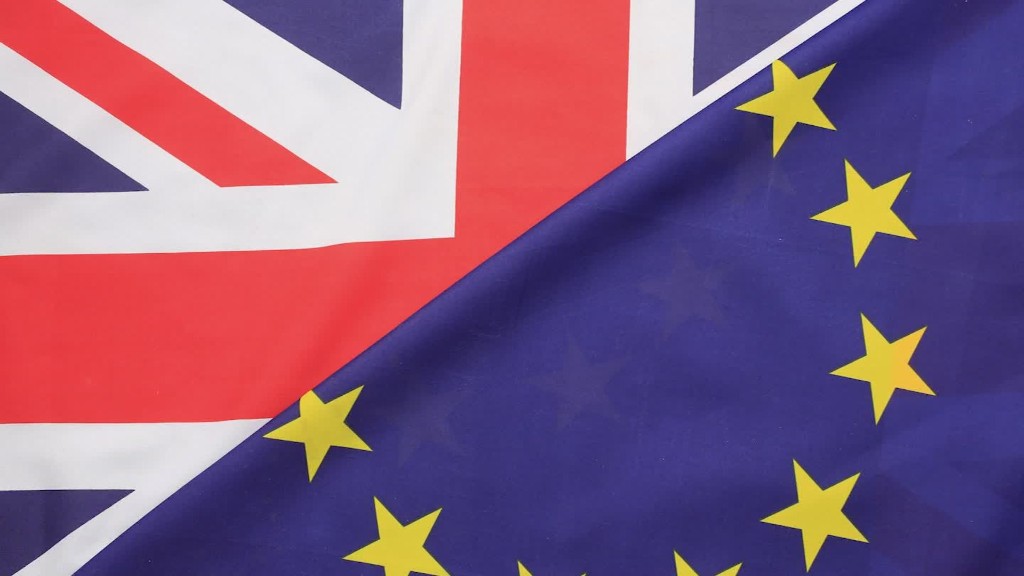 U.K. voters' decision to leave the European Union is throwing extreme uncertainty over the global banking industry.
Banking shares across Europe are being crushed. Barclays has plummeted 17% in London trading, RBS has tumbled 17%, and Lloyds Bank has nosedived 19%. Germany's Deutsche Bank has dropped 14%.
Earlier in Asia, shares of the U.K.'s biggest bank, HSBC (HSBC), crashed 7%, while Standard Chartered (SCBFF), a British bank that focuses on Asia, lost 9% in Hong Kong trading.
World markets are in crisis mode as investors scramble to deal with the fallout.
Finance is hugely important to the U.K. The financial services sector accounts for around 8% of the U.K.'s economy, and nearly 4% of all jobs in Britain -- roughly 1.2 million.
Related: What you need to know on the Brexit shock vote
"I'm afraid that this is not such a good day for Europe," said Deutsche Bank (DB) CEO John Cryan. "At this stage, we cannot fully foresee the consequences, but there's no doubt that they will be negative on all sides."
Although investors are pummeling bank stocks, the Bank of England still expressed confidence Friday in the resilience of the U.K. financial sector, and said it was ready to provide support if needed. The European Central Bank issued a similar statement about the euro area banking system.
Leading up to the referendum, global banks were vocal in calling for the U.K. to remain within the European Union, warning of doomsday scenarios that could see the country's economy fall into recession.
Still, Cryan stressed that Deutsche Bank is "well prepared" to handle whatever comes next, as it's headquartered in Germany.
HSBC will be "working tirelessly in the coming weeks and months to help our customers adjust to and prepare for the new environment," said CEO Douglas Flint.
Big banks use the U.K. as a springboard for their business through Europe -- disengaging from the union disrupts that link. Insurers, for instance, have access to millions of customers through the EU.
Related: Markets around the world freaking out over Brexit
Much of the regulations that govern the financial services industry and allow for cross-border transactions -- everything from deposit taking to payment services -- are at the EU level. Britain's exit will mean regulatory changes will be negotiated, altering the current financial infrastructure.
Last year, Deutsche Bank (DB) and HSBC considered moving their business away from Britain. HSBC decided to stay, but Deutsche's working group has yet to announce a decision.
But HSBC had before hinted at the possibility of moving various jobs and operations to Paris, if voters did indeed choose to exit. Others, including JPMorgan (JPM) and Cititgroup (C), had also warned about serious job losses in the U.K.
The move to leave the EU is a "significant decision," said Barclays CEO Jes Staley.
He also said a strategy the company announced earlier this year "was not conditional on the U.K. remaining in the EU." Barclays has been struggling in recent years, cutting thousands of jobs and scaling back operations in Africa.
In a sign of new complications for banks' operations, major Australian lender Commonwealth Bank told individual customers Friday via Twitter that it had temporarily suspended all foreign exchange of the British pound because of the Brexit result.
--With reporting by Chris Liakos