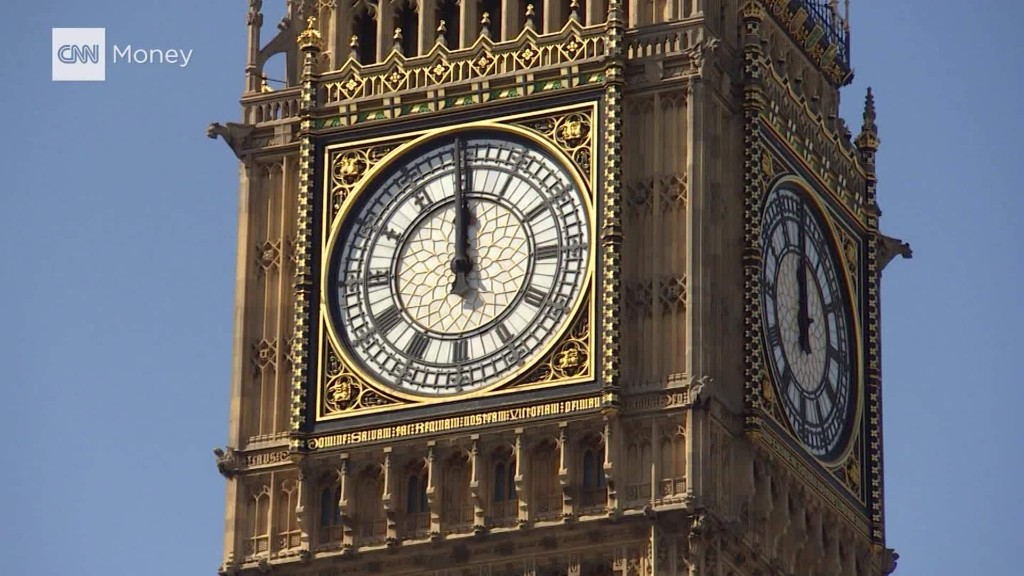 Britain's vote to leave the European Union sent the British pound into a tailspin, prompted the resignation of Prime Minister David Cameron, triggered shock waves through international markets, and brought jubilant headlines from some of the UK's largest newspapers.
"We're Out!" trumpeted The Daily Mail.
"See EU Later!" crowed The Sun.
Both outlets were vehemently in favor of a Brexit and had campaigned for a "leave" vote.
Related: Dow plunges 500 points as U.K. 'earthquake' crushes global markets
The Mail ran an editorial on Tuesday under the headline: "If you believe in Britain, vote Leave."
The Sun, which is owned by billionaire mogul Rupert Murdoch, urged readers earlier this month to "beLEAVE in Britain."
Later that same week, another Murdoch paper, The Times, came out in support of remaining in the EU.
Other papers such as The Guardian and The Financial Times were also sympathetic to the remain campaign, but as the British journalist Martin Fletcher pointed out, their circulations are relatively tiny compared to those who supported the Brexit.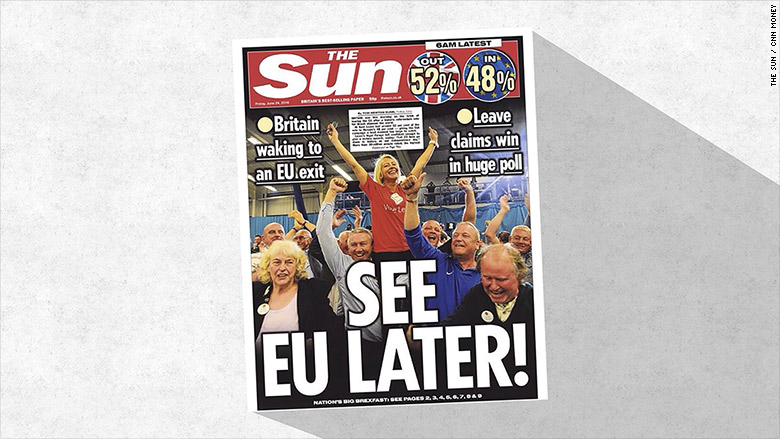 "[T]he biggest broadsheet (The Telegraph), the biggest midmarket paper (The Daily Mail) and the biggest tabloid (The Sun) have thrown themselves shamelessly behind Brexit," Fletcher wrote in a column this week for The New York Times. He blasted the British papers for publishing "an endless stream of biased, misleading and downright fallacious stories about Brussels."
(Brussels is considered to be the unofficial capital of the EU.)
A prominent example came earlier this month with stories in The Daily Mail and The Sun about a group of Middle Eastern migrants who the newspapers said lied and claimed to be from Europe in order to enter Britain. Video footage, however, clearly showed those migrants saying they came from Iraq and Kuwait, and not claiming to be from Europe.
Last month, the pro-remain group InFacts filed a complaint to the Independent Press Standards Organisation aimed at what it described as a series of inaccurate stories about the EU published by The Daily Mail, The Daily Telegraph and The Daily Express.
Anti-EU coverage has animated the British tabloids for years, but the referendum ratcheted up that sentiment.
A study released last month by the Reuters Institute for the Study of Journalism found that, of 928 articles on the referendum, 45% were in favor of leaving, while only 27% were in favor of remaining. The other stories were considered to be neutral or mixed.