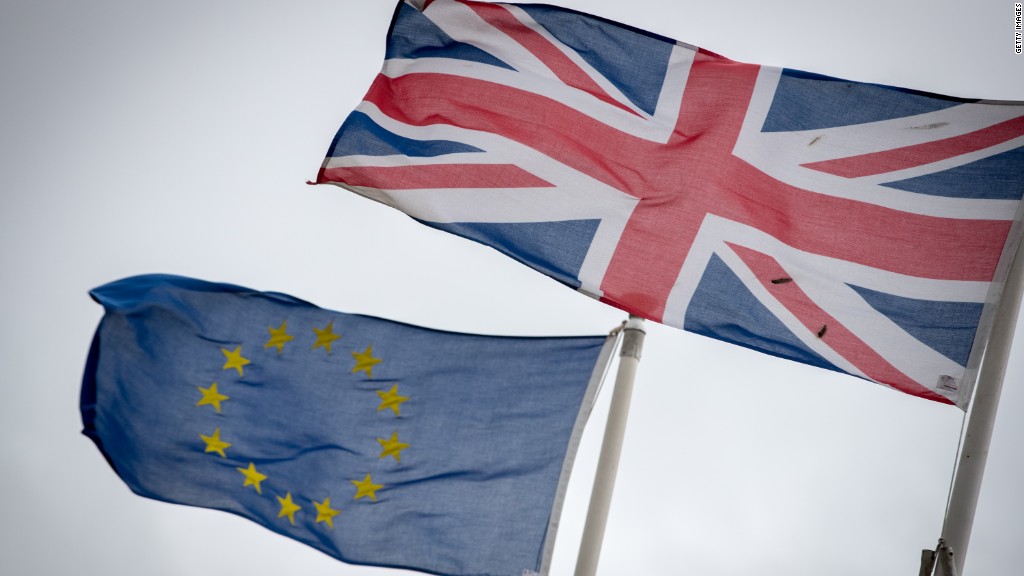 British banks are struggling to keep calm and carry on.
Their shares have collapsed since Britain's vote to leave the European Union on Thursday. Lloyds Bank (LYG) stock has lost 30% in value since the referendum. RBS (RBS) is down 31%.
That's bad news for British taxpayers, who own big chunks of these banks because they were bailed out by the government during the global financial crisis.
Since the close on Thursday, taxpayers have seen £6.5 billion wiped off their stake in RBS and £1.4 billion off their stake in Lloyds. The combined loss -- £7.9 billion ($10 billion) -- is almost equal to the U.K.'s estimated net contribution to the EU budget in 2015.
Other banks are also losing heavily. Barclays (BCS) has lost 32% and Standard Chartered (SCBFF) is down 9%.
Shares in Barclays and RBS were even briefly suspended from trading in London on Monday morning after heavy losses triggered emergency measures that froze their shares.
Banks are hit particularly badly, because the future of London as the financial capital of Europe has been thrown into doubt following the vote. Many global banks use Britain as a springboard for their business throughout the EU, because they have automatic license to operate across the bloc.
Related: London banks will pay the 'price' of Brexit
But many European leaders have warned that London cannot retain its privileges following the decision to leave.
Fears about the impact of Brexit on economic growth are also slamming bank stocks. A slowdown could mean even lower interest rates, a spike in bad debts and less demand for credit -- making it much harder for banks to make money.
U.K. officials have said they stand ready to provide extra cash to oil the wheels of the financial system if necessary.
The broader market plunge continued on Monday. The pound sank 3.5% against the dollar to trade below $1.32, roughly 12% down from its pre-vote level. The benchmark FTSE index in London closed down about 2.5%, while stocks in France and Germany dropped by nearly 3%.
-- Chris Liakos contributed reporting.