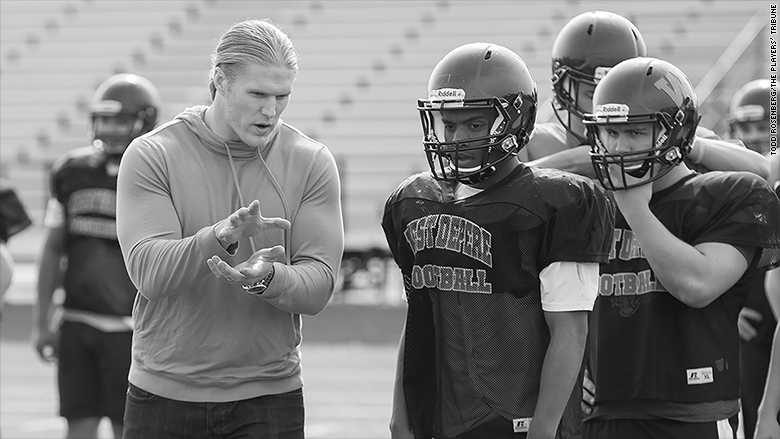 These days, seemingly every digital media property is ramping up its video production. The Players' Tribune is no exception.
The website, founded by former New York Yankees star Derek Jeter as a platform for athletes to circumvent traditional media channels (e.g. reporters), will launch a new weekly web series on Tuesday.
The series, "Scouting Myself," will feature eight videos of athletes such as star NFL wide receiver Larry Fitzgerald and NBA world champion Paul Pierce surprising unsuspecting high school players in the film room.
"Scouting Myself," is the byproduct of The Players' Tribune's partnership with American Family Insurance that was announced in January.
The Players' Tribune president Jaymee Messler said that the lion's share of the site's revenue has come through branded content.
Last month, The Players' Tribune announced a new corporate partnership with Budweiser that resulted in a studio space used to create short-form content.
The new series debuts not just at a time when outlets are placing their bets on video as the next frontier in web publishing, but also as The Players' Tribune appears to be broadening its ambitions.
In the nearly two years since it launched, the site has become something of an intermittent viral hit-maker.
If an athlete has something significant to get off his chest -- like Kobe Bryant announcing his retirement -- The Players' Tribune is increasingly the place where you will find it.
Related: Kobe Bryant teams with Sports Illustrated on 'Dear Basketball' project
Bryant's announcement in November, told in the form of a poem published on The Players' Tribune, caused the site to crash. The same thing happened last summer, when Kevin Love announced that he was re-signing with the Cleveland Cavaliers.
Those posts have become The Players' Tribune's calling card, but the site is trying to establish itself as more than just a platform for athletes to make splashy announcements or offer emotional commentary
It has grown considerably since its launch in the fall of 2014, swelling to roughly 800 athlete contributors and more than 40 non-athlete employees, about a dozen of whom work on the editorial team.
The site's traffic remains modest, save for the months when it publishes a major scoop like Bryant's retirement announcement. That month, The Players' Tribune drew more than 3 million unique visitors, according to comScore.
Most months aren't that robust, typically generating between 1-2 million visitors, but comScore said that The Players' Tribune finally started to register "meaningful traffic" last September. The Tribune claims to have had a 70% increase in content views over last year.
Related: Derek Jeter's sports site raises $9.5 million
"Big announcements like retirement and free agency are great, but that's not why most people come to us," Messler told CNNMoney. "We are not bound by the news cycle."
Messler is determined to make the site a more regular web destination. She said The Players' Tribune is developing a podcast strategy and diversifying its output with more short-form content, while also enlarging its social media footprint by publishing on Facebook and Snapchat.
Amid all those changes, the site continues to distinguish itself with the semi-regular viral moment.
It happened again last week when the site published Jeter's conversation with President Obama.
Messler said that Jeter is "extremely involved with the company," contributing to the overall business strategy and editorial operations.
But the Yankee great is far from the only athlete with a prominent role at The Players' Tribune.
Bryant was involved in fundraising, while Oklahoma City Thunder superstar and former NBA MVP Kevin Durant joined the site as a deputy publisher last fall. Another NBA player, Portland Trail Blazers guard C.J. McCollum, is currently serving as an intern.
All of that makes The Players' Tribune unlike any other website, even as it mimics the rest of digital media.
"The Players' Tribune doesn't really have any direct competitors," Messler said. "What we do is very different than what other sports media companies do."