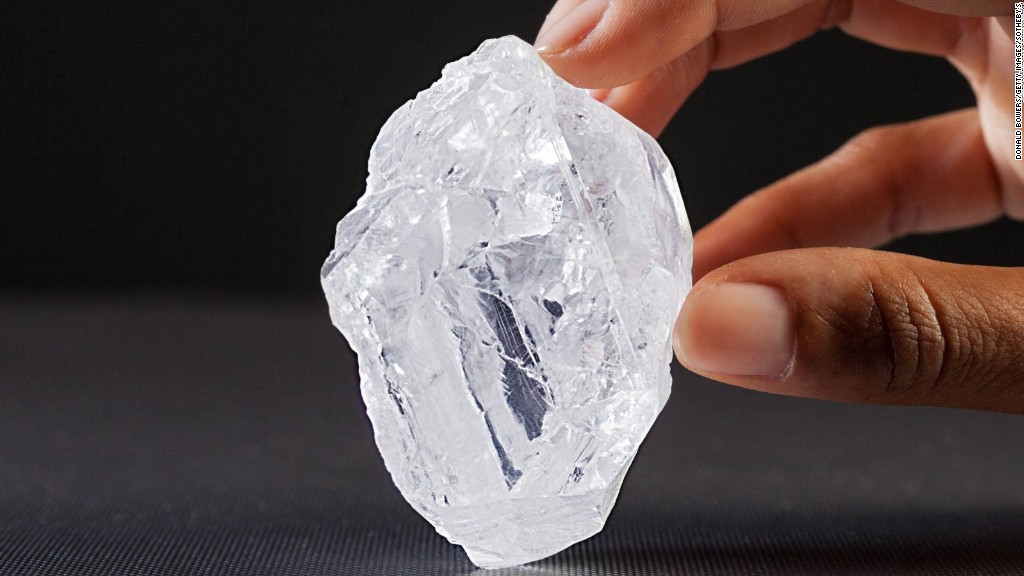 An uncut 1,109-carat diamond is set to be auctioned off Wednesday in London. It's the largest uncut diamond in the world and the second largest ever found.
The sale comes at a time that the British pound has lost more than 10% of its value due to the Brexit vote. That has already put a damper on a recent London art auction held earlier this week.
The diamond auction will be held at Sotheby's (BID) in London at 6:30 p.m. local time. The tennis-ball size diamond is so large that it does not fit into conventional scanners used to evaluate a stone's potential worth.
It was discovered in Botswana in November. It is named Lesedi La Rona, meaning "Our Light" in Botswana's Tswana language.
It is surpassed in size only by the 3,106 "Cullinan Diamond" found in 1905 in South Africa. A cut of that diamond, known as the "First Star of Africa," now is part of British royal family's crown jewels.
Related: Don't shine on you crazy diamond? Jewelers slump
Lesedi La Rona is owned by Canadian mining firm Lucara. Just last month it sold another massive diamond, a 813-carat know as "The Constellation," found in the same mine. It fetched an auction price of $63 million, or more than $77,000 per carat, a new record for a rough gem. Shares of Lucara (LUCRF) have more than doubled since Lesedi La Rona's discovery.
Related: Why Zimbabwe shut down its diamond mines
Lesedi La Rona is expected to go for at least $70 million. But an art auction held in London Monday night at Phillips auction house had 32% of the items put up for auction go unsold, and some of the items sell for less than the low end of their expected sales price.
-- CNNMoney's Ivana Kottasova, Charles Riley and Jim Boulden contributed to this report.