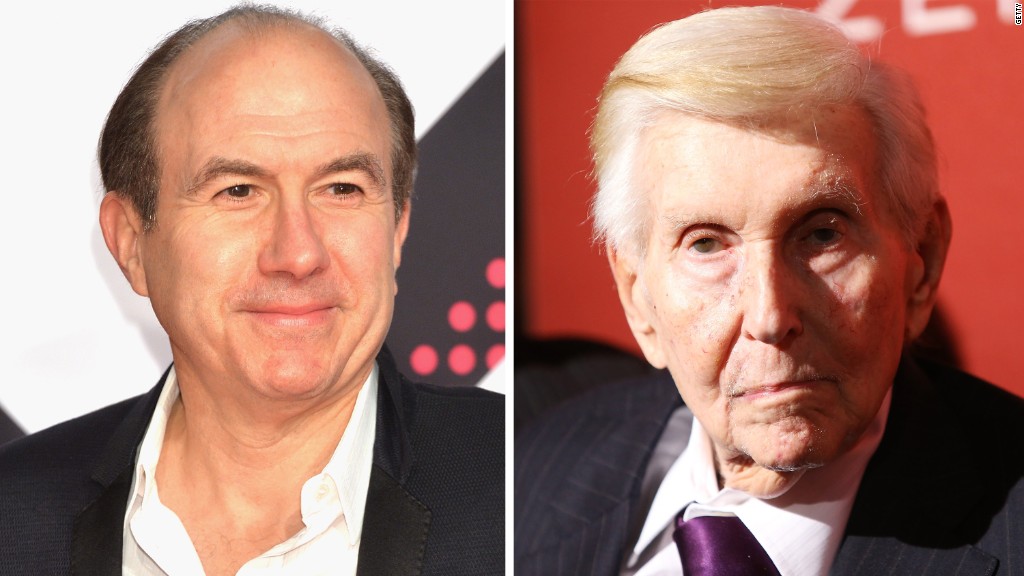 Sumner Redstone's National Amusements issued a warning Tuesday to Viacom executives who are fighting to keep their board seats, telling them that their legal challenges are futile.
In a letter to the board, the movie theater chain, which owns 80% of Viacom's voting stock, defended recent actions that have prompted lawsuits from several top Viacom executives, including CEO Philippe Dauman, board member George Abrams and lead independent director Fred Salerno.
Those three are plaintiffs in suits that challenge the shakeups by alleging that Sumner Redstone lacks the mental capacity or that the actions are being orchestrated by Redstone's daughter, Shari, who they accuse of manipulating her 93-year-old father.
In the letter on Tuesday, Sumner Redstone and other National Amusements board directors wrote, "Needless to say, these highly personal and vicious attacks on Sumner's capacity and Shari's honesty and integrity are offensive and unacceptable. More importantly, however, those allegations, even if they could somehow be proven, would have no impact on the legitimacy of National's actions with respect to Viacom."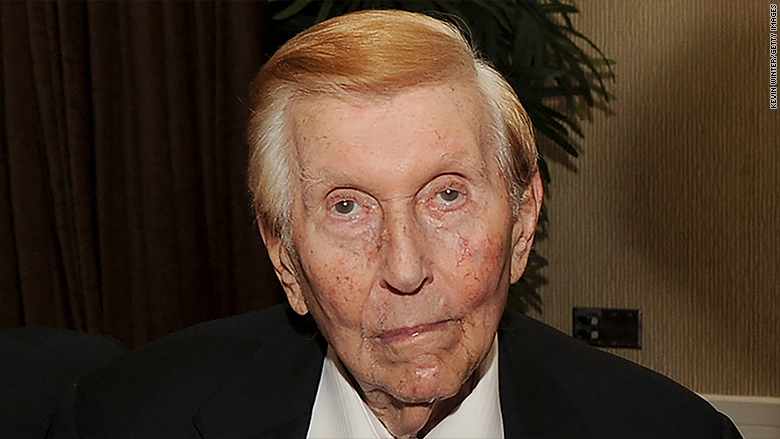 Dauman and Abrams were ousted last month from the trust that will control Viacom (VIA) and Redstone's other media company, CBS (CBS), once Redstone dies or is incapacitated. Earlier this month, Dauman, Abrams and Salerno were among five Viacom board directors who were removed and replaced by National Amusements.
The dispute over the trust is playing out in a suburban Boston court, with a hearing slated for Thursday. The changes to the board are being weighed in the Delaware Court of Chancery.
Related: Viacom legal battle: What we know so far
Tuesday's letter called those legal actions "antagonistic to the interests of Viacom and its shareholders."
The letter goes on to make an assertion by way of hypothetical: Even if Redstone were mentally incapacitated and being unduly influenced, and even if Dauman and Abrams were reinstated as trustees, National Amusements contends that it would not "have the downstream effect of invalidating National's actions with respect to Viacom."
In other words, they would still be removed from Viacom's board.
Related: Viacom CEO could get more than $80 million if ousted
The letter, like a court filing last week, included a squiggly line that served as Redstone's signature.
A Viacom spokesperson disputed the suggestion by "the supposed directors of National Amusements" that the matters concerning Redstone's mental capacity and his daughter's alleged undue influence are irrelevant.
"It matters a great deal to Viacom's shareholders and Viacom's board if Sumner Redstone lacked capacity or was unduly influenced in the making of recent and dramatic governance changes," the spokesperson said in a statement. "Under the law, the implications would be grave if a court were to rule that recent changes were infected by Shari Redstone's undue influence and any improper acts allegedly in Sumner Redstone's name."
Related: Sumner Redstone moves to oust five Viacom board members
"Any 'vote' made under these circumstances would be meaningless," the spokesperson continued. "Individuals who have taken part in such a scheme could and should be ruled unfit to serve as trustees or board members."
Both sides will reconvene on Thursday for a hearing in Canton, Mass. Dauman, Abrams have asked the court to order an immediate medical examination of Redstone.
The Redstone camp has filed a motion to dismiss the lawsuit, and have called on the Massachusetts judge to transfer the litigation to California, where the aging mogul lives.