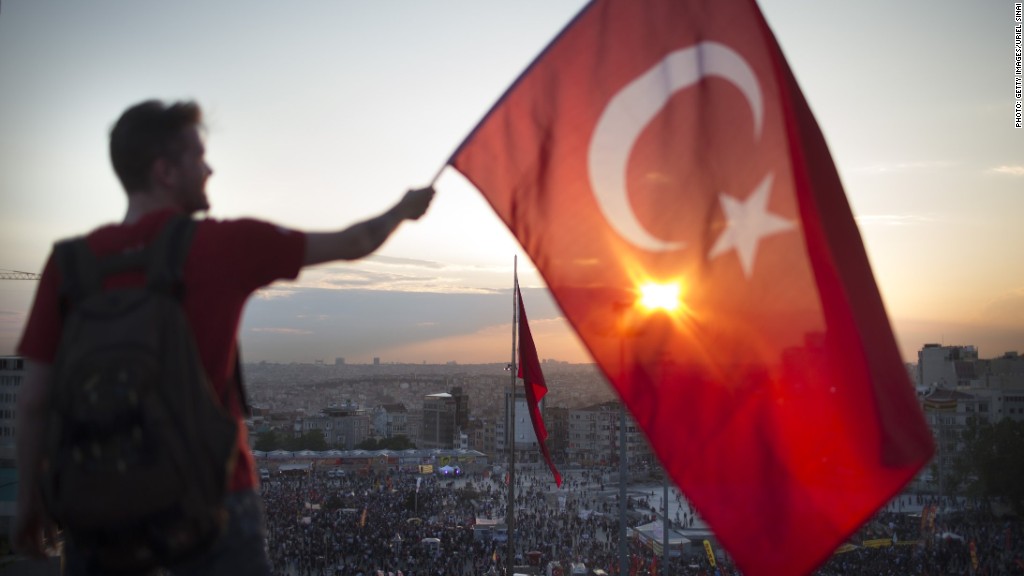 Turkey's crucial tourism industry was in crisis even before suicide bombers killed dozens of people at Istanbul airport.
The deadly terrorist assault late Tuesday that targeted the airport's international terminal is set to deepen those woes.
"This attack is going to hurt Turkey's tourism economy and the business community by seriously challenging the idea that Turkey is a safe place to visit and do business," Soner Cagaptay, director of the Turkish Research Program at The Washington Institute, wrote in an opinion article for CNN.
The number of foreign visitors to Turkey was already in free fall, plummeting 23% during the first five months of this year, according to government statistics.
The plunge follows a series of other terrorist attacks in Istanbul and Ankara, the capital, in recent months. Visitor numbers have also been hit by soured relations between Turkey and Russia.
Related: Millions of tourists too scared to visit these countries
But the bloodshed at Istanbul's modern airport, one of the busiest in the world by passenger traffic, is an especially heavy blow.
"Istanbul's Ataturk Airport is the main entry point for the majority of the more than 30 million people who visit Turkey every year," Cagaptay said. "It's also the hub of Turkish Airlines, the country's only known international brand, and the gateway to doing business in Istanbul."
Travel and tourism directly contributed 5% to Turkey's GDP in 2015, according to a report by the World Travel and Tourism Council. And that doesn't count the industry's impact on other sectors like construction.
The country's tourism industry grew rapidly in the last decade. Visitor numbers increased 200% between 2002 and 2014, according to the Turkish Investment Support and Promotion Agency.
Related: Ryanair is cutting fares to counter terrorism fears
But 2014 might have been the peak. The total has since gone into decline, and visitors from wealthy Western countries are now increasingly choosing to stay away.
The numbers of Germans, Brits and Americans visiting in the first five months of 2016 all sank by more than 20%.
Russian visitor numbers fell even more dramatically -- by more than 80%.
That's mainly the result of Russia's decision last fall to bar its travel agencies from selling trips to Turkey and ban charter flights to the country.
Moscow imposed the ban as part of a wave of economic sanctions against Ankara, after the Turkish military shot down a Russian warplane near the country's border with Syria in November.
Turkey said the plane violated its airspace and refused to apologize until earlier this week, when its president offered his condolences to the family of the deceased Russian pilot.
That diplomatic move prompted Russia to lift restrictions on travel to Turkey on Wednesday, according to state-run news agency TASS. If Russian tourists do return, it could give the industry a needed boost.
-- Anastasia Sobinyakova contributed reporting.