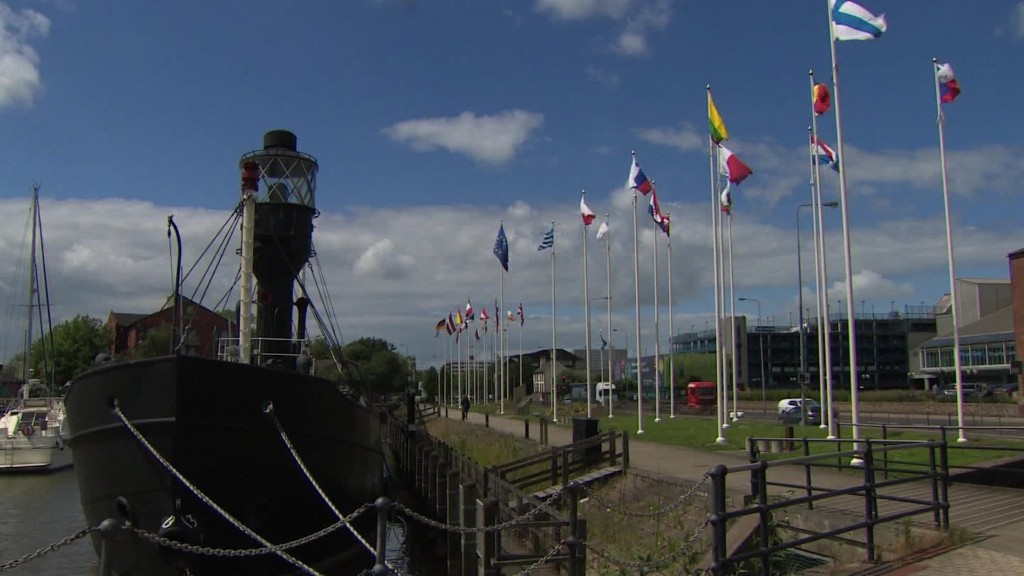 Britain's vote to leave the European Union may cost it the world's second-largest telecom company.
British industry giant Vodafone (VOD) says it's considering moving its headquarters out of the U.K. following last week's shock referendum result.
The loss of the company, whose stock helps anchor the benchmark FTSE 100, would be a stinging blow for a country that is struggling to come to terms with the economic consequences of a vote to divorce its European neighbors.
Vodafone said in a statement that Britain's EU membership has "been an important factor" in its growth. It added that bedrock EU principles including freedom of movement of people, capital and goods are all vital for regional companies.
"It is ... not yet possible to draw any firm conclusions regarding the long-term location for the headquarters," the company said. "We will continue to evaluate the situation and will take whatever decisions are appropriate in the interests of our customers, shareholders and employees."
Related: 7 cities that could steal business from London
Vodafone, whose group headquarters are in London, said the vast majority of its 462 million customers and 108,000 employees are based outside of the U.K. The company earns 55% of its pre-tax revenue in Europe, while only 11% comes from Britain.
There are tremendous levels of uncertainty facing British businesses in the wake of the vote. London must now establish new trading relationships with its major foreign partners, and determine the immigration status of EU migrants currently working in the U.K.
At the company level, aftershocks from the Brexit vote are still being felt widely: Large banks, many of which run their European operations from London's Canary Wharf, are facing some of the biggest headaches.
Related: Brexit will mean higher taxes, less spending for U.K.
The credit ratings agency Moody's warned that automakers, manufacturers and food producers in Britain could suffer from higher trade barriers and reduced volumes. It said increased regulatory risk would hit telecom firms, airlines and drug makers.
House builders were tipped as big losers too. Analysts are worried that a sharp decline in consumer confidence will hurt home sales. Foreign buyers might also find London a much less attractive option for property investment.
The FTSE 250, which is made up of mostly mid-sized British companies, has plummeted by nearly 10% since the vote.