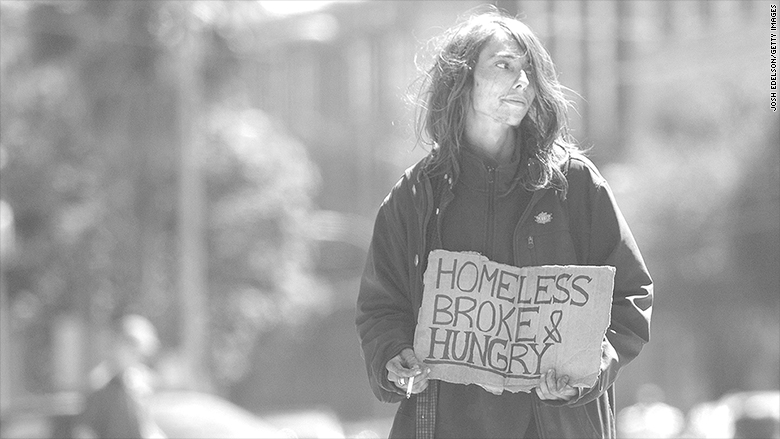 "Could supervised injections help San Francisco's homeless drug users?"
"Could this Silicon Valley algorithm pick which homeless people get housing?"
These are two of many headlines published on Wednesday as part of a coordinated media blitz on homelessness.
Nearly 80 media organizations banded together for one purpose: Make the issue top of mind and surface possible solutions.
The effort -- dubbed the SF Homeless Project -- was spearheaded by Audrey Cooper, editor-in-chief of The San Francisco Chronicle.
Outlets ranging from Medium, public radio stations, BuzzFeed and The California Sunday Magazine have committed to publish stories on the subject this week.
An open letter published by the SF Homeless Project calls the issue a "human catastrophe."
The number of homeless in the city has increased in recent years, according to the Homeless Point-in-Time Count for 2015. Moreover, most of these homeless people weren't always living on the streets, according to the survey. It found that the vast majority of San Francisco's homeless population (71%) previously had a place to live.
As San Francisco's rent has skyrocketed, residents have been driven out. Some blame the influx of highly paid tech workers. As the city becomes increasingly gentrified, the problem becomes more visible. Alarming encounters with some homeless -- from witnessing them shooting up drugs to having sex and urinating in public -- are difficult to turn a blind eye to.
Related: Cooking for Oakland: How this tech startup gives back
"Bringing weight [to] this is invaluable," Cooper told CNNMoney. "City leaders know we're darn serious about holding their feet to the fire and making sure they're doing right by the most vulnerable people in the population."
The Chronicle is devoting this week's coverage to homelessness. It is tackling how things got to where they are today, the complexities of existing data sets on homelessness, and letters from the San Francisco's last five mayors on the issue. It is devoting four days to potential solutions and will culminate with a front-page editorial in Sunday's paper -- which Cooper said is the first editorial cover story in about two decades. The tentative headline is "A Civic Disgrace."
"As much as people want to say there is a simple solution -- there is not. It's much more complicated than that," said Cooper. "It's so political and so emotional that we've forgotten to have the discussion."
Related: SF techie: 'I shouldn't have to see the despair of homeless people'
Cooper said the goal of the media blitz -- which includes both local and national outlets -- is to have a broad reach and spark a discussion that will continue far beyond just a day.
"The intention was, we all have these individual audiences -- if we all reach out to them, we stand a good chance of getting to 100% public understanding," said Cooper. "We represent the world's most innovative region. This is thinking outside of the box -- a new way to do journalism."
Organizations addressing homelessness are also getting involved. Compass Family Services is hosting an open house to showcase solutions to help alleviate family homelessness in San Francisco. HandUp, a tech platform to donate to individual homeless people, and San Francisco Bay Area Planning and Urban Research Association are hosting a panel with policy experts, journalists and housing providers to discuss the connection between homelessness and housing. The event, which is sold out, will be livestreamed.
"A lot of people want to do something, but they don't know what to do. It's scary, it's confusing," said HandUp cofounder Rose Broome. She told CNNMoney she's never seen anything like the SF Homeless Project effort and is excited about the awareness it is bringing to the issue.
"It is so vital that we be having these discussions and thinking about these issues more collectively," she said.