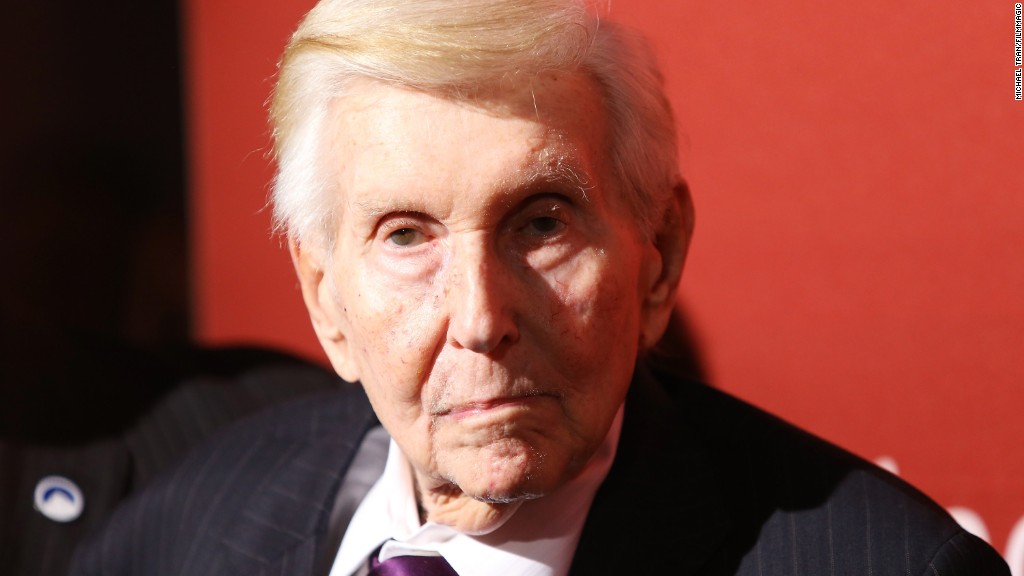 CANTON, Mass. -- After a five-and-a-half hour hearing packed with varying interpretations of a trust that will control Viacom and CBS when Sumner Redstone is dead or incapacitated, a Massachusetts judge said Thursday he needs more time to weigh arguments centered around the 93-year-old tycoon's mental competency.
The judge, George Phelan, said he needs to review certain documents before he makes a decision whether to dismiss a lawsuit brought by Viacom CEO Philippe Dauman and board member George Abrams after they were ousted from the trust last month.
Phelan closed the proceedings by asking the attorneys a number of questions about Redstone's condition, including how he communicates and receives information, and who has been treating him.
The hearing, held at a probate and family court in Canton, Mass., largely centered around a dispute over the suit's jurisdiction. Attorneys for Dauman and Abrams believe the litigation should play out there, while Redstone's representatives want the case dismissed or transferred to California, where he lives.
Related: Viacom legal battle: What we know so far
Les Fagen, a lawyer for Dauman and Abrams, argued that the court was clearly the proper jurisdiction, given that the document identifies Redstone as a resident of Newton, Mass.
The trust was approved by the Massachusetts probate court, Fagen said.
"This trust instrument uses the word 'Massachusetts' 15 times," he said. "It was negotiated, it was drafted, it was executed here... This is a Massachusetts trust, through and through."
Robert Klieger, an attorney for Redstone, pushed back, saying that at least one of the references to Massachusetts in the trust document pertained to the location of National Amusements, the Redstone-owned movie theater chain that controls 80% of Viacom's voting stock.
Klieger said the trust document refers to a court only once, when it mentions a "court of competent jurisdiction."
In this case, Klieger said, that applies to the state where Redstone currently resides.
"All of the activities of the trust... everything is done by Mr. Redstone from Mr. Redstone's residence in California," Klieger said.
Klieger said that as long as Redstone is living, the trust has one role: to vote the stock of National Amusemebnts.
Dauman and Abrams allege that Redstone, the controlling shareholder of Viacom, was manipulated by his daughter Shari in the decision to remove them from the trust.
Related: Sumner Redstone's illegible signature looms over Viacom drama
They have filed a motion for Redstone to undergo an immediate medical examination to determine whether he had the mental competency to make such a decision, but Phelan said Thursday he would defer that to another day.
Dauman and Abrams were also among five directors who were removed and replaced on Viacom's board earlier this month in a sweeping move by National Amusements that is now being challenged in the Delaware Court of Chancery.
The plaintiffs have sought to highlight the often-strained relationship between Sumner and Shari Redstone. Fagen said in court that Sumner Redstone made it "abundantly clear" that he never wanted any family member, and in particular Shari, in charge of his companies.
But in court on Thursday, an attorney for Shari Redstone pushed back forcefully on those charges.
The attorney, Elizabeth Burnett, denounced what she called "character assassinations" made by Dauman and Abrams.
"Shari didn't hold a gun to Sumner's head," Burnett said. "She didn't make these decisions when he was unconscious in a hospital."
The arguments unfolded in front of a packed courtroom about 15 miles outside of Boston, with dozens of attorneys representing various members of the Redstone clan in attendance.
The dispute over Redstone's health began last year when his ex-girlfriend, Manuela Herzer, alleged that he did not have the mental competency to remove her as his health care agent.
A Los Angeles judge dismissed that case last month, only for Dauman and Abrams to bring a fresh suit weeks later.