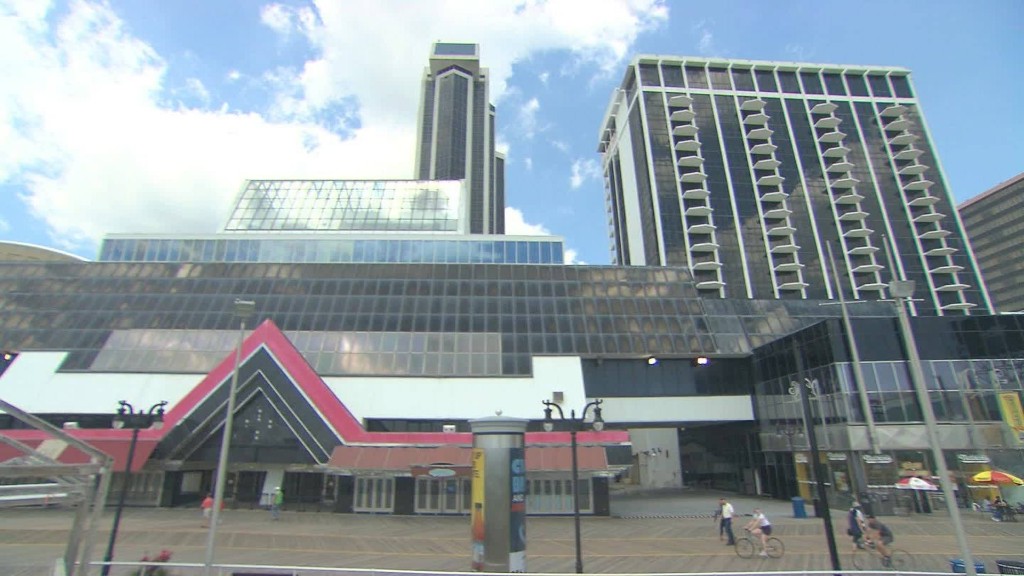 A strike was averted at three of the five Atlantic City casinos facing a walkout when a tentative labor deal was reached early Thursday,
The deal steps up pressure on the two other casinos, Trump Taj Mahal and Tropicana, to come to terms with the union. The union is threatening to walk sometime after 12:01 a.m. Friday, right at the start of the holiday weekend.
The deal is between the union UNITE Here and Caesars, Harrah's and Bally's. They're all owned by Caesars Entertainment, which has been operating under bankruptcy court protection for the last 18 months. There are more than 3,300 union members spread between the three casinos.
Terms were not released, but the union leadership is recommending that rank and file workers vote to ratify the deal.
Related: More Atlantic City casinos may close says Moody's
The two other casinos, which are both owned by financier Carl Icahn, have a total of about 2,000 union members and are still in talks. Despite the name, Donald Trump no longer runs or owns the Trump Taj Mahal.
The Atlantic City casino industry has been struggling with four casinos having closed in the last few of years. Moody's credit rating service suggested in December that even more of the eight remaining casinos may close, as out-of-state competition heats up. The city government itself is trying to avoid its own bankruptcy.
But profitability has returned to the eight remaining casinos in recent years, thanks to the reduced gambling competition in the city.
The union says that workers are paid an average of $11.74 an hour, and that veteran workers have received wage increases of just 80 cents over the last 12 years. It also says many of its workers rely on public assistance, such as government-subsidized health insurance and food stamps. Meanwhile, the union claims that profits at Atlantic City casinos jumped 40% in 2015 from the year before.