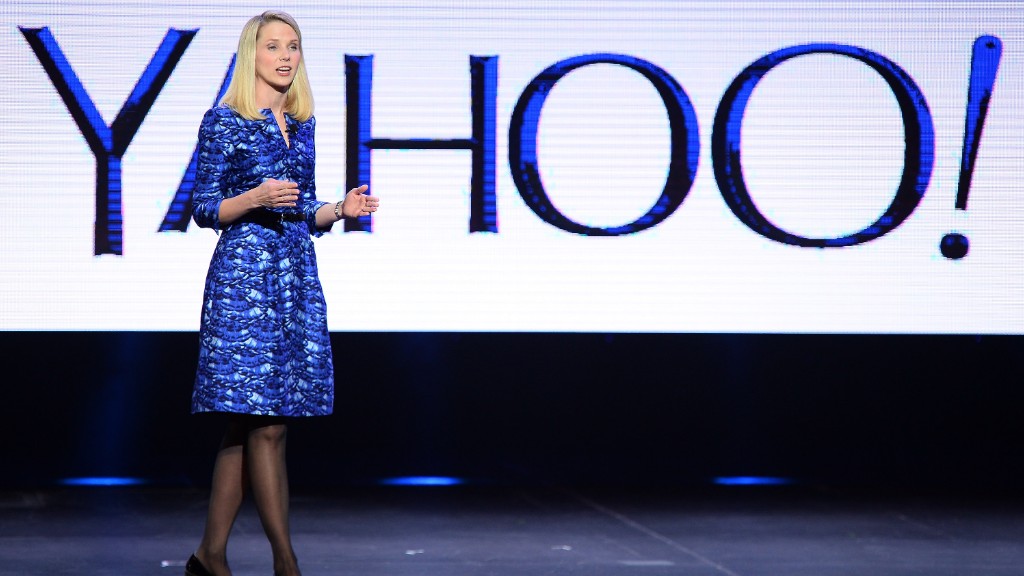 Marissa Mayer addressed the purple elephant in the room immediately after stepping on stage: No, there are no updates about Yahoo's sale process.
Instead, Mayer devoted what may be Yahoo's final annual shareholders meeting as an independent company to making the case that her turnaround efforts were not a complete failure.
"On a personal note, I will say that I've been heartened by the level of interest in Yahoo," Mayer said at the meeting on Thursday, presumably referring to reported acquisition bids from Verizon (VZ), AT&T (T) and numerous private equity groups. "It validates our business progress."
The business progress, as she laid it out, includes growing mobile users and revenue throughout her four-year tenure and launching dozens of new product features a year to broaden Yahoo's audience. It also means pushing to cut costs in recent months through layoffs and shutting down more than 100 products.
When pressed by one shareholder on why Yahoo's growth lagged behind competitors, Mayer stressed the "very competitive space" the company operates in.
Analysts and industry watchers aren't as charitable in grading her accomplishments.
"This is about protecting her legacy," says Jan Dawson, a technology analyst with Jackdaw Research. "Yahoo was her chance to run an entire company for the first time and really make her mark in her own right as a CEO. It hasn't gone well."
Mayer, previously a star executive at Google (GOOGL), took over as CEO of Yahoo (YHOO) in mid-2012, kicking off a wave of speculation about whether she could save the slumping Internet company. She enjoyed a two-year honeymoon period with investors, thanks in large part to Wall Street's focus on Yahoo's large stake in Chinese e-commerce giant Alibaba, which went public in September 2014.
Since then, Mayer has faced renewed scrutiny for failing to revive Yahoo's declining ad revenue with flashy new tech products and dozens of acquisitions, including the $1.1 billion purchase of Tumblr.
Verizon, AT&T and others are now said to be bidding as much as $5 billion to purchase Yahoo's core Internet business after hedge fund Starboard pushed for a sale and received four seats on the company's board.
"Yahoo's management team and our board are fully aligned with one clear priority: delivering shareholder value to all of you," Mayer said in her opening remarks on Thursday. "We have no announcements today, but we are continuing to make great progress on our process."
It was a far cry from last year's shareholder meeting when Mayer confidently declared that "the best years for the company are still ahead of us."