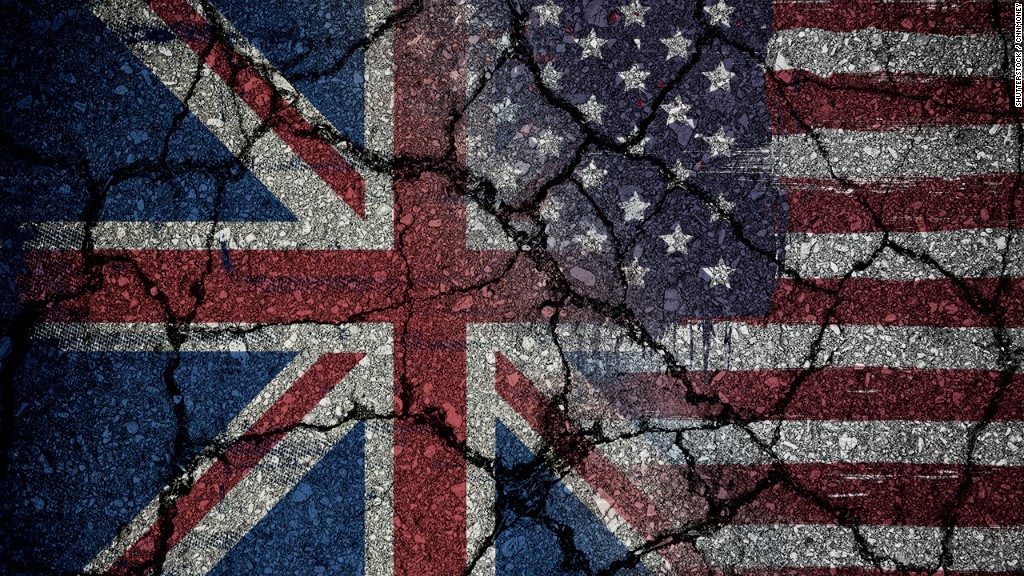 A week is a long time in politics.
Those famous words may ring even truer now than when first uttered by a British prime minister during a crisis 50 years ago that saw the pound crash 14%.
If you're struggling to keep up with events since the U.K.'s shocking vote to leave the European Union last Thursday, here are five things you need to know before you head to the beach:
1. When will the U.K. leave the EU?
Over 17 million British voters (52%) backed Brexit. They may have to wait until 2019 for it to actually happen.
Divorce talks with the EU will take at least two years, but they can only begin when the U.K. decides it is ready.
The EU wants to get started as soon as possible, because it's worried that a long period of uncertainty will hurt the economy. But it will have to wait several months at least for the U.K. to get its act together.
2. Who is running the country?
Prime Minister David Cameron resigned last Friday after his campaign to stay in the EU was defeated. He's staying on as caretaker until his Conservative Party elects a successor.
The race has begun but will last until September. Theresa May, a senior minister in Cameron's government, is the frontrunner after Brexit campaigner Boris Johnson decided not to stand.
May says she won't give formal notice of U.K.'s intention to quit the EU before the end of the year. Other candidates aren't in a hurry either.
3. What do investors make of this?
More than $3 trillion was wiped off global stock markets in two days on Friday and Monday. The pound crashed to its lowest level against the dollar since 1985.
Wall Street and big U.K. stocks bounced back this week. But European markets are still nursing losses, and the FTSE 250, which tracks the U.K. economy more closely, has lost 6% since the vote. The pound is still down 12%.
Bank stocks are among the hardest hit -- they're most exposed to slower growth and the lower interest rates it may mean. The immediate risk of a global financial crisis appears to have passed. But investors are still very nervous.
Telecoms giant Vodafone (VOD) may move its headquarters overseas because of uncertainty over the future relationship with Europe. Richard Branson has already canceled a big deal. A $20 billion stock exchange merger hangs in the balance. Real estate deals are being canned.
4. Why should I care?
The weak pound means big savings on a trip to Britain. Lower interest rates could mean cheaper mortgages.
But Brexit could spell trouble for large American firms. U.S. exports become more expensive as the dollar rises, and profits made overseas are worth less. Many are heavily invested in the U.K.
And then there's the risk to global growth if the first divorce in the history of the EU drags on, making companies and consumers less confident about the future.
Brexit could cause Europe serious problems beyond the messy divorce talks. Market gyrations are straining some of the region's weaker banks, and populist politicians in France and the Netherlands have already called for votes on EU membership. There's a risk of a domino effect.
5. What happens next?
Anyone's guess. Remember: House of Cards was a British creation.