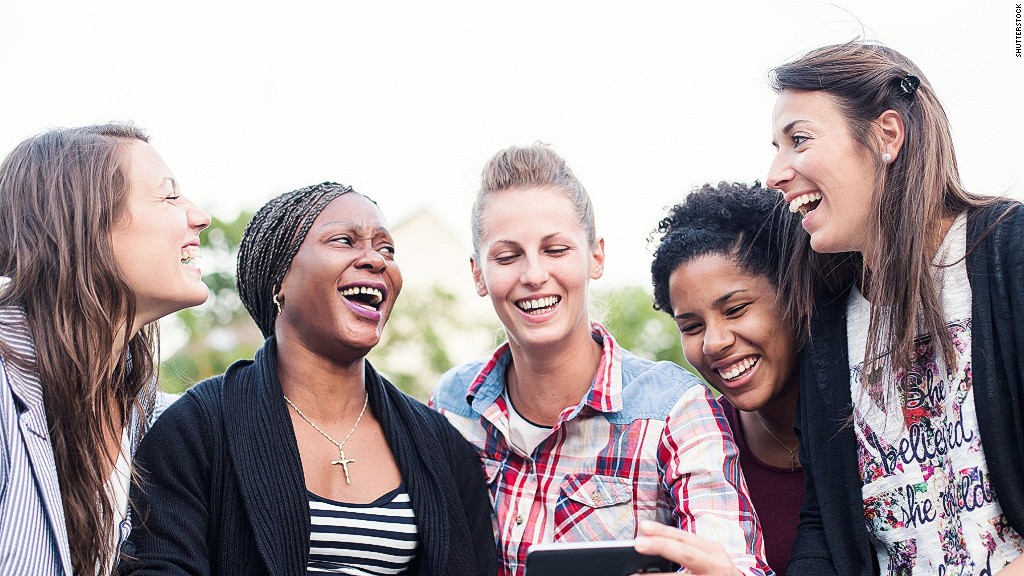 Newly minted college grads -- even upcoming seniors -- looking for jobs and internships might be surprised by their interviewer. It could be a machine.
Especially if they want to work at Goldman Sachs (GS), which recruits from 225 colleges in the United States.
The Wall Street titan announced last week it will ditch on-campus interviews starting next year for undergraduates in favor of an automated interview recorded by HireVue, a Utah-based company that creates software for recruitment.
Goldman isn't alone. It appears to be a part of larger trend: fewer and fewer companies are visiting universities -- once considered a valuable recruiting tool for firms and a way for graduates to meet employees and better understand where their skills fit.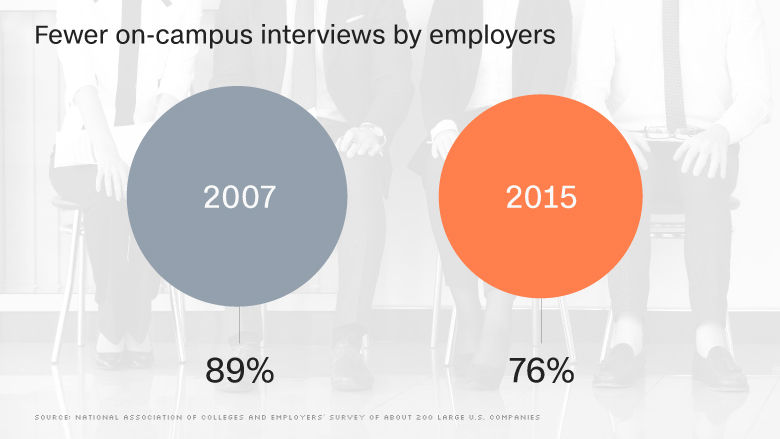 Related: College grads are getting nearly all the jobs
"A lot fewer companies are going on campus," says Bob LaBombard, CEO of GradStaff, a placement firm for young college grads.
A generation ago, LaBombard says: "The employer came to the candidate. Now the candidate has to find the employer."
Companies cut back college visits during the recession and years following because many weren't hiring. However, even as the job market has rebounded -- U.S. unemployment is really low at 4.7% -- companies haven't returned in the same numbers.
Related: U.S. problem: I work three part-time jobs
In 2007, about 89% of big-name employers conducted on-campus interviews, according to a survey by the National Association of Colleges and Employers. By last year, that figure had fallen to about 76%.
Part of that is explained by an increasing preference for automated interviews. HireVue CEO Mark Newman says his company's technology conducted about 500,000 interviews on campuses last year -- double the number from the year prior.
Newman argues that his technology helps employers meet as many people as possible, and allows candidates to tell their story in their own words and not just a resume.
Related: Top 25 employers for new college grads
"Employers tell us more and more a resume tells us nothing about who this person is," Newman says.
Overall, college grads' job prospects have improved considerably since the Great Recession. The unemployment rate for college grads between ages 21 and 24 is 5.6% -- just about the same as it was in 2007 before the recession started.
Related: Best job prospects in 8 years for Class of 2016
Still, underemployment and a lack of good jobs continue to trouble young college grads.
About 12.6% of college grads are underemployed, meaning they don't work enough hours. Even though it's lower than 19% during the height of the recession, it's a lot higher than normal.
Underemployment was at 9% before the recession, according to the Economic Policy Institute, a research group.
"Recent college graduates are having a hard time finding a job -- finding a good job has become much more difficult," says Elise Gould, a senior economist at the Economic Policy Institute and expert on the job market for college grads.
Gould suspects the lack of good jobs for recent grads is due to weak demand for services -- economic growth and business investment have been low since the recovery, meaning employers may not feel the need to give new grads full-time jobs.
For its part, Goldman says it's trying to weed out any biases between job candidates and interviewers, such as mutual friends, interests in the same sports or same schools.
That could lead to more diversity on Wall Street, something big banks admit they need to improve on.
Related: I'd be the first college graduate in my family
Still, some say the benefit of meeting people in person is an opportunity for seniors and young grads to get a better understanding of roles that might fit their skills.
LaBombard's firm places recent college graduates in four-month training programs with employers. After the trial, if the employer likes the candidate, they get a full-time job or full-time position on a project that runs for several months.
Last year, his firm placed 1,200 recent college grads in job trials. This year, they anticipate that number reaching 1,500 graduates.
And understanding job skills is a big problem right now: the U.S. economy has a record number of job openings while millions of Americans, including college grads, are working part-time jobs but want full-time gigs.
"There is a real skills gap," says LaBombard. Many college grads "don't know where their education and skills fit in the workforce."