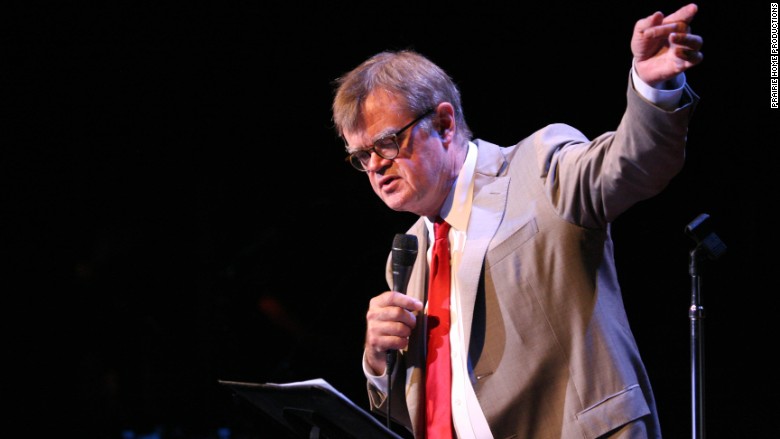 Stoic to the end, Garrison Keillor has signed off from the public radio show he created 42 years ago, "A Prairie Home Companion."
For his retirement broadcast Saturday he was joined by President Obama, who called in and said that listening to Keillor's stories is one of the things he misses about driving.
Millions of radio listeners across the country have laughed and sung along with Keillor and his fellow performers every weekend.
The radio icon, 73, will remain an executive producer of the show when Chris Thile, 35, becomes the primary host in October.
But this weekend was the season finale, taped Friday night at the Hollywood Ball in Los Angeles.
"How does it feel?" performer Tim Russell asked Keillor.
"Well, it's the first last show I've ever done, so I don't know how it's supposed to feel," Keillor answered.
He commented that "Radio was an accident. It was never my ambition. My ambition was the circus. And that's what I'm going to be doing starting Monday."
He was kidding, of course.
Keillor is actually working on a memoir and a screenplay.
Earlier this year, when CNN's Poppy Harlow talked with him about retirement, he said, "I'll sit at home and type. I'm going to rediscover lunch. I'm going to rediscover weekends."
Keillor has suffered two seizures in the past year. But he continued to travel and perform.
Fans cheered for him and celebrated his career during Friday's taping and Saturday's broadcast.
Los Angeles Times critic Robert Lloyd said "A Prairie Home Companion" has been "an ark between the old world and the new, the analog and the digital. It kept audio comedy alive into an age of video."
Peter Sagal, the host of NPR's "Wait Wait... Don't Tell Me!," tweeted that Keillor "saved radio as a medium for entertainment. Period."
He said that "Wait Wait" and other public radio programs wouldn't exist without "Companion."
During Saturday's broadcast, actor Clay Goodpasture shared a photo of a circle of friends listening to the episode on blankets in a park.
And Casey Common, an editor at the Minneapolis Star Tribune, quipped that it was the "Minnesota Super Bowl."
Keillor delivered one more report about his imaginary Lake Wobegon and concluded, as he always did, with "That's the news from Lake Wobegon, where all the women are strong, all the men are good looking, and all the children are above average."
Venture capitalist Chris Sacca, who attended Keillor's final taping on Friday, said Keillor shared a letter with each audience member as a going-away gift. He posted a photo of the letter.
"Now, as retirement nears, it's a revelation to be accosted by people who want to say: Your show has meant a lot to me. Some of them have been tuned in for most of their lives," Keillor wrote.
"It's very sweet," he wrote. "Also confusing, since I was never a big fan of the show myself. I enjoyed doing the show — it was the only social life I had — but the show was never as good as I wanted it to be, and that's just a fact."