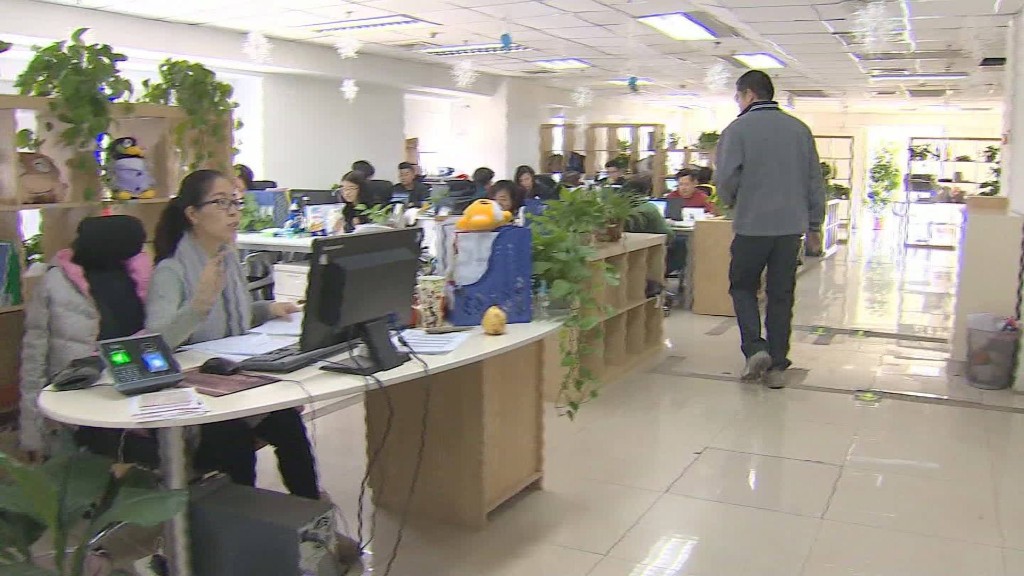 If you're skeptical about China's official economic data, another option is on its way.
Chinese Internet giant Baidu is diving into the vast amount of data it collects in an attempt to give the world a clearer picture of the world's second-largest economy.
Baidu is China's leading search engine and maps provider. Every day, it gathers 25 billion location requests and data points from around 700 million users -- that's roughly half the country's population.
And now, the company is analyzing all that information to devise its own set of macroeconomic indicators.
Baidu's massive user base "represents a good portion of Chinese consumer behavior," said Wu Haishan, a senior data scientist at the company. "We think the government will also look forward to having other options, a way to look at this from a different angle."
Experts have long questioned the accuracy of the numbers released by the Chinese government's statistics bureau, which tracks everything from factory activity to economic growth. Some observers often turn to proxy measures -- like electricity output, freight shipments and seaport cargo volumes -- to gauge the health of the economy.
Related: How fast are India and China really growing?
And interest in access to reliable data is only growing. China is now posting its slowest annual growth in 25 years, a shift with consequences for companies and investors around the globe.
Some economic measures Baidu is tracking include employment and consumer spending. Those are based on the anonymous data it collects from users, which cover everything from the items they splurge on to what they're searching for online. Wu expects the data to be publicly available soon via an online dashboard.
Aside from trying to give better insight into the Chinese economy, Baidu is also experimenting with wider uses for its data.
For example, users often search on a Baidu map to plan a route. By aggregating the query information, the company says it can estimate the future population in any given area ahead of time, and use that as a way to warn the public about potential crowd disasters hours in advance.
Related: Meet China's tech behemoths
Mass gatherings have before created problems in China's mega cities -- in 2014, a stampede on New Year's Eve in Shanghai killed 36 people.
For businesses, "if you're looking to open a store, one of the most important questions to answer is, 'Where are my customers?,'" Wu said. Baidu data can provide demographic details on a particular area, such as average age, salary and whether or not local demands are being satisfied.
If one neighborhood is getting more searches for coffee shops, then that could be a good spot for Starbucks to open its next cafe, he said.
Plenty of big tech companies around the world such as Facebook (FB) are working to make use of their data to better understand consumer behavior, making money by selling targeted ads, for instance.
But user privacy and cybersecurity concerns remain delicate issues. In March, a research group that focuses on tech and human rights flagged security flaws in top Chinese web browsers that could make users' personal information more vulnerable.