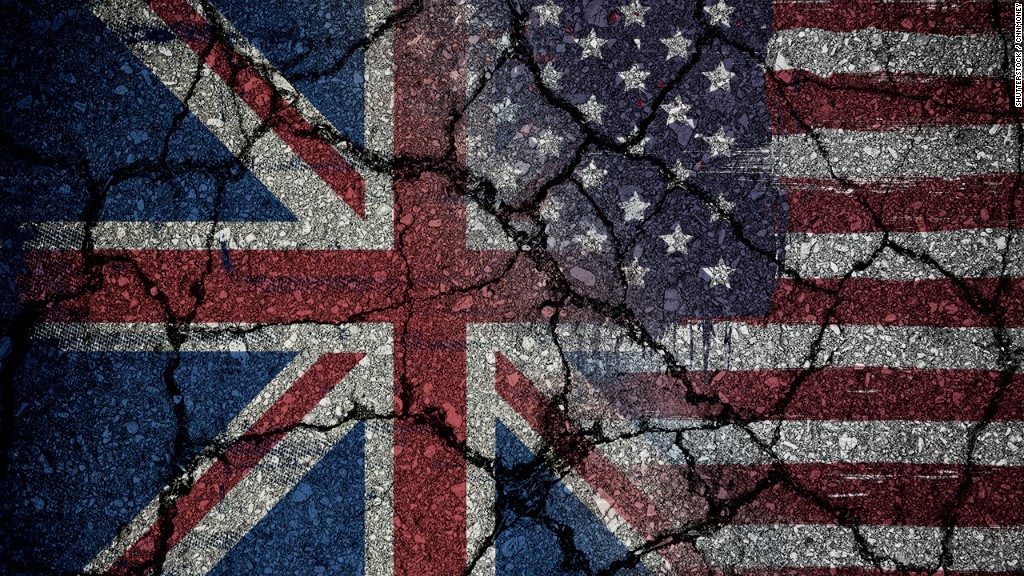 Is Brexit going to lead to fewer companies walking down the corporate merger wedding aisle?
The first half of the year was sluggish. The value of announced deals worldwide fell 18% from a year ago, according to figures from research firm Dealogic.
Some European deals could become casualties of the Brexit vote.
"We have seen half a dozen deals we are working on put on hold in the wake of the vote outcome," said KPMG partner Karen Briggs. "Whether this is a short-term wobble or has more lasting ramifications remains to be seen at this stage."
There are questions about whether the London Stock Exchange's planned merger with Germany's Deutsche Börse will go through -- although LSE shareholders just voted in favor of the deal.
And there are reports that Bank of America (BAC) may not go through with plans to sell its British credit card unit MBNA.
"The build-up and announcement of Brexit sent shockwaves through the dealmaking community," wrote analysts at research firm Mergermarket.
"Firms postponed deals, cautious of the impact on exchange rates and questioning what they will actually be buying into, unaware of how future negotiations will affect them," the Mergermarket analysts added.
Related: China spends record amount buying up foreign companies
But there has been a flurry of mergers involving high profile companies with well-known brand names lately.
Blue chip companies with cash to burn (or stock or debt as the case may be) may find that now is the right time to pounce on weaker prey.
Microsoft (MSFT) announced its $26 billion purchase of LinkedIn (LNKD) just before the quarter ended last month. It's the Windows maker's biggest deal ever.
Movie studio Lionsgate (LGF) is buying cable network Starz (STRZA). There could be even more mergers in the world of media, tech and telecom.
Those sectors bucked the downward trend for the broader market. The number of deals and value of those acquisitions were each up in the first half of the year, according to JEGI, an investment bank focusing on tech.
And candy king Hershey (HSY) may now be in play after Cadbury owner Mondelez (MDLZ) made an unsolicited takeover offer for it. Hershey rejected the deal, but that may not be the end of this just yet.
Experts said that more big mergers could be on the way.
"M&A activity reflects the search for growth among companies in a world economy struggling to get back to post-crisis growth rates," said Joe Quinlan, head of market and thematic strategy at Bank of America's U.S. Trust unit.
Related: Lionsgate-Starz deal highlights Hollywood's 'bigger is better' attitude
And Brexit is likely to keep the Federal Reserve on hold for the foreseeable future. So interest rates aren't likely to head much higher. That's good news for companies looking to go shopping.
"Low interest rates have fueled mergers and acquisitions," said Susanne Alexandor, vice president of Cougar Global Investments. "It's a byproduct of this lower for longer rate environment and that's likely to continue."
In fact, the yield on the 10-Year Treasury hit a record low on Tuesday. Despite some gloomy predictions about the health of the American economy, investors around the globe are like the fans at the 1980 Olympics Miracle on Ice game chanting, "USA! USA!"
Michael Arone, chief investment strategist at State Street Global Advisors, agreed that many companies now realize that it's easier to grow their sales and profits through mergers -- especially since financing deals aren't that costly.
"With low interest rates, debt financing is cheap. So why not borrow?" he said.
Of course, the main wild card is whether or not Brexit causes companies outside of the U.K. and Europe to reconsider whether they want to spend big bucks on mergers.
Related: Hershey rejects sweet takeover offer from Mondelez
Wall Street seems to be suggesting that American business titans writ large are not likely to feel that much pain from Brexit. For now at least.
But could there be a bigger impact from Brexit on Corporate America than investors think?
We may get a better sense Wednesday morning when, strangely enough, a neighborhood drug store chain that has its headquarters in the suburbs of Chicago reports its second-quarter earnings. Yup. You read that right.
Walgreens (WBA) will release its results before the closing bell. The company, which is now officially known as Walgreens Boots Alliance following its merger with European pharmacy owner Alliance Boots in 2014, is huge in Britain.
Nearly 20% of Walgreen's total stores are now in the U.K The company generates almost 10% of its revenue from Britain and another 11% from Europe.
Pepsi (PEP), which will report its latest results on Thursday, also gets a decent amount of sales from Britain -- 3%. That makes it the company's fifth largest market.
-- Ivana Kottasova contributed reporting.