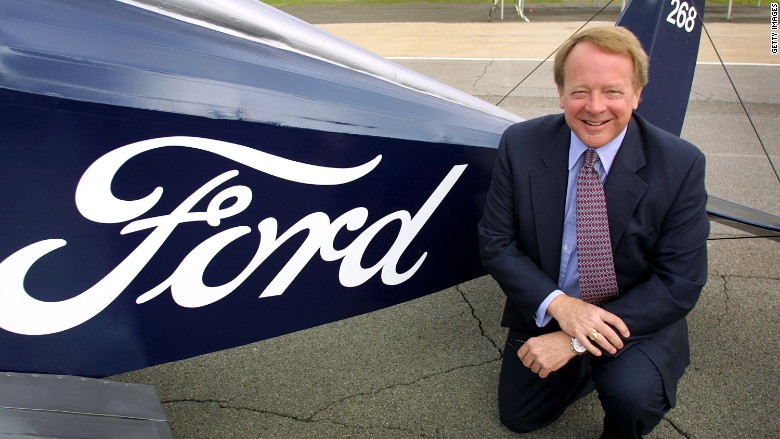 Ford Motors heir Edsel Ford II was arrested early Tuesday after a domestic violence incident involving his wife, but no charges will be filed against him.
Ford, 67, serves on Ford's board of directors and is the great-grandson of Ford founder Henry Ford. He was held overnight by police in Grosse Point Farms, a wealthy suburb north of Detroit where he lives.
But just before his arraignment started Tuesday morning, a police officer told reporters there would be no charges. City prosecutor Robert Ihrie told CNNMoney that he decided not to file charges after speaking to the victim.
"This case was treated no differently than any other case," he said. He said he spoke to the victim "at some length," and that she did not want charges brought.
"She felt it was a matter better handled in the privacy of their own family," he said.
Edsel Ford's wife Cynthia issued a statement through an attorney late in the day denying that there was any domestic violence that took place.
"I stand behind true victims of domestic violence and I am not one of them," she said. "My husband and I ask that you respect our privacy and that of our family. We are working in the right direction to heal from this experience and move forward."
Because he was facing misdemeanor rather than felony charges, the decision not to file charges rested with the city prosecutor rather than with the Wayne County prosecutor.
A Ford (F) spokeswoman did not have a comment on the arrest. "We are aware of what has been reported in the press, but it would be inappropriate to comment on personal matters," she said.
Edsel Ford II has been on the Ford board of directors since 1988. He is a cousin of Bill Ford, the company's current executive chairman and holds Ford stock worth $105 million, according to company filings.
Edsel Ford's corporate biography says he is also owner and chairman of Pentastar Aviation, an aviation services provider based in suburban Detroit, and owns a Detroit-based marketing company. He had previously served as president and chief operating officer of Ford Motor Credit. He and his wife have four sons.