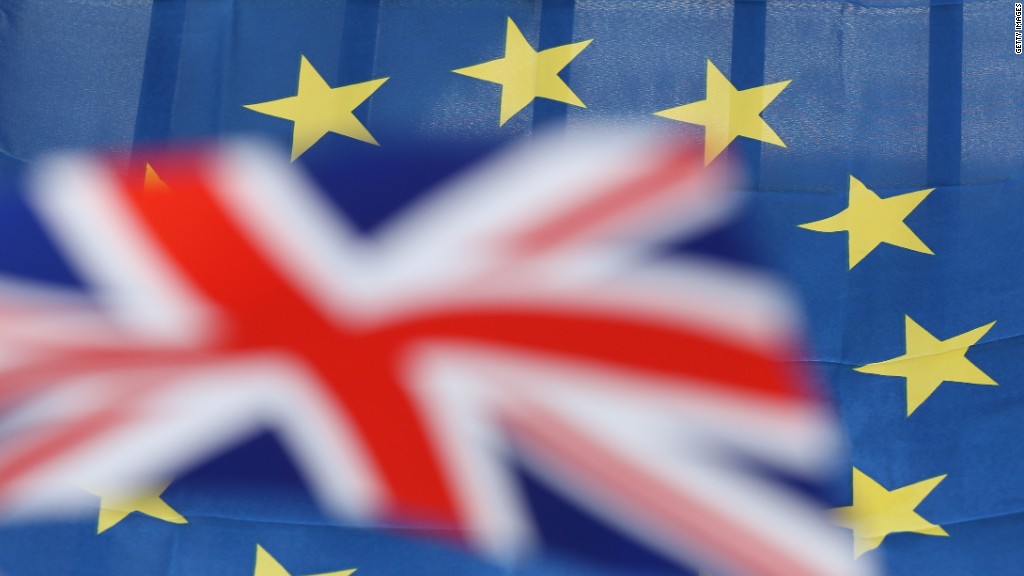 Wall Street's biggest players have issued a vote of confidence in London, despite huge uncertainty over the city's future as Europe's financial capital.
Goldman Sachs (GS), Morgan Stanley, JP Morgan and Bank of America (BAC) all put their names to a statement Thursday promising to work with the U.K. to help London "retain its position as the leading international financial center."
Last month's vote to leave the European Union has cast a deep shadow over the financial and related services industry in the U.K., which accounts for 7% of all jobs and makes up 12% of the economy.
That's because many banks, asset managers and insurers use London as a gateway to Europe's vast markets, taking advantage of an EU financial "passport" that allows them to sell products in all 28 countries.
Related: London banks will pay the 'price' of Brexit
There's no guarantee the "passport" rights will continue once Britain exits the EU. Some firms -- including JP Morgan (JPM) and Morgan Stanley (MS) -- have said they may move operations out of the U.K. when Brexit happens.
"We expect ... global investment banks to incur additional costs and revenue pressures as they reconfigure their European businesses in response to a Brexit outcome," said Michael Eberhardt, a senior credit officer at Moody's.
European officials have indicated they'll try to force trillions of euros in transactions that currently take place in London back into the EU once the U.K. becomes an offshore center.
"A sizable portion of activity in Britain's financial sector is likely to be repatriated across different parts of the EU, affecting the U.K. economy and sterling," said Karthik Sankaran, Eurasia Group global strategy director, last month.
Rival cities in Europe have already begun touting for business.
Related: More U.K. real estate funds stop investors cashing out
In Thursday's statement, the four Wall Street banks and Standard Chartered (SCBFF) (which is based in the U.K. but focuses on emerging markets) said despite the challenges Brexit presents, London would retain many advantages.
"It has one of the most stable legal systems in the world, a brilliant workforce and deep, liquid capital markets unmatched anywhere else in Europe, all of which are underpinned by world class regulators," they said.
"In recent years it has established itself as a global hub for renminbi [yuan], rupee, Islamic finance and green finance, as well as leading in new markets such as FinTech."
But the joint statement with U.K. Treasury chief George Osborne contained no commitment by the banks not to move operations out of London.
And notable by their absence were big European players such as Deutsche Bank (DB), Credit Suisse (CS), UBS (UBS) and Societe Generale (SCGLF).