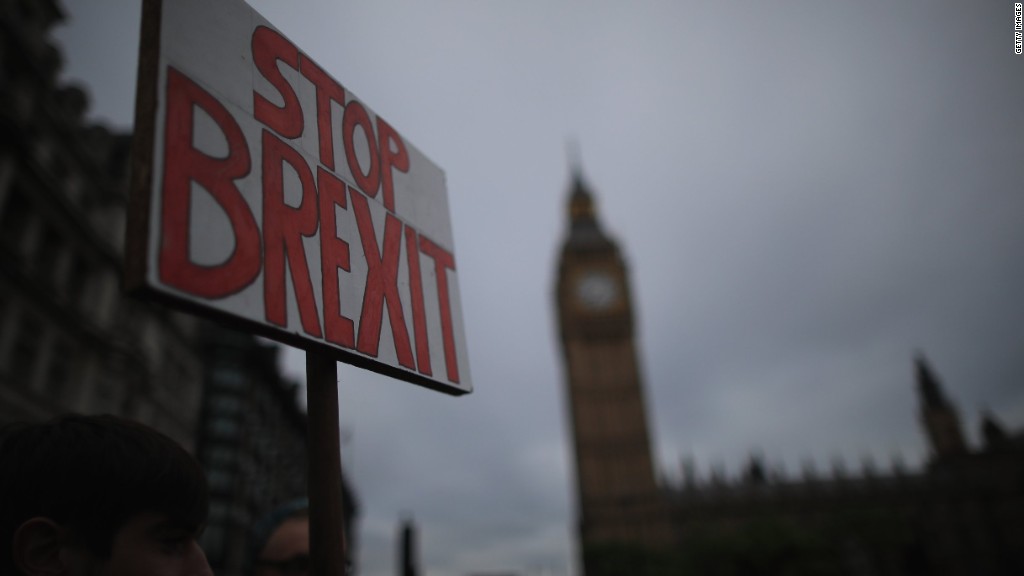 Britain is becoming ever more reliant on London for its prosperity just as Brexit threatens to choke off its boom.
The capital city now pays roughly 30% of all major taxes collected in the U.K., up from 25% a decade ago, according to a report by the Centre for Cities, a think tank. That's far larger than its 22% share of the economy.
The total amount of tax generated in London has also soared. It rose by 25% in real terms between 2004 and 2015, outpacing most other major cities by a big margin. Only Aberdeen, Scotland's oil hub, saw stronger growth.
But the revenue London generates for government -- including income tax, corporate tax, and sales tax -- depends on the economy growing. And there's now huge uncertainty over the city's prospects, following last month's vote to leave the European Union.
Related: Wall Street banks: We won't dump London
Alexandra Jones, the think tank's chief executive, said London is well equipped to respond to economic challenges but its success depends on access to the EU's markets, which can't be guaranteed after Brexit.
It's also the U.K.'s most diverse city, attracting workers at all levels from around Europe, and further afield.
"Lack of access to that market or restrictions on migration risk making London less attractive for businesses," Jones said. "That could have a big impact not only on the capital's finances but, as our report shows, on the wider UK public finances -- which could affect public spending in the rest of the UK," she added.
EU leaders say the U.K. can only continue to enjoy full market access if it accepts free movement of people. But many voters who backed Brexit expect migration to fall, so some restrictions on EU migrants are likely.
Related: London vacations are dirt cheap
Brexit could hit London particularly hard. The city relies heavily on banking, insurance and tech. Researchers at Open Europe say financial services and insurance are most exposed to Brexit fallout.
Financial services alone generate 22% of London's economic output. London is also the startup capital of Europe. Tech companies are worried investment might dry up, and that curbs on migration could lead to skills shortages.
Related: Could the U.K. tech boom survive Brexit?
The leaders of Britain's 10 biggest cities after London all campaigned for the U.K. to stay in the European Union. They said leaving would be a "grave threat to their local economies, risking people's jobs and livelihoods."
London mayor Sadiq Khan also campaigned against Brexit.
"Leaving the single market of 500 million people would be a mistake," Khan said after the referendum. "I will be pushing the government to ensure this is the cornerstone of the negotiations with the EU."
Khan has also asked for reassurances for the one million EU migrants living and working in the capital, who are now caught in limbo as their immigration status remains uncertain.
The U.K. government is trying to balance out the economy so that it doesn't rely so heavily on London. It is planning to improve transport links between northern towns and cities to help the region attract more investment.