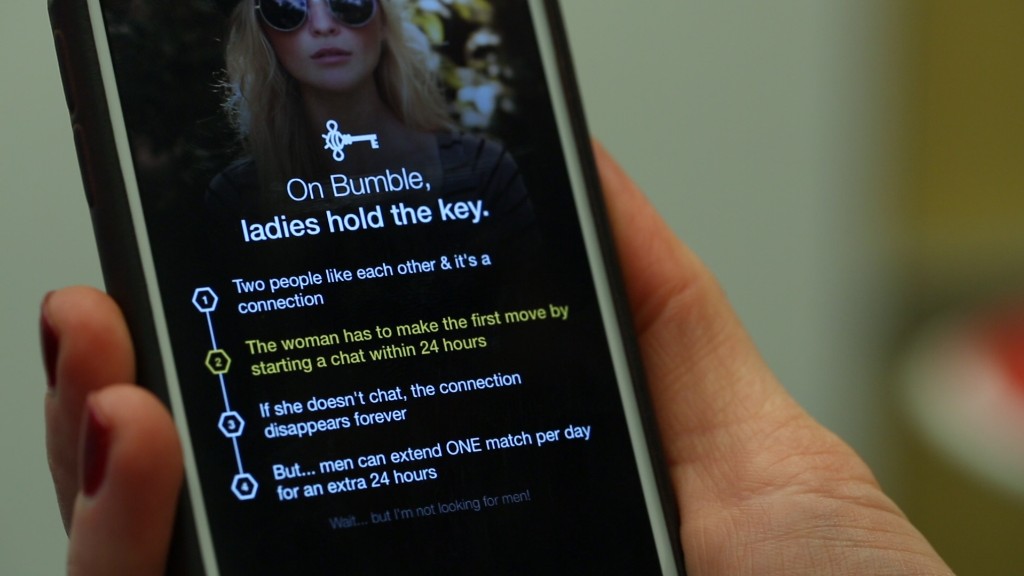 Bumble wants to make it as easy to network as it is to get a date.
The two-year-old startup is best known for its Tinder-esque dating app that gives women control over their romantic destinies.
On Thursday, Bumble announced that it is exploring the world of professional networking with BumbleBizz.
BumbleBizz -- which is slated to roll out in the fall -- will exist within the Bumble app. People will be able to toggle back and forth between finding dates on Bumble, career contacts on BumbleBizz, or friends on BumbleBFF.
In March, Bumble launched its first vertical, BumbleBFF, to help people find friends.
That offering has had a lot of interest from users so far, according to Bumble founder Whitney Wolfe.
"Our early stats have been really outstanding. 90% of our userbase has activated BFF and at least tried it," Wolfe told CNNMoney.
She noted that nearly 7 million people have registered for Bumble around the world.
Right now, BumbleBFF only lets users connect with people of the same sex, but Wolfe said they're looking into ways to let women and men opt to find platonic friendships as well.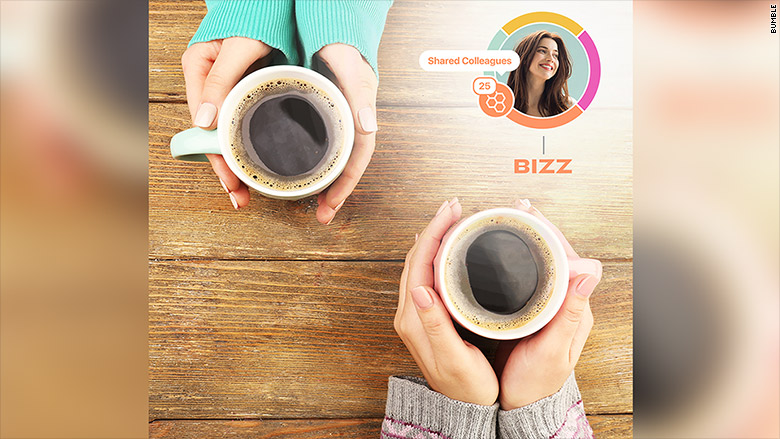 Related: Dating app Bumble slams -- and bans -- misogynist user
"The entire vision [for Bumble] has always been bigger than dating." said Wolfe.
"In real life, I don't think we're limited to romantic connections ... Our position is to change the way people treat each other when it comes to making new relationships on digital platforms."
Wolfe reiterated that Bumble hasn't forgotten its core principle of empowering women.
BumbleBizz, like Bumble, will require women to initiate conversations.
"Women sometimes feel approached in an inappropriate way [on professional platforms]," Wolfe said. "That they're being sought out for dates or hit on."
Wolfe noted that BumbleBizz and BumbleBFF are experiments, for now.
"We know we could fail. If you don't try, you'll never know ... We'll see how our users feel," she said.
If successful, it'll help Bumble retain users for the long term. Dating apps have been critiqued as having a high churn (when successful, people eventually abandon the platform because they're no longer single). But friendships and careers have a much longer lifespan.
Related: eHarmony finally launches its jobs site
Wolfe said Bumble will also roll out the ability for people to tailor their profile pictures (fun, sexy, or professional) depending on which service they're using.
Something else they'll be experimenting with? Monetization. So far, the services are all free, but Wolfe said they'll start monetizing Bumble in a "non restrictive way" very soon.