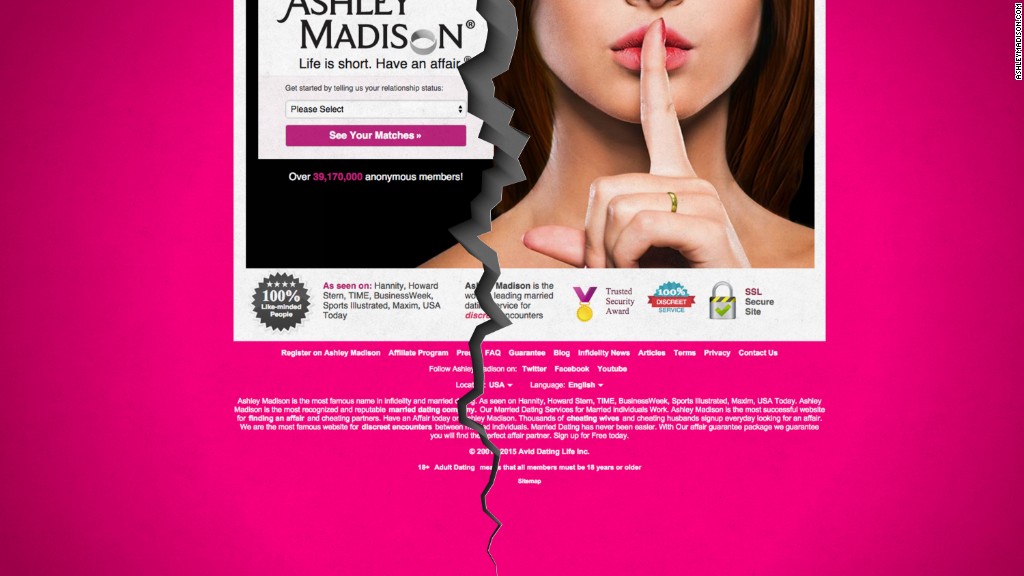 For years, the "have an affair" website Ashley Madison threatened to send paperwork to users' homes if they disputed their bills -- potentially revealing cheaters to their spouses.
Avid Life Media, the company that runs the website, has confirmed to CNNMoney that these tactics were employed by Ashley Madison until recently.
"That past practise stopped when our new CEO Rob Segal and new President James Millership took the helm," company spokeswoman Debra Quinn said.
Segal and Millership took charge of the company in April. On Monday, those executives revealed another questionable Ashley Madison tactic that they had ended: Many of the "women" on the site had actually been "fembots" -- computer programs imitating women.
Avid Life Media said it has been trying to turn itself around ever since a hack last year revealed its users' identities and damaged the company's reputation.
Related: The Ashley Madison hack ruined my life
CNNMoney received a tip from one former Ashley Madison user. He shared two emails he got from customer service representatives when he disputed credit card charges back in 2012.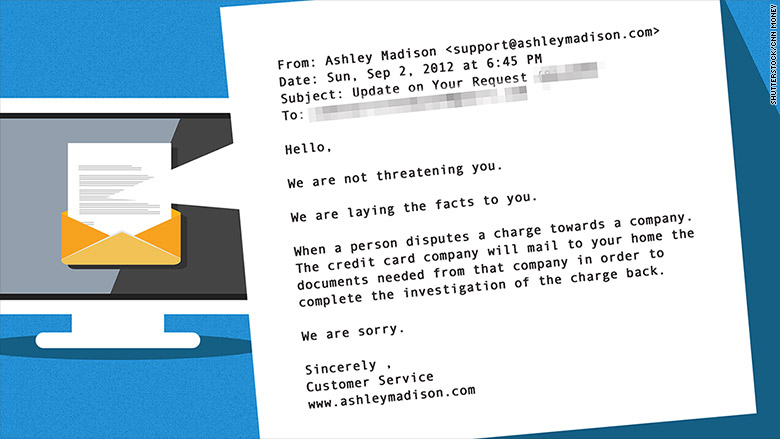 This former customer, now a 29-year-old lawyer living in Iowa, shared his story but asked to remain anonymous. He said he started a free profile on Ashley Madison -- and immediately got attention.
"I was constantly bombarded with messages from what appeared to be real women," he said. "I purchased about $40 in credits so that I'd have the ability to respond to about a dozen messages in my inbox."
"However, no one responded back. Not one person," he said.
He found that strange. Then he discovered complaints from fellow Ashley Madison customers who all figured out they had been duped by computer programs posing as women.
Suspecting he was fooled too, he complained to Ashley Madison and demanded a refund. But the company gave him a stern response.
"If you initiate a charge back, all records will be mailed to your home. We do fight all charge backs," it said in an email.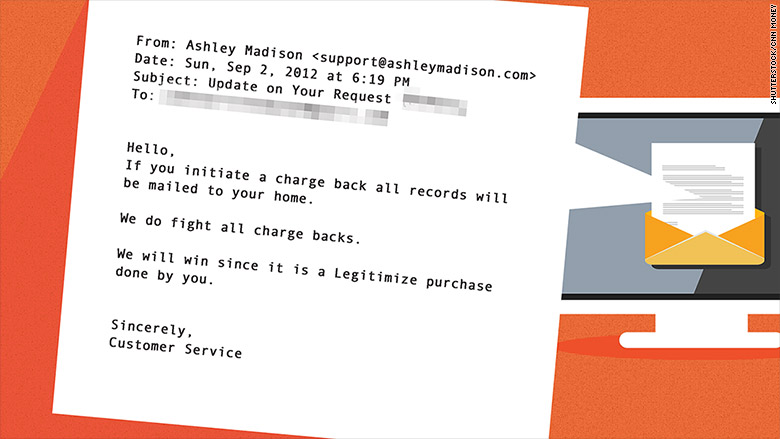 "At the time, I was a single male and wasn't cowed by the threat, but I'm sure others were silenced by it," the man told CNNMoney. He said he filed a complaint with the U.S. Federal Trade Commission.
The FTC is investigating the company, according to Reuters -- but it's unclear what aspect of the company is under scrutiny.
Other Ashley Madison users have complained about this policy for years on anonymous online forums.
One person, writing as "Shadowman," posted this on DatingSiteReviews.com in 2012: "They automatically opt you in to recurring charges when your credits expire, and don't make it clear where to opt out. Even though they bill you anonymously, they will... mail(!) you correspondence if you dispute charges. I'm guessing that would suck."
Others complained about similar situations.
"I was not successful with bank dispute because they said they would have to call me at home to ask more questions," one anonymous user posted on a Yahoo Answers forum in 2012. "Yeah right. So that when I talk on phone about it, my family can know. I had to close the dispute."
Related: Pastor on Ashley Madison commits suicide
Avid Life Media told CNNMoney that it's making major changes to put the company on the right track. The company said it stopped using "fembots" in 2015.
And given that customer credit card transactions exposed their identities in last year's hack, the company is working to adopt online payment methods that are harder to trace -- like Skrill, Paysafe and Neteller.
"Over the next few months, our team will be working hard to introduce more discreet features, privacy safeguards and most important, to rebuild trust over the long-term," Quinn said.