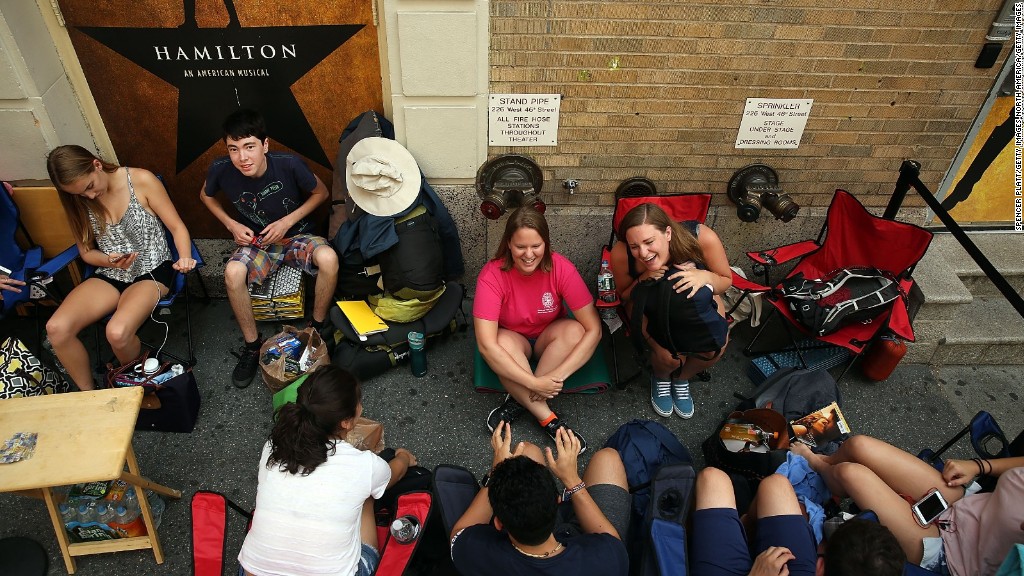 Lin-Manuel Miranda taught Broadway how to say goodbye as he took the "Hamilton" stage for the last time Saturday night.
Miranda's final curtain call, which was live streamed on the show's official Facebook page, had the star and creator take a bow as the theme to NBC's "The West Wing" played.
No words, no big goodbye -- just Miranda with a simple bow and a hand over his heart.
Miranda's closing bow came in front a star-studded audience at New York's Richard Rodgers Theatre that included Spike Lee, Jennifer Lopez, Aaron Paul, Charlie Rose, Jane Fonda, Rosie O'Donnell and Secretary of State John Kerry.
The audience gave the actor a minute long standing ovation when he first stepped on stage during the show's opening number, "Alexander Hamilton."
Saturday night was the end of an era for the show, which isn't just losing Miranda.
The cast also bid farewell to Leslie Odom Jr., who won a Tony for his performance as Hamilton's rival Aaron Burr, and Phillipa Soo, who played Hamilton's wife Eliza and scored a Tony nomination for it.
Since opening on Broadway last summer, the hip-hop musical about the nation's first treasury secretary has become a critical and cultural phenomenon.
The show won 11 awards at this year's Tony Awards, a Pulitzer Prize and a Grammy, and it's influenced pop culture from clothing lines to politics.
Since its debut on Broadway, tickets to the show have been nearly impossible to obtain.
This was especially true on Saturday, with orchestra seat tickets listed for as much as $9,750 on ticket selling site StubHub.
Only a select few actually got into the room where it happens, but that didn't stop people like Andrea Miller, 56, from going to the theater to be a part of the moment.
"I didn't have a ticket, but I know that something will happen. It's such a happening," Miller said outside of Saturday's matinee show. "People are just insane about this musical."
Related: 'Mary Poppins' sequel starring Emily Blunt, Lin-Manuel Miranda lands in 2018
On Saturday morning, Miranda told those on Twitter to prepare themselves for the big day.
"Good morning! Have your wits about you, it promises to be a bit of a day," he tweeted.
Soo also took to Twitter Saturday morning to thank everyone for their love and support.
"I will cherish #Hamilton," Soo tweeted. "Til next time, folks!"
Before the show, Odom dedicated his performance to Alton Sterling and Philando Castile, who were killed by police this week, as well as the "the slain officers in Dallas."
"The most profound legacy of #HamiltonBway will be that it has set a table for strangers to connect, to have meaningful conversations," Odom tweeted.
Now with Miranda's run over, the titular role moves on to Miranda's alternate, Javier Munoz, who will be the show's new lead on July 11.
As for Miranda, he will continue his musical career starring in Disney (DIS)'s "Mary Poppins" sequel alongside Emily Blunt in 2018.
And even though he said goodbye on Saturday, the actor has said he may one day return to the 10 dollar founding father.
"I've written a role I cannot age out of," Miranda said after the Tonys. "I feel very lucky that I've built something that I can drop in on over and over again."