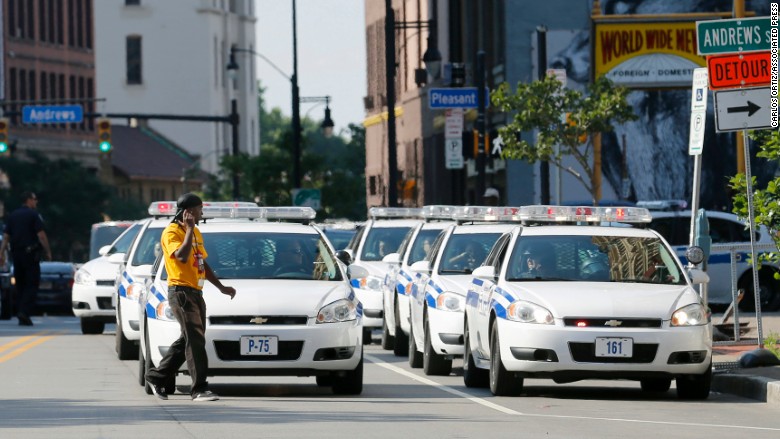 Two reporters from a television station in Rochester, New York were handcuffed and detained while covering a protest there on Friday night, stirring concern among journalists in the area.
The reporters were only detained briefly, and the mayor and police chief apologized afterward, according to the station.
Still, the incident had echoes of Ferguson, Missouri, where more than a dozen journalists were detained at various times during protests in 2015.
On Friday Carlet Cleare and Justin Carter from the ABC-affiliated station WHAM were detained "without warning" while covering the Black Lives Matter protest, according to the station's general manager, Chuck Samuels.
Samuels' memo to staffers on Saturday, obtained by CNNMoney, noted that "Carlet and Justin were the only African American journalists in the group."
WHAM was broadcasting live at the time. The anchors could be heard protesting as Carter was taken away in handcuffs: "This is a journalist doing his job out there."
As Cleare was taken away, a colleague noted that "she was wearing a 13WHAM shirt."
Protests in support of the Black Lives Matter movement took place in dozens of cities on Friday night. In Rochester, there were approximately 74 arrests for disorderly conduct, police chief Michael Ciminelli said at a news conference.
Ciminelli said the department would review the arrest of the reporters.
Samuels' memo said that "all of us at 13WHAM are concerned" by what happened.
He said "a group of reporters, including some from other media organizations, was standing in the street recording a woman who was loudly voicing her concerns. Police approached and arrested the woman. The group of reporters then moved to the sidewalk."
According to Samuels, that is when the two reporters were handcuffed.
After being released, Cleare tweeted that she "was never told I wasn't supposed to be on sidewalk."
Samuels said the station appreciates the public apology from local officials and would seek "further dialogue on the issue with the city in the coming days."
He encouraged dialogue "with law enforcement to better identify reporters in the field to avoid a situation like this."