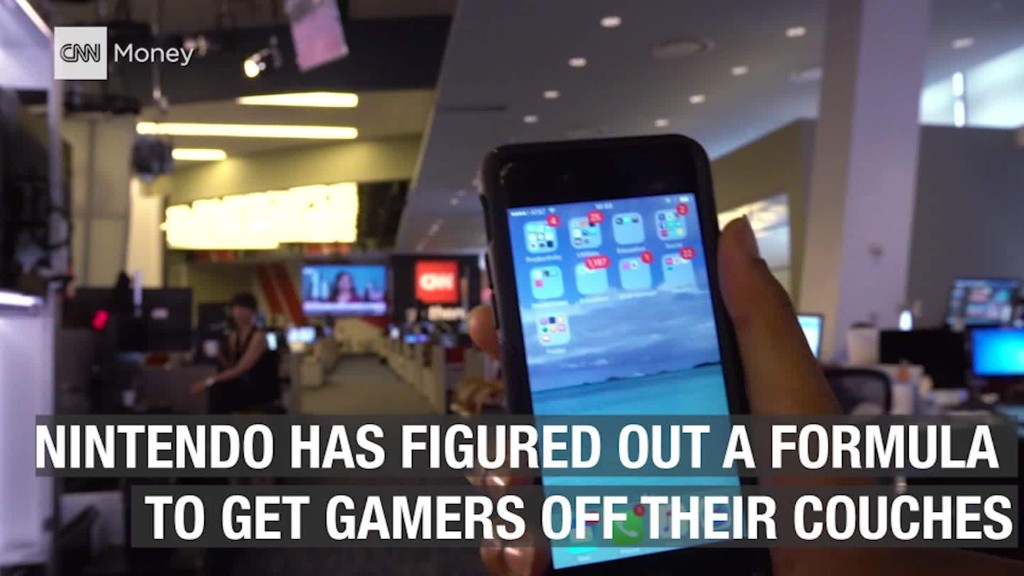 Should the Pokemon character Bunnelby be renamed Bubbleby?
Nintendo's stock soared another 13% in Tokyo on Tuesday thanks to hype about the immensely popular Pokemon Go mobile game. Nintendo (NTDOY) shares, which also trade in the U.S., are up nearly 65% in just the past week.
The stock, to quote the evil Team Rocket, is blasting off again! (I have a 6-year old who watches a LOT of the Pokemon cartoons on Netflix.)
But does this surge for Nintendo make sense?
Before this week, Nintendo was known primarily (to those who aren't gaming freaks at least) as the company playing catch up to Sony (SNE) and Microsoft (MSFT) in the console wars ... and the originator of Donkey Kong and his plumber nemeses -- Mario and Luigi.
Yes, Pokemon Go is a legitimate sensation -- ranking as the top free downloaded app on both Apple's (AAPL) App Store as well as Google's (GOOGL) Play store for Android devices.
And there have been reports about how Pokemon Go now has more players than the Match (MTCH)-owned dating app Tinder has subscribers and that the game could also soon pass Twitter's (TWTR) daily user count.
But does this justify the gigantic move for Nintendo's stock in the past few days? It's as if investors are all crying out one of Pokemon's catch phrases about the company's stock at the same time ... Nintendo, I choose you!
Here's why investors are so excited. The real money for Nintendo is in the purchase of add-on features for the game.
It's a model that many mobile game developers use. Make the game free for download, get them hooked and then sell extra items to enhance the game to generate big revenue.
Related: Pokemon Go makers says coding error gave company access to user data
Nintendo also plans to soon start selling a Pokemon Go Plus wearable device that uses Bluetooth to connect to a player's phone.
And the clear hope is that the game's immense popularity could lead to the proverbial halo effect for Nintendo, people who may not have been familiar with the company's many offerings deciding to buy more Nintendo products.
Pokemon is the classic gateway drug, if you will.
In other words, there are ample opportunities for Nintendo to make some serious coin from a free game. There's also the fact that Nintendo is an owner of the private company that developed Pokemon Go -- Niantic.
Nintendo invested $20 million in Niantic last year. So did a joint venture known as the Pokemon Company -- which manages the trading cards, TV series and other licensing and brand opportunities. Nintendo owns a stake in that too.
Google parent Alphabet also owns a piece of Niantic. Google spun off Niantic last year following the company's Alphabet reorganization.
But is it too late to jump on board the Nintendo Pokemon train? Or ball, as the case may be? There were some skeptics on Twitter.
Others lamented not getting in sooner.
And one investor hoped that Nintendo president Tatsumi Kimishima can build on this success. After all, Nintendo was once on top of the gaming world with the Wii. It didn't last.
So Nintendo is riding high now. But unless the company finds a way to generate revenue from all those Pokemon Go users, the stock could wind up having as much hot air as the Pikachu balloon in the annual Macy's Thanksgiving Day parade.