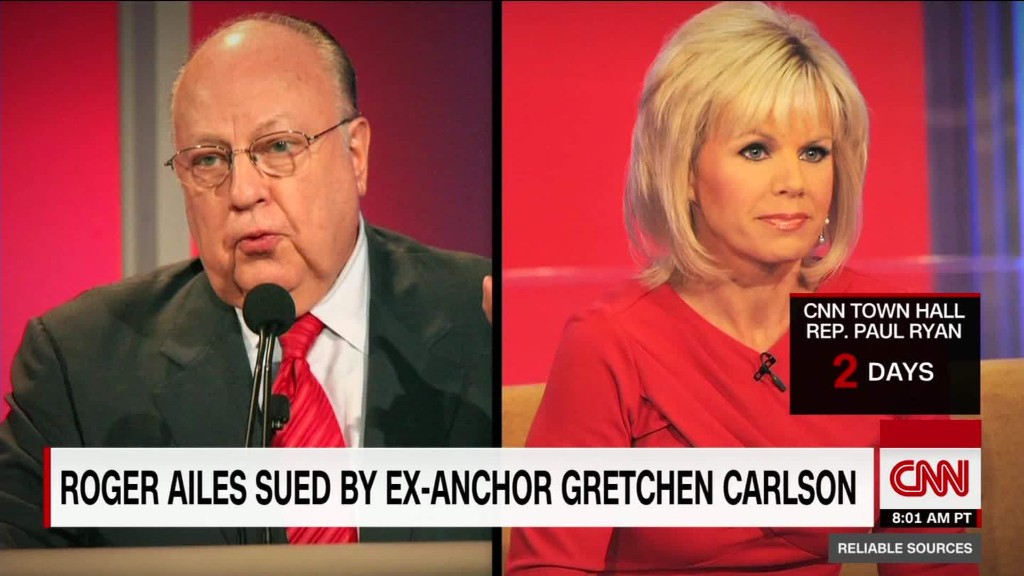 When Gretchen Carlson accused Fox News chief Roger Ailes of sexual harassment, Ailes' lawyers responded by accusing her of waging a "shameless publicity campaign."
But if the Ailes-Carlson case is for now being tried in the court of public opinion, Ailes' own employees have been offering a robust defense. To date, more than a dozen current and former Fox News employees -- most of them women -- have come forward to defend their boss and praise his character. Even presumptive Republican presidential nominee Donald Trump has spoken out on Ailes' behalf. These statements contrast claims by Carlson and six other women who have alleged that Ailes sexually harassed them.
Carlson's team says the claims of Ailes' defenders are immaterial. "It just means they didn't witness anything," Allan Ripp, a principal at Ripp Media & Public Relations, the PR firm handling Carlson's case, told CNNMoney. "Gretchen's lawyers will say they weren't in the room... and if Ailes is so convinced that he's got an army of support, then he should welcome a public hearing to defend himself."
Instead, Ailes has filed a motion to move the case to arbitration. A judge is scheduled to rule on that motion on August 1. Until then, the statements from current and former Fox News stars like Bill O'Reilly, Elisabeth Hasselbeck, Maria Bartiromo and Greta Van Susteren have provided Ailes with a public rebuttal to the accusations.
Bret Baier
"It's not the Roger I know. The Roger I know is somebody who has always been amazing to me and my family... so it's not familiar to me. I can't say enough good things about Roger and I've told him as much." (Daily Beast)
Maria Bartiromo
"Nobody wants to see anybody have any bad experiences. It's just not in keeping with what I know, and my experience at Fox." (Variety)
Tammy Bruce
"I have also known Roger Ailes for years, and find Ms. Carlson's accusations against him as though from an alternate universe. ... To say I have always only been treated with respect by him is an understatement. He's a charming and focused man, determined to make us the best we can be. I have always left his presence with a better sense of self and challenged to do more. ... Ms. Carlson's description of the network environment is equally bizarre." (Huffington Post)
Neil Cavuto
"All this stuff I've been reading about Roger is a lot of clutter and a lot of nonsense. None of it remotely matches the man I've come to know over these last decades... In individual meetings, those with staff members, and groups large and small — at Fox, at CNBC, women and men, top executive producers to production assistants, all stripes, all colors, all personalities, Roger was and is ALL professional... He wants us to have fun, and he can be funny, but in ways that matter — not demeaning nonsense that does not." (Business Insider)
Kiran Chetry
"Over the years at Fox, I met with Roger Ailes one-on-one many times and never once did Roger ever make me feel uncomfortable or put forth any sexual advances. ... I never felt uncomfortable around Roger Ailes... In my mind, a boss complimenting me on how great I looked on air in a dress (or conversely saying how awful it read on TV) would be no different than a fashion designer telling a model 'I love that outfit on you, it makes you look beautiful.' Or a photographer telling someone he photographed 'you look amazing in this picture.' Is that sexual harassment? I guess there's a fine line, and one we are all still learning how to not cross it. But when we accuse people of career ending words and acts, we have to do so with utter certainty. I don't know if that is the case here. What I do know with utter certainty is that in my time at Fox News Channel, Roger Ailes always treated me with respect." (Facebook post)
Mercedes Colwin
"By her demeanor and the way she comported herself, you would never ever conceive that [Carlson] had these allegations and would bring them to light, ever." (THR)
Ainsley Earhardt
"I've never been told you can't wear pants. Fox allows us to be ourselves ... [and] there is no leg cam!" (Mediaite)
Harris Faulkner
"I've never had a conversation with anyone telling me to wear pants. ...Here's what I know: My rise and success have been a direct result of the merits and fabulous opportunities from mentors, including Roger Ailes. Without him, my journey would be quite different. He has changed the arc of my career. He believed in me when people who looked like me were not in network news. ... I am profoundly grateful for the opportunities he gave me and not once have I ever been ashamed to say these five words: Roger Ailes believes in me." (Mediaite)
Kimberly Guilfoyle
"He's someone who I admire greatly. He's a champion of women. He has always been 100 percent professional, respectful, helpful in terms of mentoring me for television and in terms of making me a better anchor... Nothing inappropriate has ever transpired, nor am I aware of anything inappropriate that has ever transpired with any of the other women that I've ever talked to. I've talked to 30, at least, fellow female colleagues at Fox, and not one of them said anything inappropriate was ever said or transpired. In fact, they were all very upset to see this happen, and you know they know Roger Ailes would never treat them in this fashion." (Breitbart)
Elisabeth Hasselbeck
"Speaking from my personal experience, working for Roger Ailes and with Steve Doocy and Brian Kilmeade was by far the most rewarding time in my 16-year broadcasting career. Because Roger, Steve, and Brian consistently treated me with overwhelming respect, and pure-hearted kindness, for which I am forever thankful." (ET)
Martha MacCallum
"I have had a great personal and professional relationship with Roger. He's always been very open. We've had a lot of great one-on-one conversations... [Carlson's allegations are] shocking. Everybody I know at Fox was shocked." (THR)
"No one has ever told me not to wear pants! I would love to know where that came from. I have worn pants! ... Roger is such a terrific boss. I don't like to see anything that reflects negatively on him. If anything, [Carlson's lawsuit] sort of bonded us. It's brought people together." (Mediaite)
Bill O'Reilly
"I've worked with Roger for the past 20 years. Best boss I've ever had. Straight shooter. Always honest with me. And I believe that over the years... 95 percent of people that have worked for Roger Ailes would say exactly the same thing I just told you. In this country, every famous, powerful or wealth person is a target. You're a target, I'm a target. Any time somebody can come out and sue us, attacks us, go to the press, or anything like that. And that's a deplorable situation. ... I stand behind Roger Ailes 100%." (NBC)
Jeanine Pirro
"This is something that is totally inconsistent with the man I've known probably longer than most people who work in that building." (NYT)
"Honestly, this is a decent man and I have spent my career fighting for women. I have no bones about criticizing someone when they deserve to be criticized. But this is ridiculous" ... I know the man. I have been in a room with him. I've been alone with him. He has never said or done anything [inappropriate]." (The Wrap)
Sandra Smith
"I was very surprised and a little bit confused... If I ever felt like I was working in a hostile environment, I wouldn't be here ... [I have] never been instructed on the length of my skirt or the color of my lipstick. It doesn't happen. I do work with women who do like to look good and feel good. Many of us are athletes and we work out, some of us work out together. That's just the environment we're in. We do care about — not just what we sound like and what we know — but what we look like. And image is important, believe it or not, when you're on a television screen." (THR)
Donald Trump
"I think they are unfounded just based on what I've read. Totally unfounded, based on what I read." (Washington Examiner)
Greta Van Susteren
"This one's wrong, based on my experience. The facts I know are that this is not the Roger Ailes I've ever heard about or seen." ... "People talk. You hear a lot, and I never heard this. Frankly, I've got to tell you. You know me. I'm pretty bold. If I heard that, I'd probably say something to Roger. I haven't anything to lose. If I didn't do this I'd go teach at law school. I'm not a wilting flower." (Daily Beast)
"Of course, the first thing that occurred to me is that, unfortunately, we have a disgruntled employee, a colleague. I read that her show wasn't being renewed and, being a lawyer, I thought she got angry. I deal with Roger Ailes often. I've often been alone with Roger Ailes in his office over the course of 15 years and I've never seen anything like what I'm reading about in the papers and the magazine...This doesn't have any ring of truth to me. I would have heard it. People don't keep things silent. ... I sort of feel bad for Gretchen Carlson because it's sort of a weird thing that she's done. What she's alleging is something that is alien to me. I've never heard it." (People)