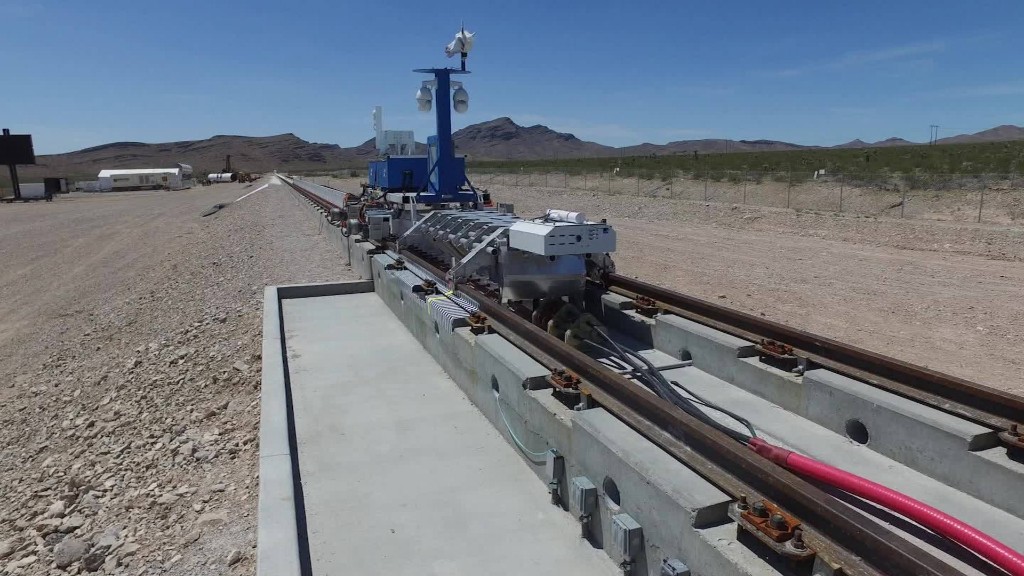 Hyperloop One, a startup trying to create the next generation of high-speed travel, is embroiled in a messy lawsuit that pits cofounder against cofounder.
The company, formerly known as Hyperloop Technologies, is one of a handful of startups competing to build a Hyperloop transportation system, which can theoretically transport people and cargo up to 760 mph in a partially pressurized tube. The idea was embraced in 2013 by Elon Musk, who put out a call for inventors and entrepreneurs to help turn the concept into reality.
On the outside, Hyperloop One appeared to be leading the competition with plans to have a working Hyperloop by 2020.
Inside, the startup was apparently being torn apart by mismanagement and growing tensions between leaders, according to the lawsuit filed in Los Angeles Superior Court on July 12.
Related: The Hyperloop dream just got one step closer to reality
The lawsuit was filed by cofounder and former CTO Brogan BamBrogan along with three other former Hyperloop employees. BamBrogan, a former SpaceX engineer, was ousted from the company in June. The lawsuit says Hyperloop One, cofounder Shervin Pishevar, and other leaders mismanaged the company's money, hired family members, and threatened BamBrogan.
"Those in control of the company continually used the work of the team to augment their personal brands, enhance their romantic lives, and line their pockets (and those of their family members)," reads the lawsuit.
According to the lawsuit, obtained by CNNMoney, Pishevar became engaged to one of their public relations consultants and increased her salary to $40,000 a month, making her the highest paid employee at Hyperloop One. He fired her after they broke up, the lawsuit alleges.
The employee in question worked for Pramana Collective, a PR consultancy brought in to help Hyperloop One with its branding strategy in its early days.
Pramana Collective cofounder Brian O'Shaughnessy says BamBrogan's suit is "filled with falsehoods," as the employee did not work for Hyperloop One and did not personally get $40,000 a month. That amount (which had increased as Hyperloop grew) was paid to the PR firm, not any particular employee, he told CNNMoney.
Related: Hyperloop One wants to build high-speed transit in Moscow
The lawsuit also says Pishevar hired his brother, personal injury and defense lawyer Afshin Pishevar, as the company's general counsel; and that board member Joseph Lonsdale hired his brother's investment bank.
The drama escalated after BamBrogan and ten other employees sent a letter to management in May complaining about financial mismanagement and calling for big changes. On June 14, Afshin Pishevar left a noose on BamBrogan's chair, according to the lawsuit, which includes stills allegedly taken from internal security cameras.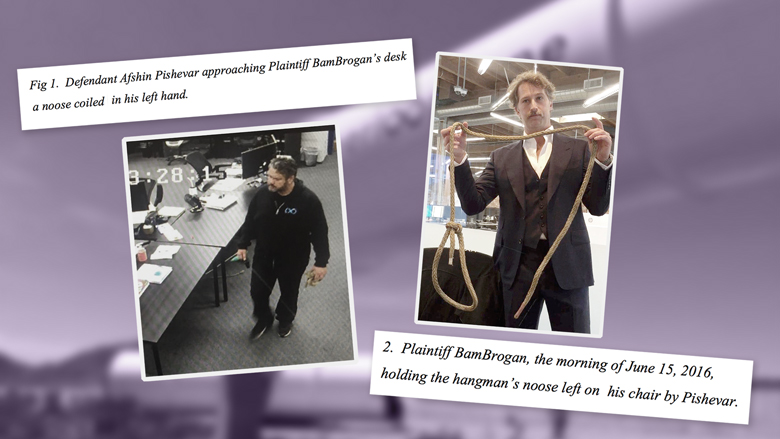 The following day, two employees were fired, BamBrogan was put on a leave of absence, and CEO Rob Lloyd threatened the remaining employees who had signed the letter with "frivolous lawsuits" if they did not fall in line, according to the suit. BamBrogan says he then resigned because he feared for his physical safety.
"Today's lawsuit ... is unfortunate and delusional," said Orin Snyder, a partner at Gibson Dunne and Hyperloop One's attorney. "These employees tried to stage a coup and failed."
Snyder, who represented Facebook and Square during founder disputes, went on to tout Hyperloop's ability to recruit top talent and secure funding.
"Frivolous lawsuits like this one have become all too common against startups that achieve breakthrough success," he said.