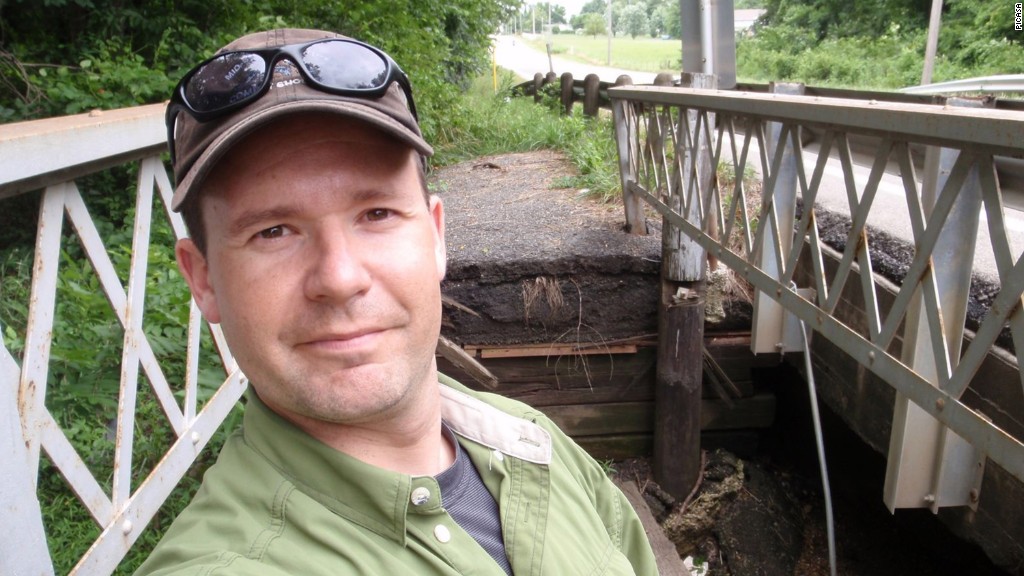 A Tesla Model X crashed while in Autopilot mode over the weekend in Montana, but the owner says he'd buy another Tesla.
The owner, who would only identify himself by his last name -- Pang -- said he's not yet sure whether the accident was the car's fault or his fault. He said he's eager to talk to Tesla and learn why the car swerved off a narrow Montana road.
The accident is the third serious crash apparently tied to the self-driving feature. That's calling the safety of such automatic driving features into question, just as they're being incorporated into more and more cars on the road.
At least two federal safety agencies are looking into the most serious Tesla Autopilot crash, a fatal accident in Florida that took place in May.
Pang was heading from Seattle to Yellowstone National Park when he crashed on a two-lane highway near Cardwell, at 12:30 a.m. Saturday, said Montana State Trooper Jade Shope. "It's a winding road going through a canyon, with no shoulder," Shope told CNNMoney.
Neither Pang nor his passenger were injured in the accident, but it was serious enough that the car lost its front passenger side wheel. Pang told Shope he was driving between 55 and 60 mph on a road with a 55 mph speed limit. He told CNNMoney he had just gotten off of I-90 and was driving for a couple of minutes on the narrow road right before the accident. The car veered to the right and hit a series of wooden stakes on the side of the road. Both Pang and Tesla confirmed that the car was in Autopilot mode, and that he did not have his hands on the wheel.
Related: Who's responsible when an autonomous car crashes?
Pang said he did not receive any warning from the car that he was in danger and needed to act, adding that the warnings from his car were in English, and that he speaks Mandarin.
In a statement, Tesla said otherwise. "As road conditions became increasingly uncertain, the vehicle again alerted the driver to put his hands on the wheel," said Tesla. "He did not do so and shortly thereafter the vehicle collided with a post on the edge of the roadway."
Tesla said Autopilot is best used on highways with a center divider or while in slow-moving traffic.
"We specifically advise against its use at high speeds on undivided roads," it said. Tesla states clearly in its owner's manual that drivers should stay alert and keep their hands on the wheel to avoid accidents when the Autopilot feature is engaged.
Pang received a traffic citation for careless driving following the accident.
"He still needs to maintain control of the vehicle, even if it's on Autopilot," said Shope, who could not release the driver's name.
Related: The most dangerous thing about Autopilot is that it's called Autopilot
On May 7, Joshua Brown was killed when his Model S hit the trailer of a semi-truck that was crossing the highway in front of him. Tesla (TSLA) confirms that car was in autopilot mode at the time of the accident, and that neither Brown nor autopilot applied the brakes before the crash.
Both the National Highway Traffic Safety Administration and the National Transportation Safety Board are investigating that crash. The NTSB, best known for examining airline crashes and train wrecks, has a team of investigators headed to Florida to look into the crash starting Tuesday, said spokeman Christopher O'Neal. It investigates only about 25 to 30 highway crashes year.
"The interest in this accident relates to the use of automation," he said. "There's an opportunity to learn from the information about how automation is introduced into American highways."
On Friday July 1, Detroit area art gallery owner Albert Scaglione, 77, flipped his Model X onto its roof while driving on the Pennsylvania Turnpike about 100 miles east of Pittsburgh. He told CNNMoney that he was in autopilot mode, though he wouldn't comment further on the accident. Both Scaglione and his passenger, his son-in-law, were treated and released at a nearby hospital following the accident.
-- CNNMoney's Matt McFarland contributed to this report