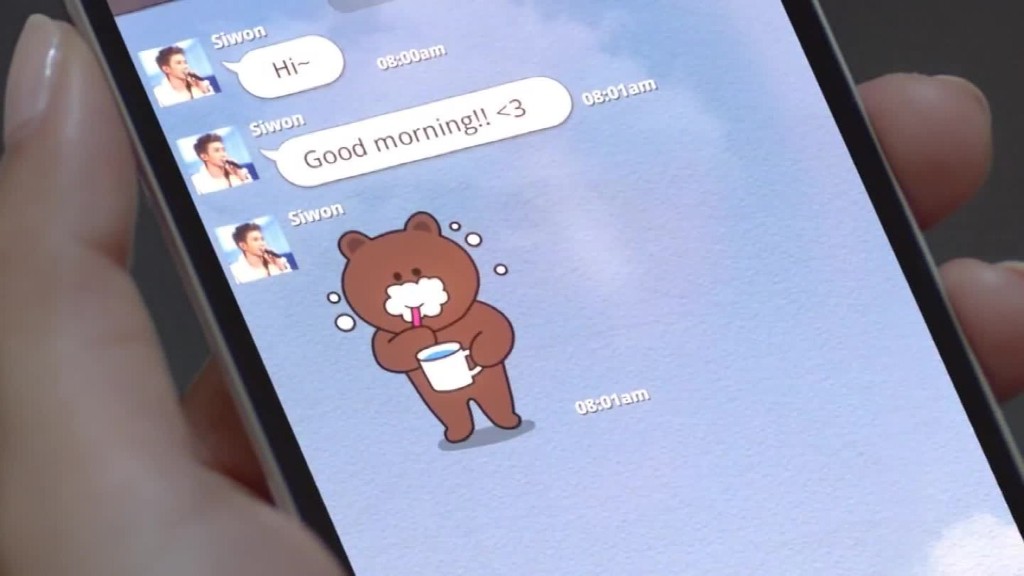 All eyes in Silicon Valley and Wall Street are fixed on an app that most people in the U.S. have never downloaded.
Line is the operator of a Japanese messaging app that's popular in Thailand, Indonesia, Taiwan and Japan. It's slated to begin trading in New York on Thursday and in Toyko on Friday in the largest public offering of any tech company this year.
Outside the few Asian countries where Line gets the majority of its 218 million monthly users, the app may be easy to dismiss as yet another chat service. In those four markets, however, Line is everything: a tool to call and message friends, a news and entertainment app, a mobile payments platform, a gaming studio, a music streaming service. Line has opened retail stores, delivered rides and groceries, and sells hundreds of millions of dollars worth of digital stickers a year.
Picture some combination of WhatsApp, Skype, Twitter (TWTR), Zynga (ZNGA), Spotify and Uber, and you start to get a sense of Line's sweeping appeal.
The problem, as Line notes in its filing to go public, is that there has been a "significant decrease" in usage outside those few countries where it's already popular, at a time when rivals like Facebook (FB)-owned WhatsApp and WeChat are growing fast globally.
But those growth concerns don't seem to be cutting into investor interest in Line. The company is expected to raise more than $1 billion from the offering, thanks in part to a scarcity of technology companies going public.
Line, which shelved plans to go public in 2014, has "benefited" this time around "because there are so few deals happening," says James Gellert, CEO of Rapid Ratings.
It will be just the fifth tech company to go public this year, down from 14 at this point in 2015, according to data from Renaissance Capital. Many of the largest tech startups have chosen to sit out the turbulent stock market and collect larger and larger checks from private investors instead.
Related: Unicorns live! IPO market is back from the dead
If the messaging app maker has a strong public debut, it could build on the success of Twilio's IPO last month and send a clear message to the tech industry to rethink its strategy of staying private.
"One company doesn't make a trend, but two might," says Ethan Kurzweil, a venture capitalist with Bessemer Venture Partners, the largest investor in Twilio. "If it's really successful, other companies will take that as a sign and follow."
Beyond the lack of other tech companies going public, investors see in Line glimmers of what attracted Wall Street to social networks like Facebook and Twitter (TWTR): a large, deeply engaged audience and seemingly limitless ways to make money from those eyeballs.
"It looks more like the Facebook and Twitter dynamic than a lot of the IPOs we've seen in the last two years," says Gellert.
Related: When it comes to unicorns, the rich are getting richer
Line was created by a small team of employees at Naver, a Korean Internet service, in early 2011 as a communication tool in response to the powerful 9.0 magnitude earthquake that struck Japan and set off a devastating tsunami.
The app hit 50 million users after barely a year, faster than Facebook, and reached 100 million users less than a year after that. It is now approaching the size of Twitter, though like Twitter its user growth is slowing, forcing Line to find new ways to make more money off the audience it already has.
For those in the tech industry, Line is viewed as a harbinger of what's to come for the many big tech companies and startups now focusing on messaging apps.
"Chat is starting to heat up in the U.S., and we're only just realizing what the possibilities are here," says Rod McLeod, spokesman for Kik, a Canadian messaging app startup valued at $1 billion. "The Line IPO signals the next chapter of the chat race."
Are stickers and virtual goods a viable long-term revenue stream? Can a messaging app really serve as a central hub for payments, hailing taxis and streaming music? Will certain messaging apps dominate certain countries the way Line has done in Japan, or will one app end up catching them all, Pokemon-style?
Kurzweil, the Bessemer investor, says Facebook, Twitter, Google (GOOGL) and Snapchat will be closely following Line for clues about what works for this next era of social media and what doesn't.