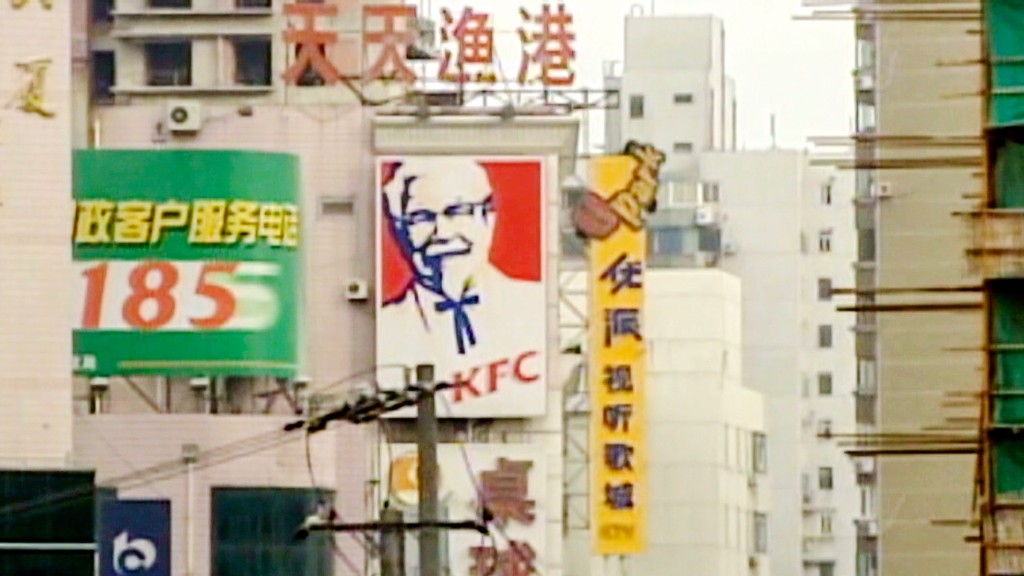 Yum Brands boosted its profit outlook for the year given stronger China sales, a welcome turnaround for the long-troubled owner of KFC and Pizza Hut.
The company now projects core operating profit will grow at least 14% this year, compared with its previous forecast of 12% growth. The boost was buoyed by a turnaround in its China business, where store sales were up 3% in the second quarter of the year.
"Our China division is off to a good start in the third quarter," said Yum (YUM) CEO Greg Creed. But "outside of China, challenging industry conditions in the U.S. contributed to soft sales results."
Yum reported second quarter net profit of $339 million, a whopping 44% increase from the same period last year.
Related: The crazy flavor experiments in Chinese fast food
Shares of Yum rose 4.6% in after-market trading in New York, and have gained about 17% this year.
Yum launched in China in the late 1980s, quickly exploding to over 7,000 stores today. It's the country's largest foreign restaurant chain, and the company's rapid success made it a shining example of how far an American company could go in China.
Related: Yum Brands to spin off China business after food scandals
But its business in the world's second-largest economy has faltered in recent years, as one food safety scandal after another hit the company and damaged its reputation.
Last October, Yum announced it would spin off its China operations, instead running two distinct, publicly traded companies: Yum Brands and Yum China -- which will be headed by a predominantly Chinese leadership team. Yum China will pay licensing fees to Yum Brands.
Despite the coming changes, Yum has continued to plow ahead with expansion plans. In March, it announced the launch of Taco Bell stores in the country.
Related: Taco Bell to open first store in China
While its China business looks to be turning around, the company has before acknowledged that the revival was more difficult than anticipated. Growth was also restrained given China's overall slowing economy.
In 2014, Yum was found to be selling tainted meat at KFC locations. The company immediately cut ties with its supplier, Shanghai Husi, but the action seems to have given consumers little consolation, and sales in China never totally recovered.
The fallout was immediate and intense. Worried consumers swore off Colonel Sanders' chicken, sales plummeted and Yum launched a frantic marketing campaign to convince the public that its food was safe.
An earlier scandal hit the company in December 2012, when a powerful state media outlet accused local KFC suppliers of cramming extra antibiotics into its chickens. In that case, it took Yum the better part of a year to get back on solid footing in China.