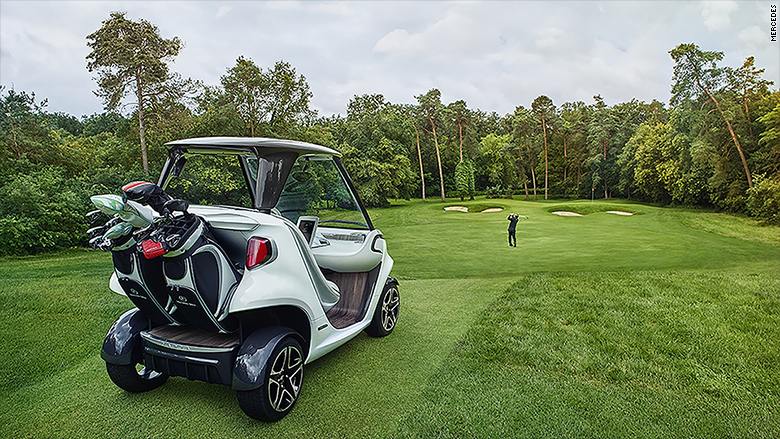 Soon you could be zipping between holes at your favorite golf course in the fine line leather seats of a Mercedes-Benz golf cart.
The German luxury automaker just revealed the Mercedes-Benz Style Edition Garia Golf Car which, it said, translates the Mercedes-Benz ideal of "sensual purity," to an electric golf cart. While Mercedes designed the four horsepower carts, they were built by the Danish golf cart manufacturer Garia.
Related: Driving the ultimate in '50s Mercedes style
Only two concept carts have been made but, if there are enough potential buyers, the Mercedes-Benz Style cart could go into full production.
With a top speed of 19 miles an hour, the luxury golf car has all the equipment -- turn signals, brake lights, etc. -- needed for low-speed use on roads, where allowed, as well on the links.
Its amenities include a refrigerator under the bench seat, and a storage tray under the dashboard for golf balls. There are also storage spaces for glasses and bottles. There's a touch screen display that shows driving information, such as speed. But it can also show, for instance, a map of the course or weather information.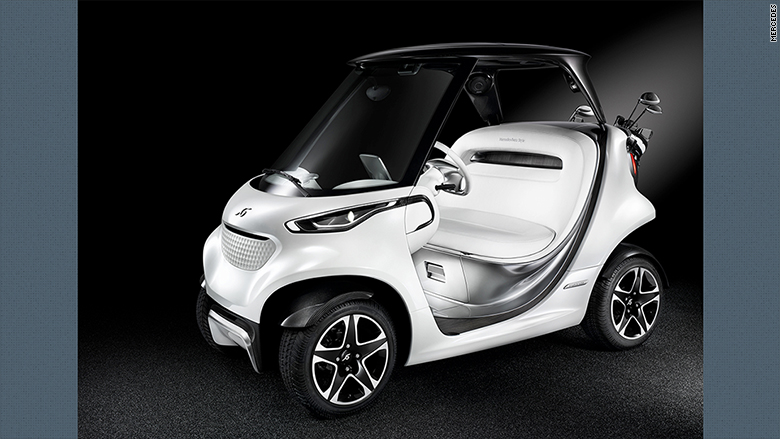 What really sets the Mercedes-Benz (DDAIF) Style Edition golf cart apart, though, are the materials used to make it. The roof is made from expensive carbon fiber, and there's even a carbon fiber air diffuser on the back, a humorous reference to performance cars that use such aerodynamic aids. The interior features wood, high-quality leather and brushed metal.
The front "grill" is reminiscent of the front of a Mercedes-Benz car, except its textured with golf ball-like dimples.
While the electric motor ordinarily produces only three kilowatts, or four horsepower, it can put out as much as 11 kilowatts, or 15 horsepower, for short periods. Maximum driving range on a single charge is about 50 miles.