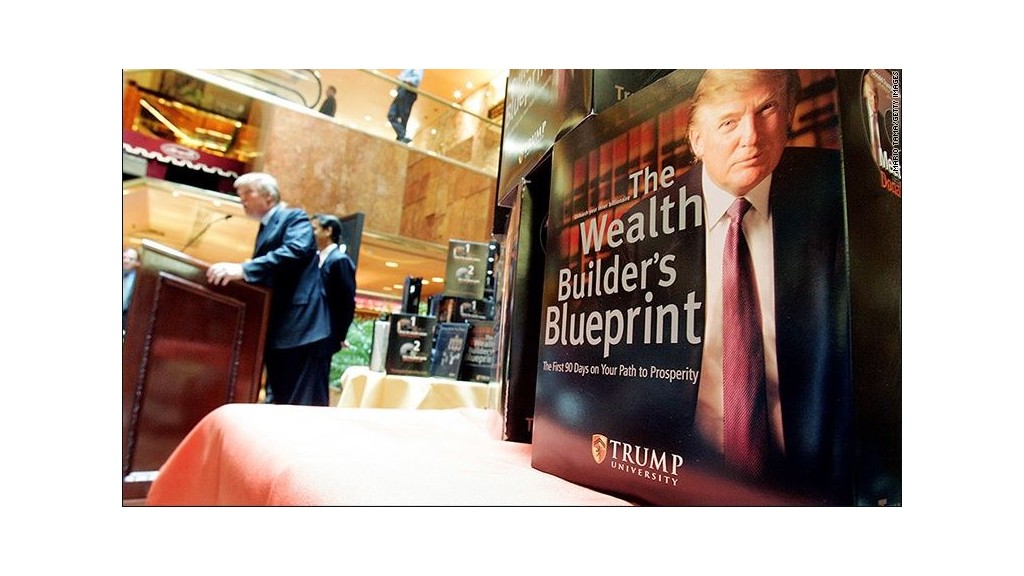 Donald Trump's lawyers argued this week that his videotaped depositions in two cases alleging fraud at Trump University should not be made public because they would end up in political ads against him.
Daniel Petrocelli, a lawyer representing Trump at a hearing Wednesday, argued that among other things if the videos are released they "would be used for reasons completely unconnected to the merits of this lawsuit."
"They will be used for political ads, to be sure," Petrocelli said.
The lawyer urged the judge to not allow the videos of Trump's depositions to become part of the presidential campaign.
"[T]he Court's duty is not to facilitate the public election; the court's duty is to facilitate a fair trial in this process," Petrocelli said.
Related: Trump University controversy ... in 2 minutes
It's not clear when U.S. District Judge Gonzalo Curiel, who is presiding over two Trump University cases, will rule on a request made by the media to release the videos.
Trump was widely rebuked for publicly questioning Curiel's ability to be impartial, incorrectly identifying the Indiana-born judge as a "Mexican" and calling him a "hater."
Transcripts of large portions of Trump's testimony have already been released. But several media outlets, including CNN, have requested that the court also release the deposition videos on the grounds that the "need for transparency could not be greater" given the likely nomination of Trump as the Republican presidential nominee.
The judge asked Petrocelli to respond to the media's argument that "this under-oath testimony is indicative or relates to serious allegations ... against Mr. Trump that figure in the evaluation of Mr. Trump as a candidate for president and would fairly be information that would be relied upon in determining whether to make Mr. Trump the leader of the free world."
Related: Trump University's 'top' instructor's job was to sell, not teach
Petrocelli acknowledged that the public and the media "may have an abiding interest in this case, but not to the extent where they can use this case to extract information to put into the public arena for the purpose of assessing his candidacy for president of the United States."
He also argued that the videos are potential evidence that a jury in the case would receive. And the public airing of select portions of them ahead of any trial could cause a potential juror to prejudge the case.
Dan Laidman, a lawyer for the media, contended that there have been many high profile cases where it was possible to "impanel a fair jury even where there's been extensive continuing publicity."
-- CNN's Curt Devine contributed to this article