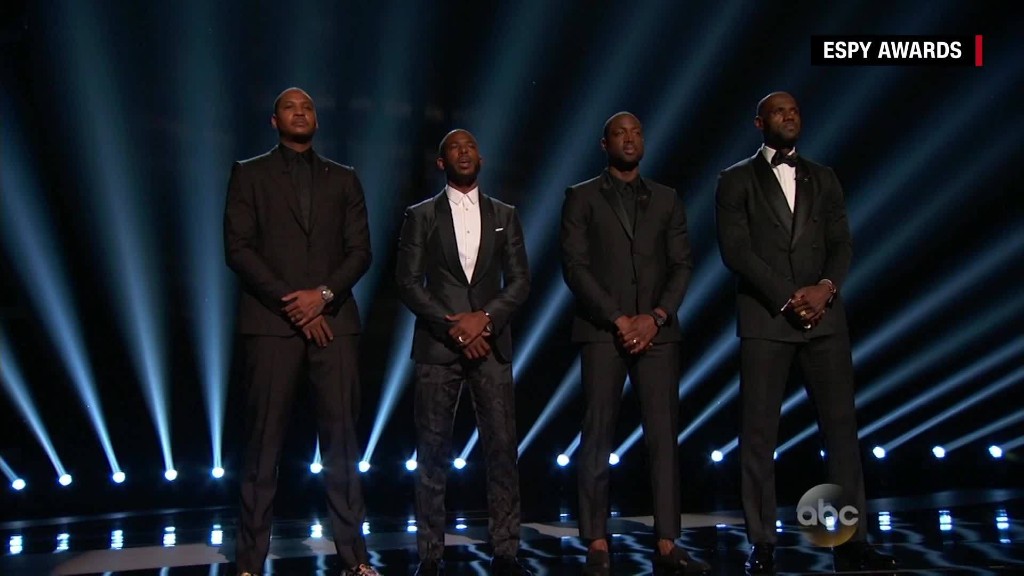 Carmelo Anthony told the world he was taking a stand even before he, Chris Paul, Dwyane Wade and LeBron James stood solemnly Wednesday in black tuxedos making a call to action at the ESPY Awards.
Soon after the recent deadly shootings in Dallas, Minnesota and Baton Rouge, the New York Knicks power forward posted an Instagram plea using an iconic June 4, 1967, photo of Muhammad Ali, Jim Brown and Lew Alcindor (now Kareem Abdul-Jabbar) and others from what is known as the Ali Summit. That was the Cleveland news conference in which Ali's fellow athletes flanked him to show support as he announced his refusal to fight in the Vietnam War.
Anthony used the historic photo to implore his fellow athletes to to "step up and take charge."
"There's NO more sitting back and being afraid of tackling and addressing political issues anymore," he wrote in his caption. "Those days are long gone."
On Wednesday night, Anthony doubled down on that as he and his "brothers" stood before a hushed crowd at the Microsoft Theater.
"Good evening," Anthony began. "Tonight is a celebration of sports, celebrating our accomplishments and our victories. But, in this moment of celebration, we asked to start the show tonight this way, the four of us talking to our fellow athletes, with the country watching."
Anthony went on to talk about the "injustice, distrust and anger that plague so many of us" before each man had their say.
Paul described himself as "an African-American man and the nephew of a police officer" before reciting the names of Trayvon Martin, Michael Brown, Tamir Rice, Eric Garner, Laquan McDonald., Alton Sterling, and Philando Castile whose deaths have all stirred debate about racial profiling and the treatment of African Americans in the United States.
"The racial profiling has to stop," Wade said. "The shoot-to-kill mentality has to stop. Not seeing the value of black and brown bodies has to stop. But also, the retaliation has to stop."
James closed out the remarks by saying "We all have to do better."
Journalist T.J. Holmes tweeted "The start of the show was not a network idea. LeBron, Carmelo, CP3, and D-Wade approached the network and asked to open the show."
Anthony told Holmes in an interview after the opening that he debated what to say.
The foursome's profound words resonated. So much so that former president Bill Clinton tweeted that he was inspired by them.