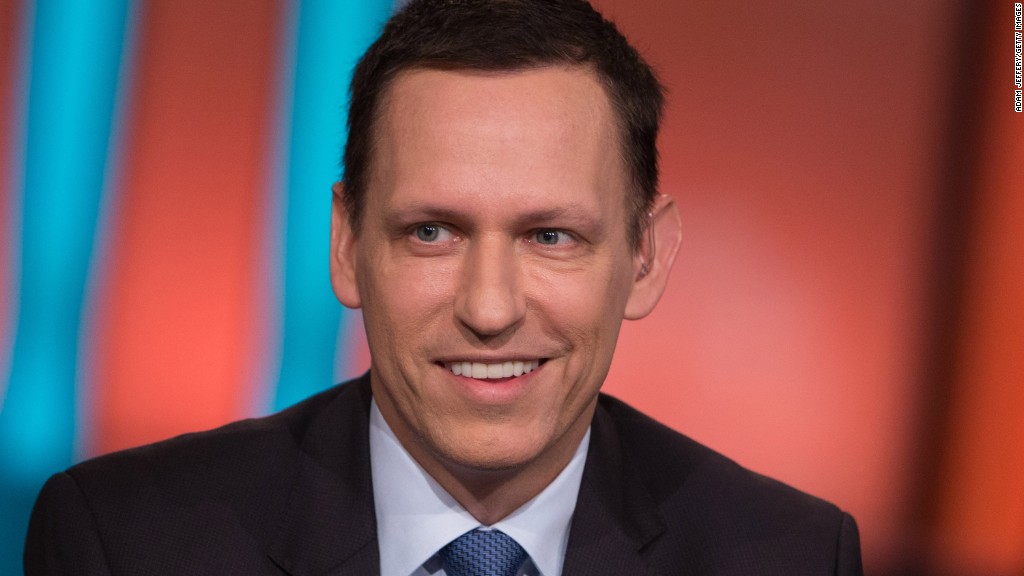 In media and technology circles, one name on the Republican Convention speakers list sticks out: Peter Thiel.
Thiel has been secretly financing lawsuits against Gawker Media for several years. He recently confirmed his involvement in Hulk Hogan's invasion of privacy suit against the company and said he is supporting other suits as well.
In Silicon Valley, where both liberals and libertarians have deep-seated fears about Donald Trump's candidacy, Thiel is something of a rarity: a billionaire tech entrepreneur who openly supports Trump.
Thiel, a co-founder of PayPal and Palantir, is an active venture capitalist. He is slated to be a California delegate for Trump at next week's convention.
In a recent interview with CNN, Trump said "I have great respect for Peter."
"I don't know him, but I respect him," Trump said. "He's done some very good work."
Thursday's news that Thiel will speak at the convention came on the same day that dozens of technology CEOs and investors published an "open letter" opposing Trump.
In a statement provided to CNN, Thiel said, "Many people are uncertain in this election year, but most Americans agree that our country is on the wrong track. I don't think we can fix our problems unless we can talk about them frankly."
Via Gchat, Gawker Media founder Nick Denton responded to the call for "frank" talk.
"I agree that America has problems that can only be solved through frank and free expression," he said.
Denton, of course, has challenged Thiel to a public debate. So far Thiel has not agreed.
Gawker Media is in the midst of bankruptcy proceedings as a result of Hogan's successful lawsuit against the company. Denton is still optimistic that Gawker will eventually win on appeal.
But for the time being, Hogan and Thiel are the victors. What the two men have in common is disdain for Gawker. Thiel was a repeated subject of the defunct Gawker blog Valleywag, which wrote a story in 2007 titled, "Peter Thiel is totally gay, people."
In an interview two years later, Thiel compared Valleywag's writers to terrorists.
Hogan — whose real name is Terry Bollea — was the subject of a 2012 Gawker post titled "Even for a Minute, Watching Hulk Hogan Have Sex in a Canopy Bed is Not Safe For Work but Watch it Anyway." The post included a portion of a Hogan sex tape. Hogan sued for invasion of privacy.
Thiel's secret financial support for Hogan's lawsuit was revealed in May. In a statement, he said he was "proud to have supported Terry Bollea in his successful fight against a bully's gross violation of privacy. Gawker, the defendant, built its business on humiliating people for sport."
Presumably none of this will come up while Thiel is on stage at the RNC.
But there is a lot of curiosity about what Thiel's message will be. New York magazine commented on Thursday that "Peter Thiel Might Be the Most Interesting Speaker at the RNC."
And New York Times columnist Ross Douthat tweeted that Thiel will deliver one of the "speeches to watch," along with Ivanka Trump and Tom Cotton.