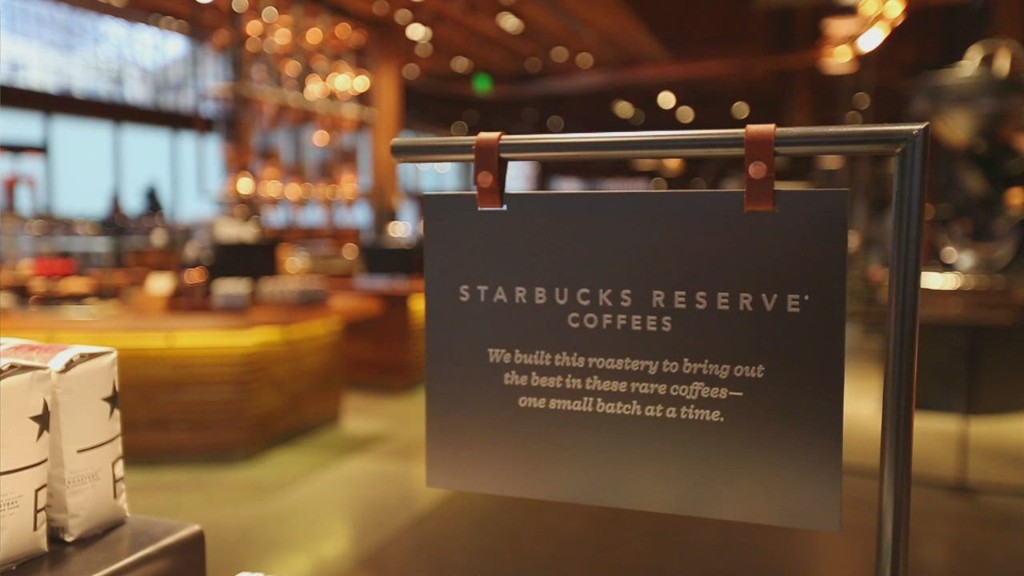 Starbucks long ago raised the bar for what customers are willing to pay for a cup of coffee. Now, Starbucks is looking to create an even more upscale brand.
CEO Howard Schultz said the company will create a new brand of stores, called Starbucks Reserve-only. The new stores will offer premium, small lot reserve coffee in more of a cafe environment than the current Starbucks stores.
"We recognize our customers expect and desire a higher level of product and we want to give it to them," Schultz said on a press call.
The new Reserve-only stores will be about twice as large as current Starbucks stores. The new cafes will be in hundreds of locations, and they'll start popping up next year.
The Starbucks Reserve-only brand is part of a broader company plan to improve and expand its food offerings.
Starbucks also announced Thursday that it has invested in Princi, an Italian bakery. Starbucks plans to open a chain of Princi bakeries around the world. Princi now has only five stores in Milan and London.
Related: Starbucks' baristas getting big raises
The deal with Princi is the latest effort by Starbucks (SBUX) to crack the food sales market. Starbucks' food sales are growing faster than its coffee sales, but it has stumbled in attempts to fully capitalize on the trend. For example, Starbucks last year closed a chain of 23 La Boulange bakeries, which it had bought for a reported $100 million in 2012.
Last year, Starbucks opened its Reserve Roastery and Tasting Room, a mega-store in its home market of Seattle. Starbucks has plans to bring similar stores to New York and Shanghai.
Those stores are about 10 times the size of a traditional Starbucks. They roast the coffee beans in those stores, and they will soon add offerings from Princi.
After the Princi deal is complete, the Reserve Roastery and Tasting Room will become the first Starbucks in the company's 45-year history to do baking in-store.