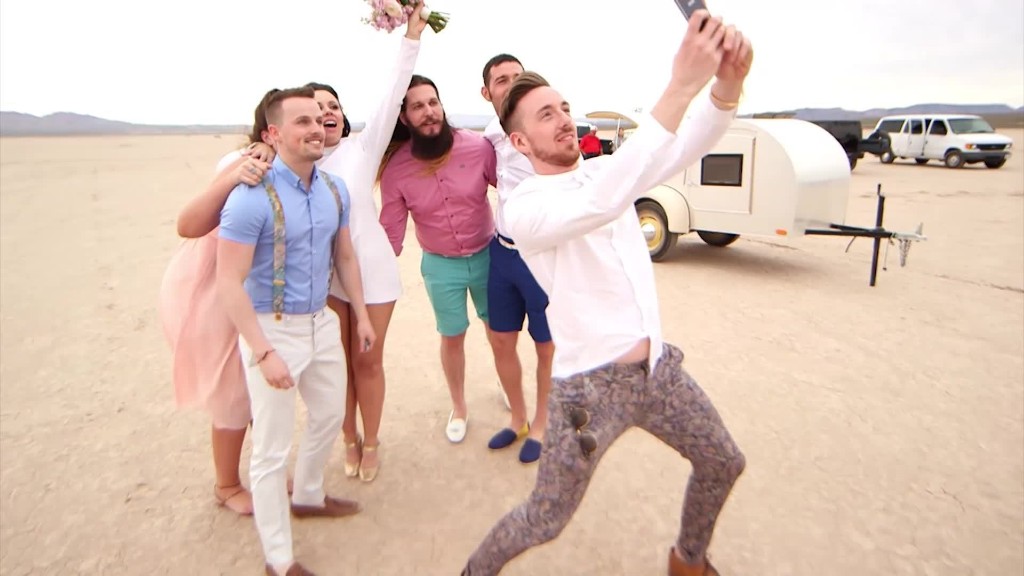 When Victoria Hogan's aunt and uncle got married nearly a decade ago in Italy, it struck a chord with her. They did it inside the Sistine Chapel -- without fanfare, without guests, in an elegant, timeless expression of love.
"They waited until the chapel was completely empty and they just exchanged personal vows to one another," says Hogan.
Thinking of that moment inspired Hogan to open her own, unique wedding business in 2014.
Hogan, who then was working as a florist in the highly competitive Las Vegas market, decided to launch FloraPop. The company plans pop-up weddings, mostly in the desert.
"Instead of having a wedding with 250 guests, they really scale back to make the wedding about them, which in my opinion is what it should be about in the first place," says Hogan. "My main goal is that it is stress-free."
Some 80 percent of the weddings she plans are in the Nevada desert as well as California's Joshua Tree National Park and Palm Springs.
"I think that the desert is extremely romantic," says Hogan. "It really highlights the emotions of the couple."
Hogan, a 30 year old with a master's degree in studio art, realized she could cut out the middleman and serve as officiant, florist and the venue.
"One day it really hit me that I was in the wedding capital of the world and that there was no reason that I couldn't do it all," she says.
The granddaughter of a carpenter, Hogan built a replica of a 1950s Teardrop trailer, which acts as an altar. For weddings, she hooks the trailer to her Jeep and drives to the desert with floral arrangements she's made, a pink box full of cake donuts, bottles of champagne, some prepared remarks and an assistant. She opens the back of the trailer, places the bouquets inside and, for a touch of vintage Vegas, posts a pink neon sign that reads "SURE."
"When a tourist comes to Las Vegas, they're not anticipating that they're going to drive out and see this really beautiful, vast, expansive desert," says Hogan. "They're expecting to come to Las Vegas to see neon, and be on the strip."
Hogan says she posts photographs "every single day" on her website, Instagram or Pinterest account. They're images from the more than 150 weddings she's planned since the business started two years ago.
She thinks that approach has led to much of her success.
"I do little to no advertising at all. I use social media as all of my marketing tools," says Hogan. "Somebody will post my image and they'll tag my name, and someone will see it, and they'll tell their sister who's getting married in a year. It's a mixture of word of mouth and just being active, present and trying new things."
In early April, a British couple and three of their friends pulled up to the El Dorado Dry Lake Bed in Boulder City, Nev., in two vintage cars -- a service Hogan's friend provides.
A photographer took photos of the bride wearing a vintage, white 1960s mini gown and her husband wearing pink shorts. The mountains were a dramatic backdrop.
Following the photo shoot was a sweet, 15 minute ceremony.
Shortly after, bride Michelle Grizzell said: "We're not traditional, we're quite alternative in the way we dress. We're alternative in what we do. We wanted to do something that was completely different."
It was a perfect scene for Hogan, a lover of all things vintage -- "I want to hold on to some nostalgia."
The business is very satisfying, says Hogan.
"It's emotional, it's romantic and I feel very fortunate that I get to be a part of such an intimate aspect of someone's new life together," she says.
Hogan has advice for budding millennial entrepreneurs: "Don't be afraid because if you really believe in your idea and you're committed, you'll find a way to make it happen."
"Everybody told me I was crazy. When I told my mom that I was going to marry people out in the desert she said, 'Yeah okay, sure, Vic. Let's see how that works out,' " says Hogan. "And then I did a wedding and it's been an overnight success."