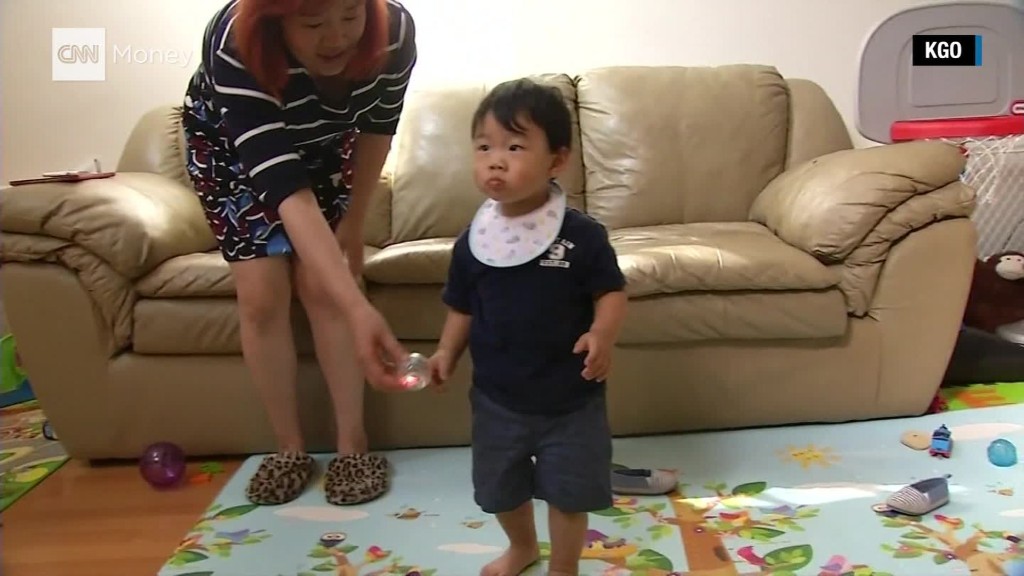 For Silicon Valley toddlers who are learning to walk, there's a new lesson -- watch out for the robots.
A mother and father watched in horror as a security robot at a mall in California knocked their 16-month-old to the ground and ran over one of his feet. The family and the company that makes the robot have shared conflicting accounts of the run-in.
The Tengs headed to the Stanford Shopping Center Thursday afternoon with plans to buy their son new clothes. As they walked passed an Armani Exchange -- with their son several steps ahead -- they noticed a robot slowly approaching them.
Tiffany Teng said the robot ran directly into her son -- striking him in the head and knocking him to the ground. The robot continued forward, running over the boy's right foot.
"What is that thing? What is that thing!" Teng said she screamed as she tried to push the 300-pound robot off her son.
"I tried all my strength to push it back and make it stop, but it didn't," Teng said.
Then her husband intervened, pulling the crying child out from under the robot. She figured he had broken bones.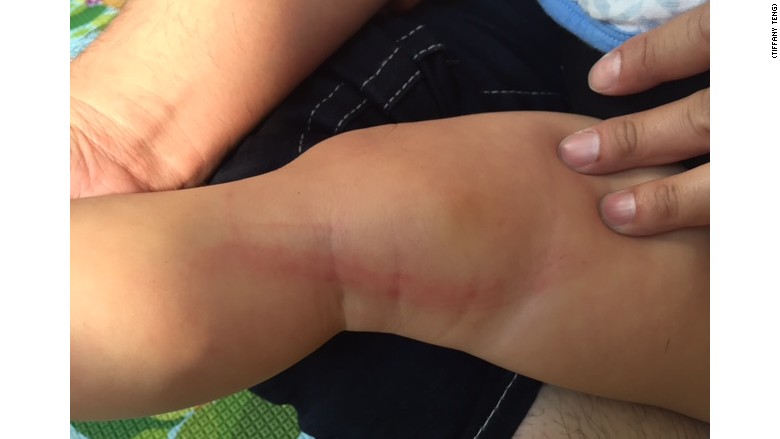 Knightscope, which makes the robot, said the machine veered to the left to avoid the child, but the toddler ran backwards directly in the front of the machine. Teng said her son was not capable of running backwards.
"Hearing a report that one of our machines may have injured someone is absolutely horrifying," said Knightscope vice president of marketing and sales Stacy Dean Stephens. "Our core mission is to ensure public safety, and we are taking this report very seriously."
X-rays taken after the incident were negative. The toddler has a scrape on the back of one of his knees.
Related: MIT robot helps deliver babies
The K5 robot stands 5 feet tall and resembles a squat white rocket. It is designed to patrol malls, campuses and workplaces. Cameras stream live video, and Knightscope says it can predict unusual and potentially dangerous behavior.
Tiffany Teng, who lives in San Jose, said she'd been to the mall many times but never seen the robot before.
"It didn't have a sign saying, 'Go away, do not touch,'" Teng said. "It looks just like R2D2, it's attractive."
She said a mall employee lamented that this was the second time in a week a child had been struck by the robot. Knightscope said this is the only report it has received.
A spokeswoman for Simon Property Group, which runs Stanford Shopping Center, said it is investigating the incident and its robots are docked until the investigation wraps up. It declined to say whether there had been another accident.
Related: Robot's role in killing Dallas shooter is a first
The run-in occurred in the heart of America's booming tech sector. It's a reminder of how robots are steadily making their way into everyday lives, bringing both good and bad. While robots can make businesses more efficient and improve some aspects of our lives, they will be prone to the same bugs as computers.
Knightscope claims on its website that the K5 can safely navigate around people and objects. It has nearly 30 sensors, but the small size of a toddler appeared to confuse it.
The blind spots of robots surfaced earlier this month when a Tesla sedan on autopilot didn't recognize a turning tractor-trailer, leading to a crash that killed its driver.
Stephens said Knightscope machines have run more than 35,000 hours and covered 25,000 miles. The company's first robot was released in 2013.
The company offered to let the Tengs visit the Mountain View, California, company to learn more about how the robot works.
"I don't know if my son is ready," Teng said. "He will probably see this robot and start crying."