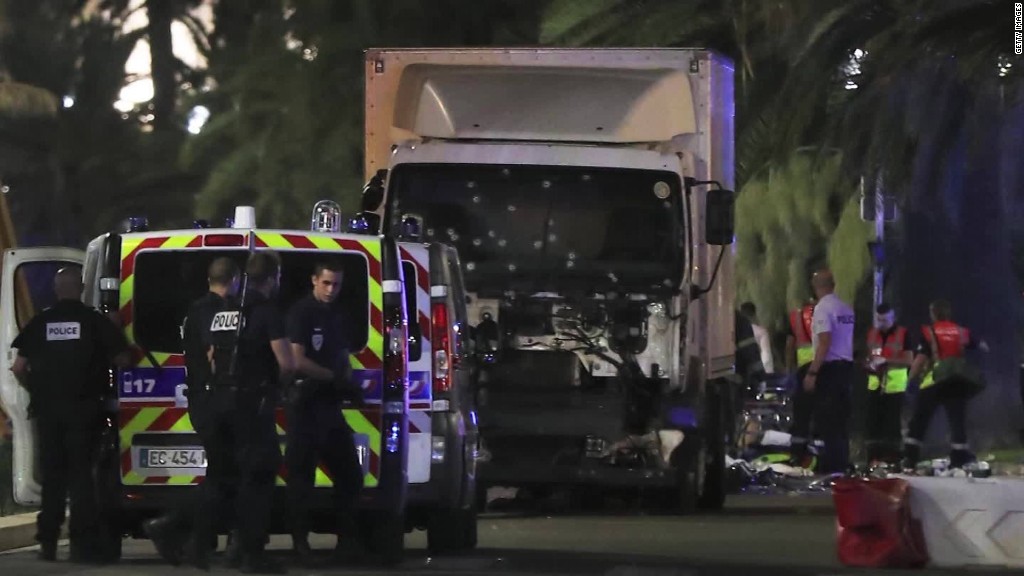 Investors are dumping travel and tourism stocks again as yet another terror attack on a popular European destination threatens to deter visitors.
French hotel chain Accor (ACRFF), discount airline easyJet (ESYJY) and tour operator Thomas Cook all fell by more than 3% on Friday as investors hit the sell button again following an attack in Nice, France, that killed 84 people.
It was the third major terrorist attack in France -- which earns more tourist dollars than any other European country -- in the last 18 months.
U.S. stock markets have been hitting new record highs this week, and European indexes have rallied this month, but shares in the majority of big airline and travel companies are deeply in the red for the year.
Shares in British Airways owner IAG (ICAGY) and easyJet are down by more than 30% in 2016. Deutsche Lufthansa (DLAKF) and Ryanair (RYAAY) have dropped by more than 22% over the same period, while Air France KLM (AFLYY) is down about 17%.
The Brexit vote in the U.K. has only added to uncertainty in the sector.
Related: U.S. flights to the U.K. are the cheapest in years
But terrorism is clearly taking a heavy toll, scaring away tourists from destinations in France, Egypt and Turkey. Travel hubs and hotspots attacked over the past year or so include:
- A Tunisian beach resort (June 2015)
- A plane carrying tourists from Egypt's resort of Sharm el-Sheikh (November 2015)
- Six locations across Paris (November 2015)
- Brussels airport and subway station (March 2016)
- Istanbul airport (June 2016)
Analysts at UBS say global travel spending has fallen for the past four months, slumping 14% in June alone. They cited data from Global Blue, which provides sales tax refunds in airports around the world.
Attacks in Paris and Brussels had hit Chinese spending in particular, they said, noting that Global Blue data suggested it had fallen by 14% so far this year. France is losing out the most, UBS added.
The terrorism effect has been particularly damaging for companies such as Thomas Cook and TUI, which sell package holidays. Thomas Cook stock is down 47% since the start of the year, while TUI shares are down by 32%.
Related: Delta loses $450 million bet on fuel prices
American travel and airline stocks have also suffered from concerns about terrorism and rising fuel prices. Many have posted double-digit percentage falls since the start of January.
Delta Air Lines (DAL), United Continental (UAL), American Airlines (AAL) and Southwest Airlines (LUV) are down by 15% to 20%.
Amid all the gloom, Virgin America (VA) stands out for its 56% surge since the start of the year. But that's because it's being bought by Alaska Air (ALK).