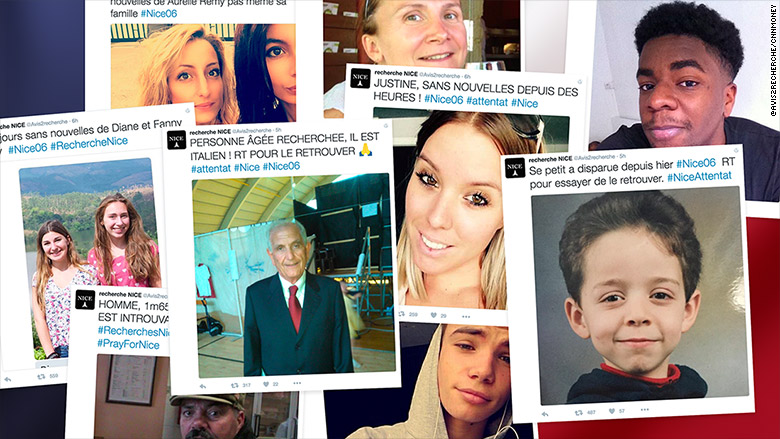 On the heels of the devastating attack in Nice, people are taking to Twitter in an attempt to get information about their missing loved ones.
On Thursday, a truck rammed through a crowd of people celebrating Bastille Day in Nice, France.
More than 80 people have died and many others remain in critical condition.
Those who haven't seen or heard from family and friends in the area are desperately posting photos and descriptions in the hopes of crowdsourcing any information about them.
Accounts like @Avis2recherche and @nice6recherches have popped up, devoted to sharing photos of missing people and encouraging others to share them across their networks. Posts are getting hundreds, in some cases thousands, of retweets.
Hashtags like #RecherchesNice, or "looking for in Nice," have emerged. The hashtag #PortesOuvertesNice, meaning "open doors," has also surfaced. A version of it was first used after the attacks in Paris in November 2015.
Related: Taxi drivers rush to help Nice terror victims
A collective look at the posts humanizes the terrorism that plagues the world.
It's the third major attack in France in the past 18 months, but the country is far from alone.
Orlando, Brussels, Dhaka and Istanbul are just a few other cites that have been rocked by terrorist attacks recently.
The pleas are short and simple: "please" and "help." And they seem to be yielding some results. A tweet from @Avis2recherce includes a collage of those reportedly located in the past 12 hours.
"Looking for this young woman since yesterday evening. RT to help," reads one.
"RT to help find these two people," reads another that has been retweeted over 200 times.
"Haven't heard from Dylan, 19 years old. Retweet as much as as possible, please."
"Virginie has been missing since yesterday. She was with her children. Please pass along."
Those who are missing range from young children, families, and the elderly.