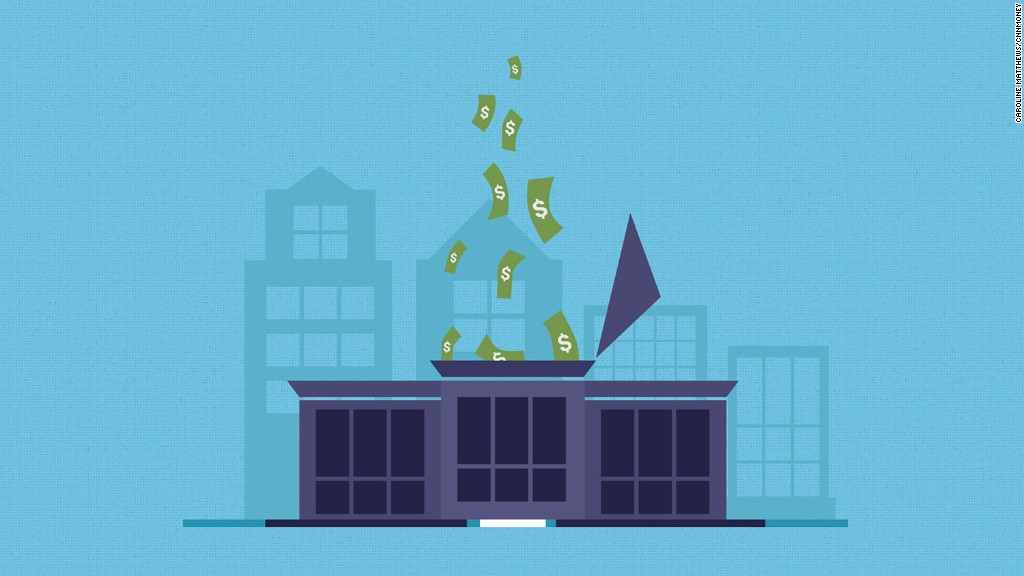 After 26 years of advising banks from the sidelines, Kevin Cummings was hungry to get into the game himself.
Cummings, then 48 years old, quit his stable job as a KPMG partner in 2003 to become the chief operating officer of Investors Bancorp (ISBC), a New Jersey bank that had been a client of his.
"When you're a consultant, you're up in the skybox. This was an opportunity to get on the playing field," Cummings told CNNMoney.
That move paid off in spades, with Cummings becoming CEO in 2008.
Last year, the bank raised eyebrows by rewarding Cummings with $20 million in total compensation. That marked a stunning 620% pay hike from 2014, making him the highest-paid bank CEO in the U.S., according to an analysis by S&P Global Market Intelligence. The big pay day, comprised mostly of stock awards and options, exceeded even the compensation of JPMorgan Chase (JPM) boss Jamie Dimon.
Related: JPMorgan eases banking gloom and doom
Pay slammed as 'lavish' in lawsuit: Unsurprisingly, the pay hike rubbed some the wrong way. Shareholder Michael Logan filed a lawsuit in May against Cummings and the other members of the bank's board, alleging the directors gave themselves a "grossly excessive" pay package that included "lavish" stock awards.
ISI, a shareholder advisory firm, told investors to vote against the compensation plan, arguing that Cummings was being paid "outsized" rewards, "strong company performance notwithstanding."
Shareholders dealt the company a stinging reprimand weeks later, when 48% of the votes cast went against the payouts. The votes were non-binding, which means Investors Bank wouldn't have had to comply even if the pay plan was rejected.
Cummings, asked by CNNMoney about the pay package, was at first uneasy, saying the conversation was "going down a slippery slope." But the CEO then defended his pay as fair given how the bank's profits have grown from just $16 million in 2008 to $182 million last year.
During his reign, Cummings also helped build Investors into a top 50 U.S. bank, with assets more than tripling over the past seven years to $22 billion.
Cummings correctly noted that Investors steady stock gain of 11% last year bested both the S&P 500 (-1%) and the KBW Regional Bank Index (3%).
"We're a victim of our success," Cummings said. He added that a good part of the $12.5 million in stock grant vests over several years and another chunk is tied to performance.
Just for comparison, JPMorgan Chase has a total of $2.5 trillion in assets and its stock rose 5.5% last year.
Related: Bank of America has 23% fewer branches than 2009
$2.2 billion milestone: The big compensation package was also meant to reward Cummings for a key milestone: converting Investors from a mutual savings thrift controlled by depositors to a publicly-traded company owned by shareholders. The two-stage conversion, completed in 2014, raised a total of $2.2 billion, which the bank could use for expanding its business.
S&P said other bank CEOs have received similar huge pay hikes for these conversions. For instance, Massachusetts-based Blue Hills Bancorp (BHBK) rewarded CEO William Parent with a 486% boost in pay in 2015 after completing a mutual conversion. And Cummings notes that his bank's conversion was one of the biggest of its kind.
That's why Cummings said comparisons with Dimon are like "apples and oranges," adding that Dimon "didn't do a stock conversion."
Related: American workers finally getting a raise
Competing against big banks: Cummings had to navigate treacherous waters when he became CEO in 2008, just months before the financial crisis.
"It was pretty tough to be honest with you. I used to joke that the next time I get a new job, short that stock," Cummings, a Jersey City native, said.
But Investors survived, and even thrived in the aftermath of the Great Recession, in part because the bank had enough capital to expand into areas other big lenders were retreating from. That includes commercial loans, real estate and residential development, many of which require local expertise.
"We know the markets and can react. We don't have to go to Spain or Pittsburgh or Charlotte to get loan approval," Cummings said, alluding to where rival banks Santander (SAN), PNC (PNC) and Bank of America (BAC) are based.