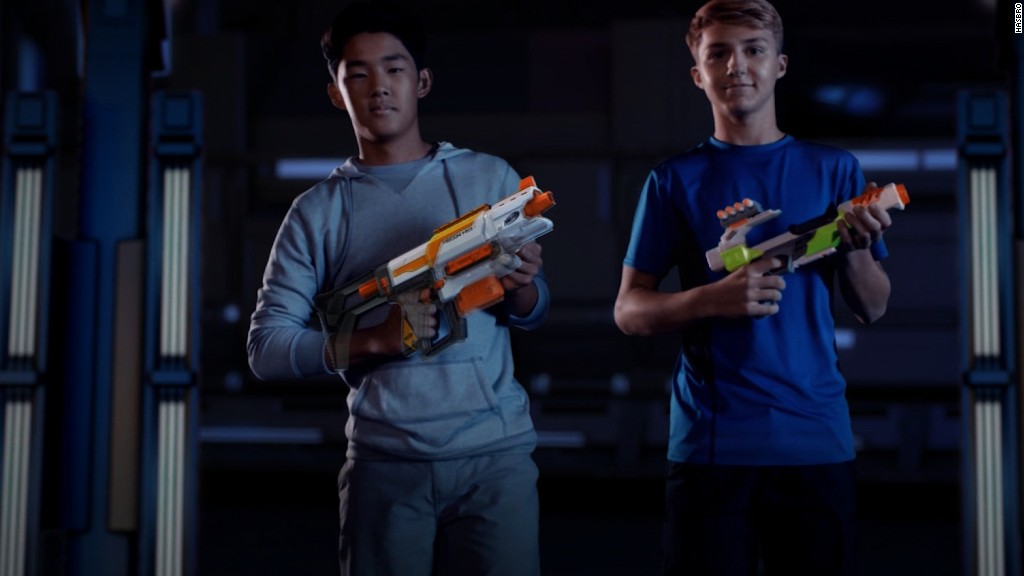 Maybe Hasbro should just rename itself Disney Toys.
Sure, Hasbro (HAS) sells a lot of Monopoly games, Nerf toys and My Little Pony dolls, Play-Doh sets and Transformers. But the toy maker's relationship with the House of Mouse has "transformed" the company into one of Wall Street's favorite playthings.
Hasbro reported earnings and sales that topped forecasts on Monday, thanks in large part to a 15% jump in what the company calls Partner Brand revenues. That's essentially Disney (DIS) -- toys related to Star Wars, Frozen and the Disney Princesses.
Hasbro stock fell 6% in early trading Monday despite the strong results. But the stock has soared 20% so far this year -- so it's possible investors were expecting the earnings to be even better.
Hasbro recently took over the Disney Princess line from Mattel (MAT). And Cinderella, Snow White and Ariel are paying huge dividends. Hasbro said that sales of toys for girls surged 35% from a year ago, led by Frozen and the Disney Princess line.
Sales of toys for boys were up only 4% -- but Hasbro said Star Wars toys, along with Nerf, was largely responsible for the increase.
Overall sales were up more than 10% in the quarter and profit rose nearly 25%.
Related: 'Frozen' ride to open at Disney World next month
Hasbro CEO Brian Goldner said in a statement that he was excited for the rest of the year as well. Disney will be a big part of that too, with the Star Wars prequel "Rogue One" hitting theaters in December.
But Goldner cited another movie from a Disney competitor as a possible boost for Hasbro too -- "Trolls" by DreamWorks Animation. Comcast (CMCSA) is in the process of buying DreamWorks Animation (DWA).
Hasbro should be able to continue minting money for the foreseeable future thanks to its ties to popular movie franchises, especially ones from Disney.
And the company hopes to have further success with cartoons and movies based on its own hit toys. Hasbro announced last week that it was buying Irish animation studio Boulder Media.
Related: Comcast buys DreamWorks Animation for $3.8 billion
Hasbro said Boulder will start producing cartoons about some of Hasbro's best known brands.
But Boulder also makes cartoons based on characters for Cartoon Network, Nickelodeon, and ... you guessed it, Disney. (Cartoon Network is owned by Time Warner (TWX), the parent company of CNNMoney.)
Mattel will report its results on Wednesday after the closing bell. The maker of Barbie, American Girl, Fisher-Price and Hot Wheels isn't doing as well as Hasbro. Analysts are expecting a quarterly loss and a decline in sales.
Still, Mattel's stock is as hot as Hasbro's, rising more than 20% so far this year. That's primarily due to hopes that new CEO Chris Sinclair, who took over the company last year, will turn Mattel around.
But for now, Hasbro still appears to be the toymaker of choice for most kids ... and their parents.