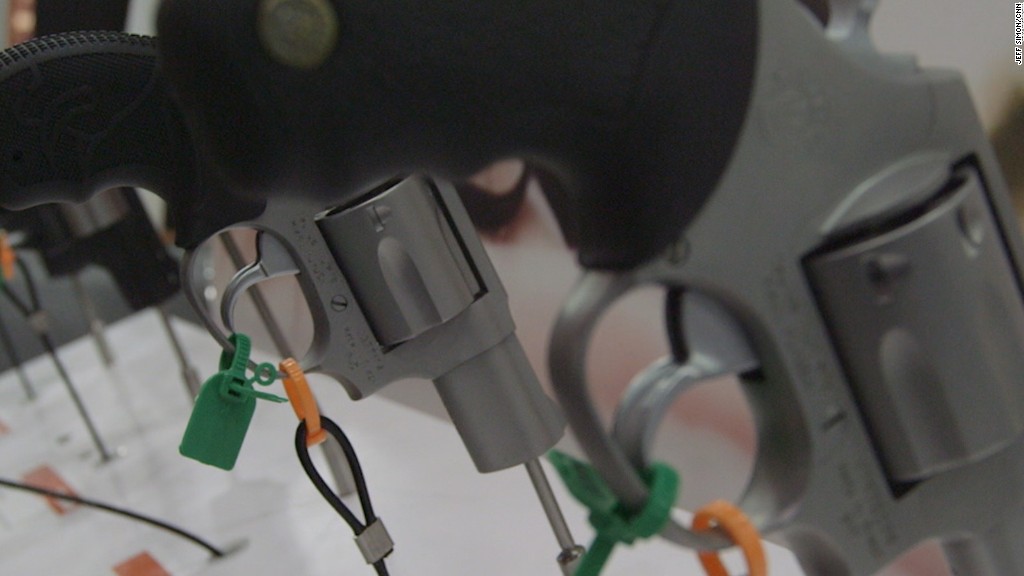 An assault rifle factory is something new for Boonville, Missouri, a small town that's more used to tourists and Civil War buffs.
AR-15 manufacturer CMMG is moving its factory and all its jobs to Boonville, a town of about 8,000 that has lost more than 1,000 manufacturing jobs.
CMMG is buying a factory building left vacant by one of the town's departed manufacturers, the electric heating company Indeeco. Mayor Julie Thacher said the company plans to invest $2.5 million into that building, and the city council is supporting their investment with a $200,000 forgivable loan.
"I support the new factory, and the feedback I have been receiving from the community is that the majority supports the new factory," Thacher told CNNMoney. "Our community wants jobs."
CMMG did not respond to messages from CNNMoney to say why it's moving its factory to a town less than 20 miles away from its current location.
Jim Gann, the town's economic development director, said CMMG will be bringing all of its 52 jobs to Boonville from nearby Fayette. He said the company plans to add 10 jobs in the near future and will add an annual economic impact of about $5 million to the town.
He said this is a welcome reversal to the town's downward trend in manufacturing. He said the town lost 60 factory jobs at Indeeco, 700 jobs at Nordyne, 300 jobs at Fuqua Homes and 60 at Hostess Brands.
Not everyone is happy about CMMG coming to Boonville. City Councilor Susan Meadow says the factory won't create many jobs, and "On a personal and moral level, I am opposed to the AR-15 being sold for recreational use."
In addition, she said Boonville is known as a town that attracts tourists because of its rich history. "To become the world headquarters of the AR-15 semi-automatic rifle goes against this image," she said.
Boonville is named after the sons of Daniel Boone, who were among its earliest residents. The town's strategic location on the Missouri River made it a hotly contested battleground during the Civil War. Before then, the site was a stopping point for Lewis and Clark on their journey west. Now, it's a stopping point for history loving tourists.
Related: Why the AR-15 is the mass shooter's go-to weapon
Now that the booming industry for guns is coming to Boonville, it's bringing along the controversy associated with AR-15s, or AR-15 style rifles, were used in the recent murder of police officers in Dallas and Baton Rouge, Louisiana. They were also used in mass shootings at a nightclub in Orlando, Florida, a workplace party in San Bernardino, California, an elementary school in Newtown, Connecticut, and a movie theater in Aurora, Colorado.
The sale of AR-15s has soared in the wake of these tragedies, driven in part by political rhetoric. Hillary Clinton has an aggressive gun control policy. Gun enthusiasts are afraid that if she's elected president she'll reinstate the assault weapon restrictions supported by her husband when he was president.
"They're going to go after anything they deem to be evil," said CMMG product specialist Mike O'Dell to CNNMoney at the annual NRA meeting in May.
Related: Will gun sales keep going up if Hillary Clinton wins?
O'Dell, who sells CMMG guns at the Missouri gun shop Black Rifle, acknowledged to CNNMoney back in May that "our sales are definitely going to skyrocket along with any AR-15" if Clinton's elected to the White House.
CMMG makes a variety of AR-15 style rifles in different calibers. Its top of the line model is the MK47 Mutant, a hybrid of the AR-15 and the Soviet-designed AK-47 which launched in 2014.