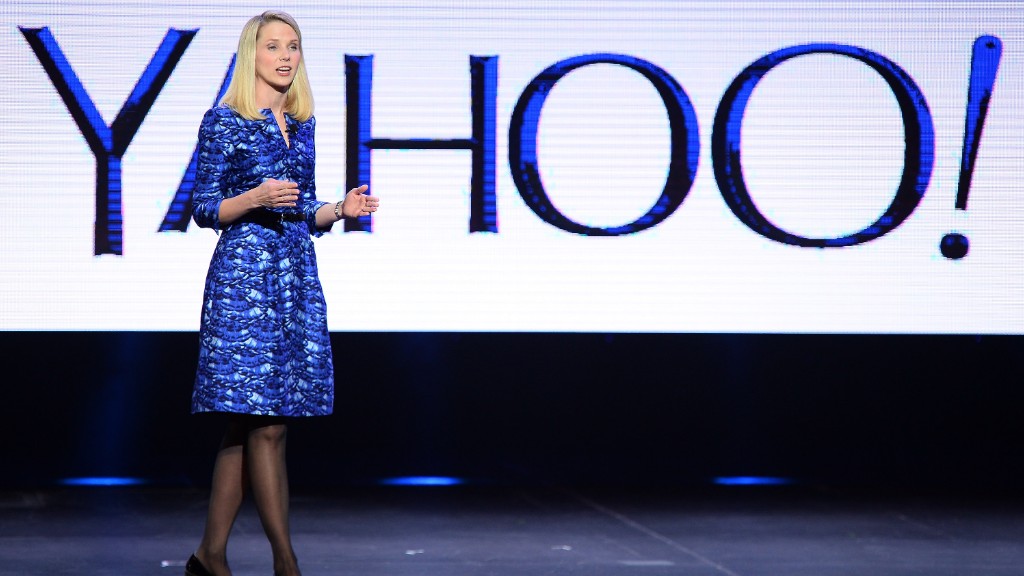 It all comes down to this.
Almost four years to the day after Marissa Mayer was named CEO of Yahoo (YHOO), she will receive what could be her final report card from Wall Street before the company's auction period comes to an end.
Yahoo is set to release its second quarter earnings results after the market closes Monday. It is also expected to receive the third and final round of bids Monday from potential acquirers that are interested in scooping up the aging Internet company's core assets.
And if analysts are right, Yahoo and Mayer will be limping across the finish line.
Yahoo is expected to post sales of $1.081 billion for the quarter, down from the $1.24 billion it reported in the same quarter a year earlier, as its ad sales business continues to decline.
The long awaited Yahoo turnaround has yet to materialize, despite Mayer's high-profile attempts to turn Yahoo's ship around through investments in premium digital magazines, sleeker apps on smartphones and tablets, and the $1.1 billion acquisition of Tumblr.
Related: Marissa Mayer defends her reputation at Yahoo shareholder meeting
Perhaps more damning for Mayer is the performance of mobile, a key focus during her tenure as CEO. She acqui-hired dozens of startups to help improve Yahoo's position on smaller screens, but revenue growth from this division slowed to less than 7% in the first quarter of this year.
Translation: Mayer's mobile plan won't fix Yahoo.
Now it may be left to others to try.
As CNNMoney has previously reported, bidders for Yahoo include Verizon (VZ), AT&T (T) and an investment grouped backed by Warren Buffett and Quicken Loans founder Dan Gilbert. Some have bid as much as $5 billion, depending on whether Yahoo's trove of patents and real estate are included in the mix.
Brian Wieser, an analyst who covers the company for Pivotal Research Group, estimates Yahoo's core business is worth just $3.5 billion, according to an investor note.
Related: Yahoo's Marissa Mayer could get $55 million severance package
At Yahoo's annual shareholder meeting last month, Mayer said she was "heartened" by all the interest in buying Yahoo. "It validates our business progress," she said.
But she may not be so heartened if the new owner of Yahoo slashes thousands of jobs, cuts down Mayer's investments and ultimately pushes her out of the CEO spot, as some analysts expect from bidders like Verizon.
Her reputation as a tech visionary would be tarnished -- but hey, at least she would be $55 million richer.