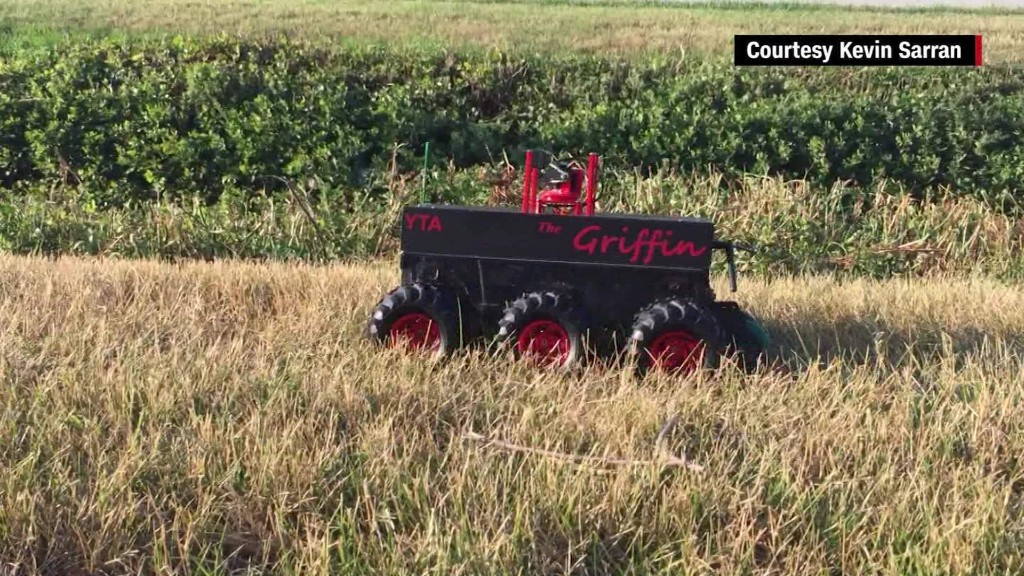 During the summer, you'll likely find most kids in swimming pools, collecting Pokemon or at camp.
Most kids.
But for 20 Cleveland high school students, their summer has been devoted to building an all-terrain, bomb-seeking robot.
A team from the Youth Technology Academy at Cuyahoga Community College built the bot in anticipation of the Republican National Convention, to rove the grounds around the Quicken Loans Arena.
Professor George Bilokonsky oversees the program.
"The robot's purpose is to scout ahead of time," he said.
And thus, "Scoutbot" was born.
The Cleveland Police Department needed something speedy and agile. And after encountering the team of wiz kids at a routine training session at the college, they thought the students were the perfect candidates for the job.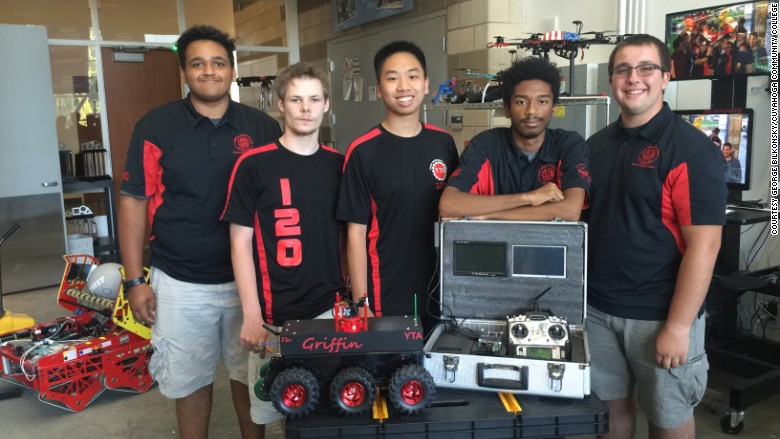 "I wanted something simple, to check suspicious packages or whatever, and do it quickly," Sargent Tim Maffo-Judd of Cleveland Police's bomb squad told CNN. That was six months ago.
Now, the RNC is upon us -- and thanks to Bilkonsky's "technology gang," as he calls them, "Scoutbot" is ready to hit the streets.
But why was it needed in the first place?
"Our main bomb bot can go up and down stairs, shoot things, and blow things up," said Maffo-Judd. "But it takes 20 minutes to set up."  
That's precious time that officers could be using to disarm the threat.
Related: Robot's role in killing Dallas shooter is a first
"Scoutbot," which looks a lot like a supped-up toy car, can be rolling in just five minutes. It has six wheels and is equipped with a 360-degree camera, night vision and has a range of 400 feet. Made mostly of aluminum and some 3-D printed parts, Scoutbot is just 12 inches tall, 18 inches long, and 6 inches wide. Its small size enables it to get into tight spaces, like under cars, to look for bombs or other suspicious items.
The robot was funded by a $500 grant from a Cleveland Police foundation and the rest was put together with spare parts from around the shop at Cuyahoga Community College, according to Bilokonsky.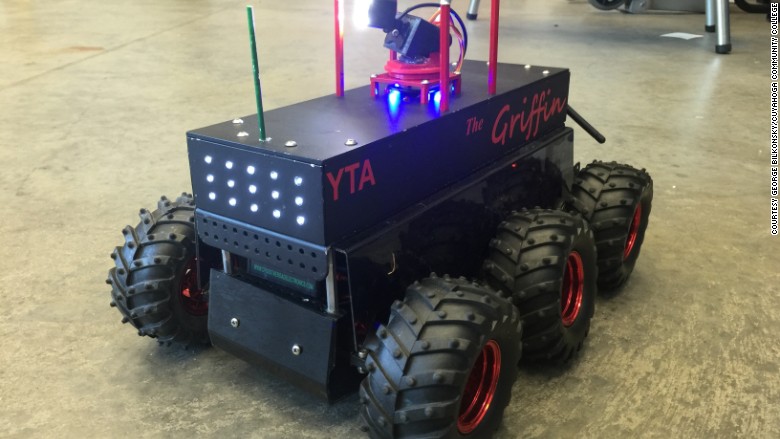 "You have to think outside the box as a bomb tech, and that's what these kids did," Maffo-Judd said.
The students were thrilled to be tasked with the assignment.
"It feels like an honor and privilege to be able to work with the bomb squad on a project that they can use for the future and help keep people safe," Mark Hairston, 17, told CNN. "It was a little daunting at first, but over time, as it developed into the actual robot and we could see what it was becoming, it felt pretty good."
Related: 300-pound mall robot runs over toddler
For many of the students, it was their first time interacting with police.
"You know, I never thought I'd be building a robot with a bunch of high school kids," said Maffo-Judd. "I'm proud to be apart of it, and those kids are a thousand times smarter than I'll ever be."
This story was first reported by Cleveland's WOIO.