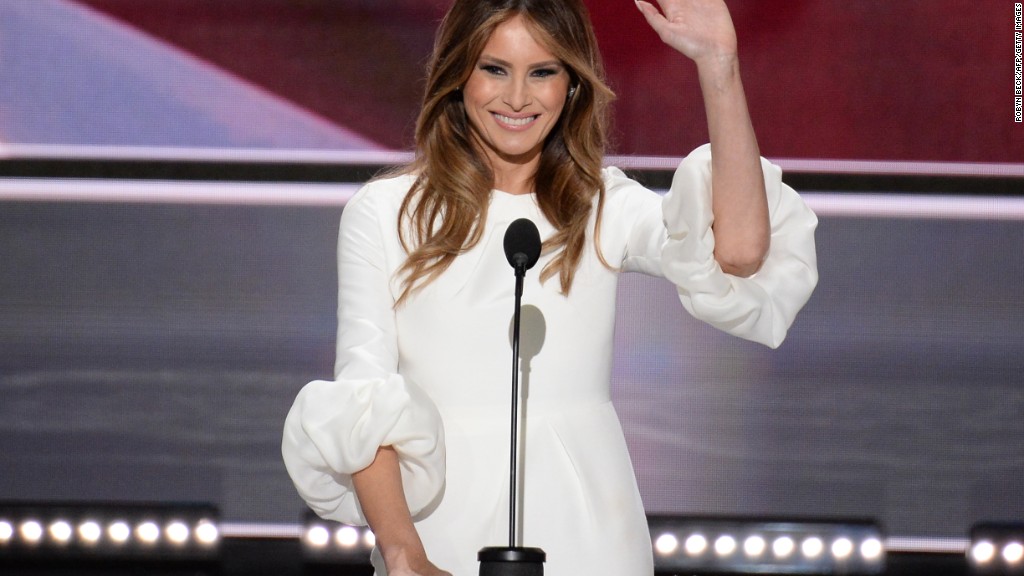 Donald Trump's presidential campaign has caused huge ratings spikes for the past year. But his Republican National Convention is not setting new ratings records — at least not yet.
Tuesday's second night of the RNC averaged 19.8 million viewers, according to Nielsen, which added up the 10 p.m. viewership across seven broadcast and cable channels.
Tuesday night of the Republicans' gathering in 2008 averaged 21 million viewers and the same night in 2012 averaged 20 million.
Exact comparisons are difficult to make. But the data shows that there hasn't been a rush of viewer interest in Trump's unconventional convention.
There was a decline between Monday, when the seven channels had a combined 23 million viewers, and Tuesday.
Related: Jimmy Fallon on Melania Trump: 'She stole the show. Literally.'
Maybe that's because Trump has only made brief appearances on stage. He introduced his wife Melania during the 10 p.m. hour on Monday, and appeared via video during the 9 p.m. hour on Tuesday.
The real ratings test for this convention will come on Thursday when Trump formally accepts the party's nomination.
Continuing a trend from past Republican conventions, Fox News attracted more viewers than the broadcasters during the 10 p.m. hour when NBC, ABC and CBS televise the event.
On Tuesday Fox News averaged 5.3 million at 10 p.m.; NBC was second with 4.7 million; and CNN was third with 3.1 million. CBS had 2.5 million, ABC had 2.3 million and MSNBC had 1.5 million.
Related: Fox News after Roger Ailes
Some viewers who tuned into Fox last time appear to be checking out CNN this time. Throughout prime time, from 8 to 11 p.m., CNN averaged 2.8 million viewers, more than double its average of 1.1 million for the equivalent night in 2012.
Fox News, on the other hand, averaged 4.8 million viewers during prime time on Tuesday, versus 5.8 million on the equivalent night four years ago.
Versus the RNC convention in 2012, the Fox-CNN race has tightened dramatically in the key demographic of viewers ages 25 to 54. In this "demo," Fox News had 1.42 million viewers on night two in 2012 while CNN had 342,000.
This time around, Fox News had 1 million in the "demo" while CNN had 816,000.
MSNBC is also showing growth versus the 2012 RNC, but the cable news channel remains far behind the other two.
Related: Donald Trump is having a 'YUGE' impact on advertising
All of the same up-and-down trends were evident on Monday night, too.
The solid but unexciting results are most likely related to the relative lack of star power on stage. While two of Trump's children spoke on Tuesday, along with former presidential candidate Ben Carson, there weren't the ex-presidents or party bigwigs that conventions usually have.
For comparison's sake, former president Bill Clinton is scheduled to speak next Tuesday at the Democratic National Convention.