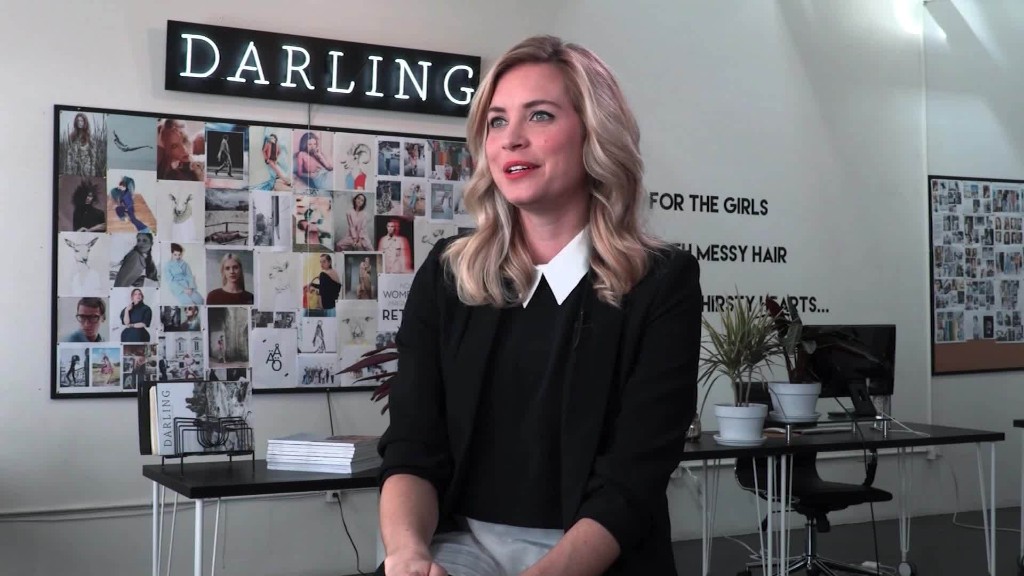 Sarah Dubbeldam was at a low point in her life. She was 23, her boyfriend had just broken up with her and she wasn't happy with her career progress.
She took that dissatisfaction as inspiration to start a new magazine, called Darling, designed to speak to women like her. Its mission: to improve women's self-esteem by focusing on character and dignity instead of obsessing on body image.
Dubbeldam, who did some modeling work before launching the magazine, wants Darling to present realistic portraits of what it is to be a woman and refuses to Photoshop anyone on its pages.
"By not Photoshopping women, we are saying women are not in need of alteration in any way shape or form and that they are beautiful the way they are," says Dubbeldam, Darling's editor in chief. "That in itself just makes a huge statement."
The magazine features women of all sizes, ages and ethnicities.
"We need to broaden the definition of beauty," says Dubbeldam.
How it all began
Dubbeldam was just coming out of a depression -- feeling "timid and insecure" -- when the idea of launching a magazine with her best friend Kelli Lane came up. Just a few years out of college, Dubbeldam was working at a restaurant while modeling and acting on the side.
She was questioning herself: "What am I doing with my life? Who am I?" Dubbeldam felt insecure, she says, thinking, "The person who I was in love with just left me."
Over a cup of coffee with Lane, "We started thinking, where are we supposed to go for advice for this?" says Dubbeldam. "We realized that ... none of the magazines or online sites really spoke to the type of women that we were or the women that we wanted to become."
They decided they should create their own.
They began researching the market and developing the idea. The two met in coffee shops and worked on the mission statement, magazine sections, article topics and visuals. Dubbeldam also gathered five to ten women in her living room once a week for a year to brainstorm more about the brand and the type of content they should produce.
"It was a real sampling of real women's opinions," says Dubbeldam, "which I think is what led to Darling's authenticity."
Five years after first devising the idea, they were ready to make the leap. They turned to crowdfunding site Kickstarter to get startup money.
"Kickstarter ended up loving our idea and put it on their staff pick," says Dubbeldam.
They asked for $15,000 and reached $19,500 from 500 backers in just a few days. "We were completely elated," she says.
Based on that response, they decided to print 1,000 magazines for their first issue.
After they published the third issue, the popular women's apparel store Anthropologie approached and agreed to sell the magazine in its 250 stores in the U.S. and Canada.
The quarterly magazine also is sold in Whole Foods and dozens of boutiques across the country.
They now have 5,000 subscriptions, accounting for half of the magazine's revenue. Hundreds more subscribers a month are signing up, says Dubbeldam, now 34 years old.
#ThatsDarling gains a big following
The magazine started turning a profit this year -- three and a half years after publishing its first issue, says Dubbeldam. Social media is no small part of their success.
She says the hashtag #thatsdarling has been tweeted out more than two million times and the magazine has 250,000 followers on Instagram.
"We're trying to feature a lot of different types of women, a lot of different ethnicities and just really beautiful things (on social media) whether it's nature or travel or a woman just feeling fullly alive."