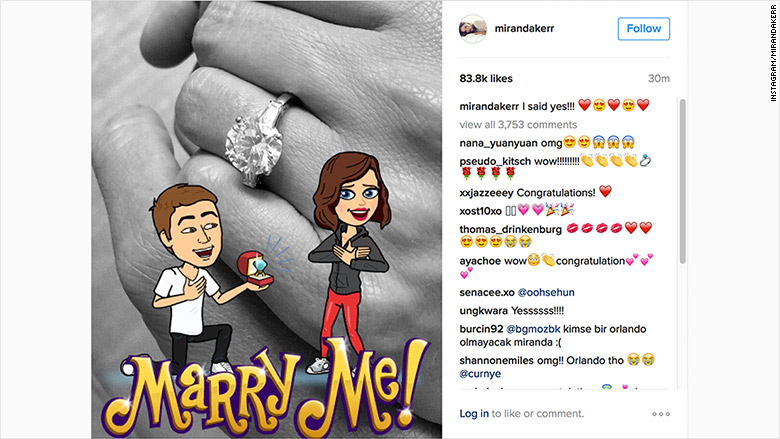 There's one thing Snapchat CEO Evan Spiegel doesn't want to disappear: Miranda Kerr.
Kerr, a former Victoria's Secret angel who has been dating Spiegel since 2015, announced their engagement Wednesday morning -- in the form of a Instagram photo. But it wasn't your standard engagement ring post.
The photo, which displays Kerr's gorgeous new rock, has a Bitmoji on top of it.
Bitmoji is the app that lets people create emoji avatars of themselves. This particular Bitmoji was designed to look like Spiegel and Kerr; Spiegel's avatar was on his knee proposing.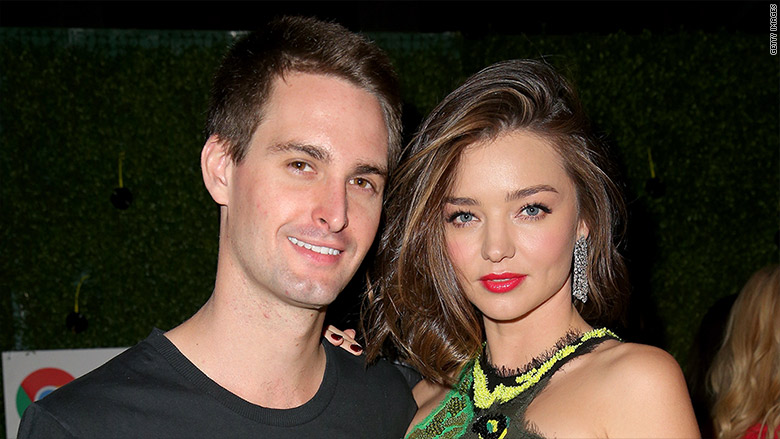 The use of Bitmoji is timely given that Snapchat announced just yesterday that it had acquired the startup. Snapchat users can now send Bitmoji in chats or stick them on their Snapchat posts.
The wildly popular ephemeral messaging app has 150 million people using it on a daily basis. The company was last valued at $18 billion, according to CB Insights, making it one of the most valuable private companies in the world.
Spiegel, who lives in Los Angeles, was named the world's youngest billionaire in September 2015 when he ranked 327 on Forbes' list with $2.1 billion.
Kerr, 33, split from Orlando Bloom in 2013 after being married for three years. Bloom and Kerr have one son together, Flynn, 5.
Snapchat did not immediately return request for comment; Kerr's representatives had no comment beyond the Instagram post.