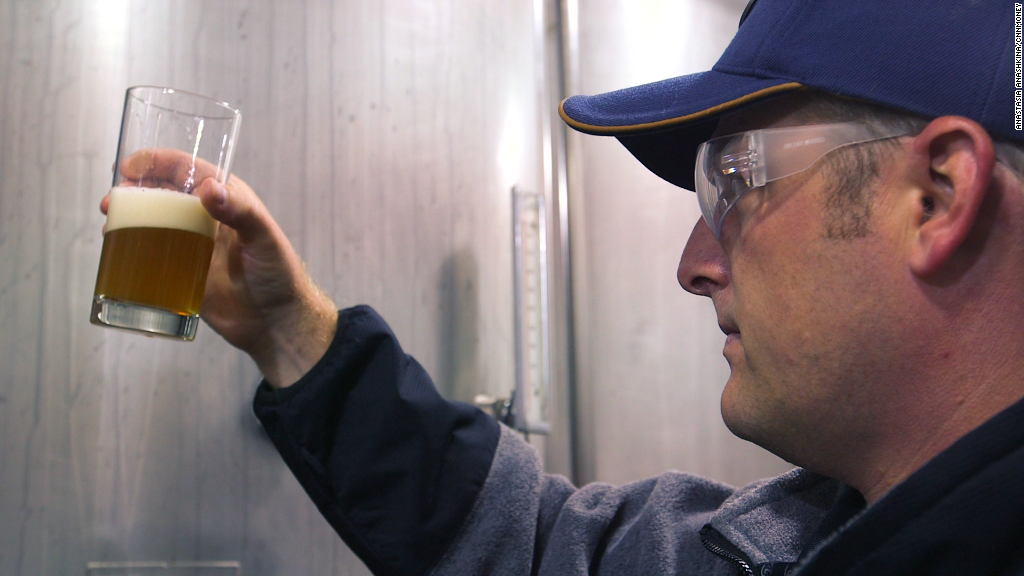 It's so close you can almost taste it!
Anheuser-Busch InBev's (AHBIF) $107 billion takeover of SABMiller (SBMRY) is nearly complete.
The U.S. Department of Justice gave its stamp of approval for the massive deal on Wednesday. Now the brewers are waiting for final approval from Chinese regulators and global shareholders.
AB InBev, the self-proclaimed King of Beers, sells large beer brands including Budweiser, Bud Light, Corona and Stella Artois. It also sells a range of craft beers from the likes of Arizona's Four Peaks Brewing Company and Colorado's Breckenridge Brewery.
It's expected that China will sign off on the deal within the next few months. Then the terms of the deal will be finalized and put to a vote among shareholders.
But there is the possibility that SABMiller shareholders could be unhappy about the deal since they're being offered devalued U.K. pounds in exchange for their shares. The pound has dropped significantly since the U.K. voted to leave the European Union.
To put this in context, the takeover offer of £44 per SABMiller share had been worth $67.59 when the deal was announced in October. Now that same £44 will only get you about $58.
"I think that AB InBev and SABMiller can come to an agreed set of terms and [the deal] will move forward. But clearly Brexit has thrown an additional complication into AB InBev's way," said Alicia Forry, an analyst at the investment bank, Liberum.
Related: Ford teams up with ... Jose Cuervo
Regulators and competitors have been wary of the risk that a combined AB InBev and SABMiller might get too big and powerful. So U.S. regulators put some conditions on the deal on Wednesday.
For starters, the Justice Department is making AB InBev sell off its entire SABMiller operation in the U.S. for the global deal to go through. Molson Coors (TAP) is paying for control of that operation, which sells Miller Lite, Coors Light and Blue Moon.
The regulator also reiterated that the company can't buy any more craft breweries in the U.S. without seeking regulatory permission.
AB InBev recently went on a shopping spree for craft brewers. It now owns seven U.S. craft breweries and plans to close a deal for an eighth, Devils Backbone.
But further deals -- even very small ones -- could face tougher scrutiny.
Sonia Pfaffenroth, an official in the Justice Department's antitrust division, said in a statement Wednesday that the conditions attached to the deal "will help preserve and promote competition in the multi-billion dollar U.S. beer industry."