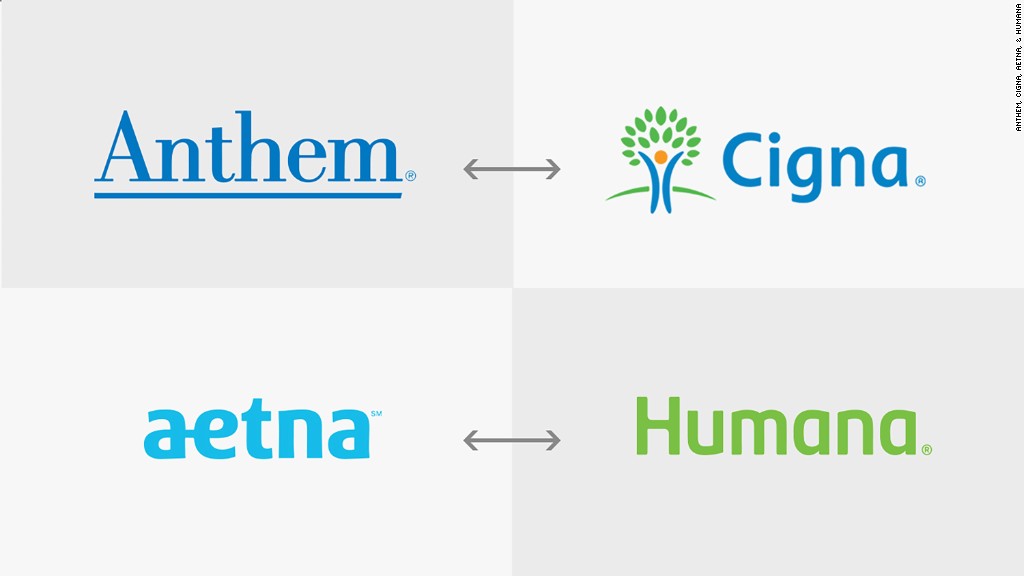 The Department of Justice is suing four major health insurance companies in an attempt to block two proposed mergers.
The antitrust lawsuits were announced Thursday by Attorney General Loretta Lynch in response to Anthem's (ANTX) $54 billion proposal to acquire Cigna (CI) and Aetna's (AET) $37 billion takeover of Humana (HUM).
If the two mergers proceed, Anthem would insure 53 million members and Aetna would cover 33 million.
That would drop the number of health insurance providers from five major players to three -- United Health is the other major provider.
UnitedHealthcare acquired Catamaran, a prescription provider and pharmacy-benefits manager, for $12.8 billion in 2015.
Lynch said that if the "big five became the big three," then Americans and their bank accounts would suffer.
She also said the mergers would come at the expense of members and doctors.
Related: UnitedHealthcare to exit most Obamacare exchanges
Assistant Attorney General William Baer said the two mergers would leave consumers at risk by reducing benefits and raising premiums.
He also stressed that the most vulnerable would be hit the hardest and that competition would be reduced.
"These are so-called solutions that we cannot accept," Baer said.
He added that the mergers are a "convenient shortcut to increase profit for these two companies," and that the DOJ had "zero confidence" that they would benefit consumers.
Related: Opinion: Health care mergers are out of control
Both Anthem and Aetna said they intend to fight the suits.
Anthem said the DOJ's response was an "unfortunate and misguided step backwards for access to affordable healthcare for America."
Shares of Humana, Aetna, Anthem and Cigna fell earlier this week when rumors of the lawsuits first surfaced. But they ultimately rebounded. All four stocks are currently up.